Haryana Assembly Polls: CM Khattar File Papers from Karnal, Declares Assets Worth Rs 1.27 Crore
Speaking to reporters after filing his papers, the CM exuded confidence that voters would ensure his victory with a bigger margin this time.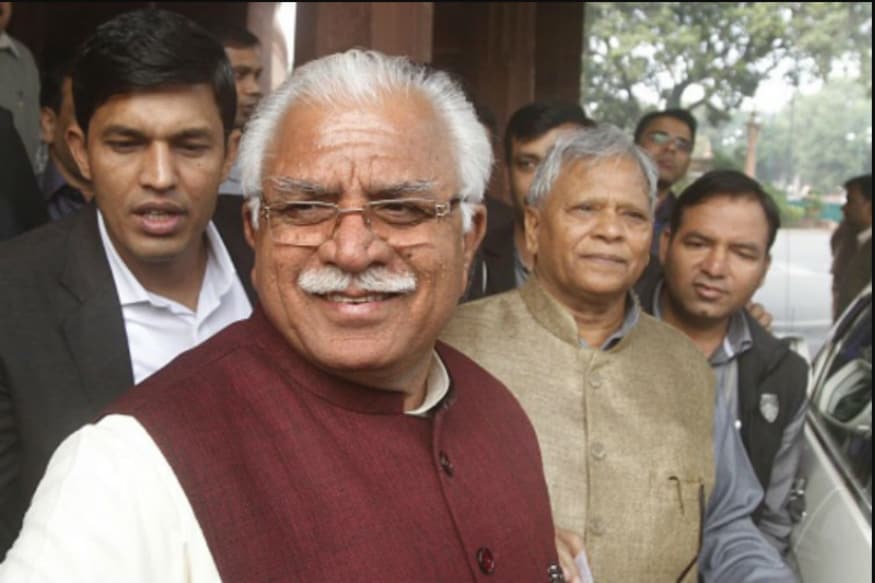 File photo of haryana Chief Minister Manohar Lal Khattar.
Karnal: Haryana Chief Minister Manohar Lal Khattar filed his nominations papers from the Karnal assembly seat on Tuesday. He was accompanied by Uttar Pradesh Chief Minister Yogi Adityanath and other BJP leaders during the submission of papers.
Talking to reporters after filing his papers, Khattar exuded confidence that voters would ensure his victory with a bigger margin this time. "I expect people will shower more love and blessings on me this time. I feel people will ensure a victory for me with more number of votes than the last time," he said.
To a question on resentment among the ticket aspirants who were denied nomination, Khattar said, "It is natural that the number of ticket aspirants goes up when the atmosphere is in favour of the party. But our party workers are disciplined. Everybody knows that one person gets ticket from one assembly seat only. If there is any issue anywhere, we are constantly in touch with them," said Khattar.
To a question on the BJP's target of winning over 75 seats in the 90-member assembly, the CM said he had left it to people to decide to what extent they wanted their party go beyond the target.
Earlier, before filing his nomination papers, Khattar performed a 'havan' and addressed a public gathering in the presence of Union minister Narendra Tomar and Adityanath. The BJP had announced a list of 78 candidates for the assembly elections on Monday.
Two ministers—Vipul Goel and Rao Narbir Singh—were among the seven MLAs denied ticket this time. The BJP had won 47 seats in the 2014 assembly polls. After its won the Jind bypolls earlier this year, the party's strength rose to 48 in the state assembly.
Khattar declares assets
Khattar also declared declared assets worth Rs 1.27 crore. In an affidavit filed before the returning officer in Karnal, the 65-year-old declared moveable assets worth Rs 94 lakh and immoveable worth Rs 33 lakh.
According to the affidavit, his moveable assets grew from Rs 8,29,952 in 2014 to Rs 94,00,985 this year.
In the immoveable assets, Khattar has inherited a piece of agricultural land worth Rs 30 lakh at his native Binyani village in Rohtak district.
He does not possess any non-agricultural land or commercial property but has a 800 sq feet house at Binyani village. It has a market value of Rs 3 lakh, the same as the previous poll affidavit.
He does not have any criminal case against him and was never convicted in any case, states the affidavit.
The chief minister, who does not own any vehicle, has shown his educational qualification as a graduate from Delhi University and has Rs 15,000 cash in hand. There are no loans/dues/liabilities outstanding against him.
There are also no outstanding dues in respect of rent, electricity, water and telephone charges for the accommodation provided to him in Chandigarh's Sector 3.
Khattar, a bachelor, who in his 2014 affidavit had declared himself as an "agriculturist" who took tuitions as well, has now shown himself as an MLA by profession.
Khattar has declared salary as his source of income and filed income tax returns of Rs 28.95 lakh in 2018-19, Rs 31.39 lakh in 2017-18, Rs 34.86 lakh in 2016-17 and Rs 6.21 lakh in 2015-2016.
Get the best of News18 delivered to your inbox - subscribe to News18 Daybreak. Follow News18.com on Twitter, Instagram, Facebook, Telegram, TikTok and on YouTube, and stay in the know with what's happening in the world around you – in real time.
Read full article