Has Tribal Outfit JAYS Lost the Plot Venturing into Politics in MP
Anil Katara, who heads one of the factions of the JAYS, said, 'We need to understand the basic ideology behind JAYS. We are talking about utilising our constitutional rights conferred on us (tribals) under section 244 (1) of Article 5.'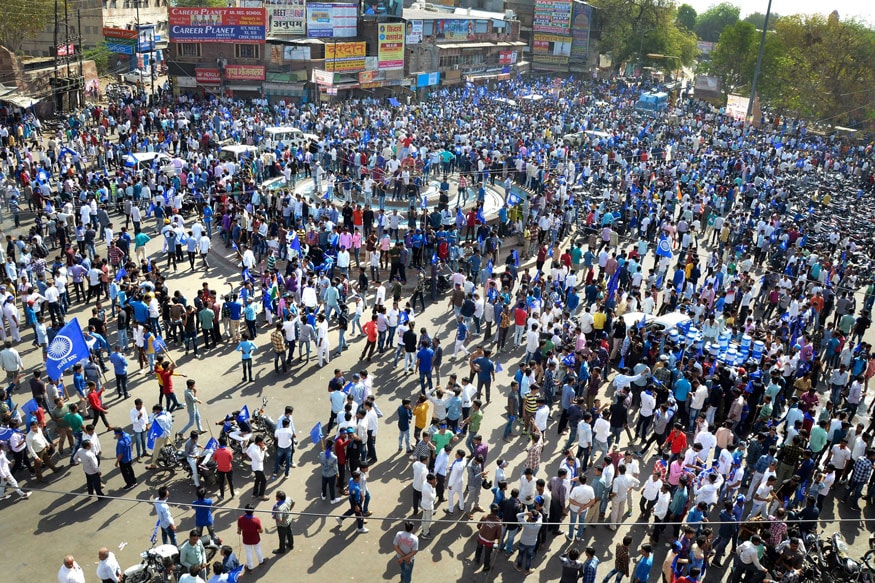 Image for representation only. (Photo: PTI)
Jhabua: The Congress' first list of nominees in Madhya Pradesh did not toss up any major surprises but the inclusion of Dr Hiralal Alawa, the national convener of Jai Adivasi Yuva Shakti (JAYS), intrigued many.
This social organisation comprising progressive tribal youth has recently ventured into politics. Dr Alawa, a former associate professor at AIIMS, New Delhi, resigned from his job in 2016. Earlier this year, he announced that his party would contest Assembly polls on 80 seats with majority tribal population.
However, failure to register the party and internal rift forced Alawa and his men to look for allies which they found in Congress.
Alawa, who launched his poll campaign from Kukshi in Dhar, was adamant on a ticket from Kukshi, a Congress bastion. But the party didn't heed to his requests and opted for sitting MLA Surendra Singh Baghel, son of former minister Pratap Singh Baghel and a confidant of Digvijaya Singha. Alawa got the ticket from Manawar against BJP's former minister Ranjana Baghel.
Not only this, the Congress also offered ticket from Ratlam Gramin seat to Laxman Singh Dindor, a serving Janapad Panchayat CEO and a member of Alawa's rival faction in JAYS. Dindor had served in the police and worked as naib tehsildar till the time his candidature was announced.
Meanwhile, terming them as 'parachute candidates', local leaders and workers of Congress have opposed the two vehemently. Congress leader from Ratlam Gramin seat Komal Dhurve has even announced to contest poll as an independent.
This is perhaps the reason Congress decided to opt for own candidates instead of JAYS nominees at Alirajpur and Petlavad, giving tickets to Mukesh Patel and Val Singh Meda, though Meda is also facing opposition in Petlavad.
Besides earning the wrath of Congress cadre, Alawa and Dindor have been subjected to criticism by their own party members for venturing into politics.
"We need to understand the basic ideology behind JAYS. We are talking about utilising our constitutional rights conferred on us (tribals) under section 244 (1) of Article 5," said Anil Katara who heads one of the factions of the JAYS.
He added that they need to stop participating in Assembly or Lok Sabha polls as it would "bring us directly under the control of Governor and President of India".
Asked whether he supported tribal self-governance movement of Pathalgarhi, Katara said this movement has gravely misrepresented the concept of tribal autonomy. "We are not raising rebellion against country, we just want to exercise our constitutional rights," he added.
One of the founder members of JAYS, Vikram Achhalia told News18 that it was unfortunate their colleagues ventured into politics. "Like other tribal leaders, they (Alawa and Dindor) would simply toe the party line and won't be able to speak for their community even if they are elected," he said.
Saying the organisation indulges in promotion of environment conservation, organic farming, education, history and others, Achhalia said volunteers with selfless approach are hard to come by.
"These days jobless youths migrate outside the state for work. I see jobless labourers queuing up outside markets in Jhabua which wasn't the case during my childhood," he said, adding that progress has been made, but poverty has risen.
"With no political aims, ours was a progressive movement to bring the most backward classes of all communities to mainstream of society. Our members are feeling disheartened by the move of our senior functionaries," said Mahesh Bhabara, one of the founders of JAYS.
He affirmed the organisation would go on with their initiatives but those who left us won't be part of us anymore.
He justified formation of Adivasi Chhatra Sangthan, student wing of JAYS in 2015, saying it was aimed at addressing students' issues in colleges with no political agenda.
ACS has won student elections in many colleges in Malwa-Nimar region. Our core committee would meet on the issue of senior colleagues deserting us, soon, he further added.
Alawa could not be reached for comments on the issue.
Get the best of News18 delivered to your inbox - subscribe to News18 Daybreak. Follow News18.com on Twitter, Instagram, Facebook, Telegram, TikTok and on YouTube, and stay in the know with what's happening in the world around you – in real time.
| Edited by: Ahona Sengupta
Read full article