With Dinakaran Too Behind Bars, Sasikala Stares at a Bleak Future
Sasikala was looking tense and was staring at the ceiling of her cell in the high security central prison at Parappana Agrahara on the outskirts of Bengaluru after her nephew and AIADMK (Amma) leader TTV Dinakaran was arrested by Delhi Police in cash for symbol case.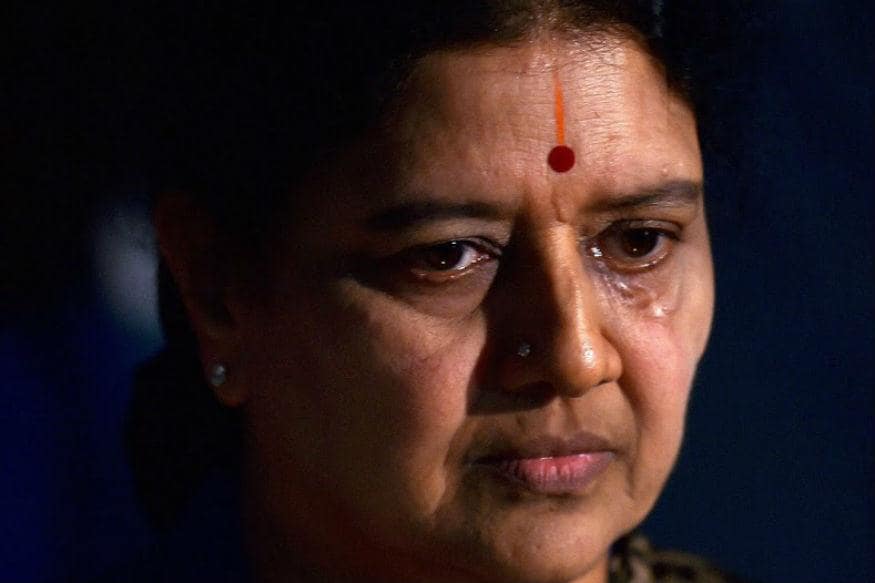 File image of VK Sasikala.
Bengaluru: On Tuesday night, Sasikala refused to eat dinner and asked the jail staff to inform her about the latest news on her nephew TTV Dinakaran. She was looking tense and was staring at the ceiling of her cell in the high security central prison at Parappana Agrahara on the outskirts of Bengaluru.
Around mid-night a "friendly" prison guard knocked on the metal door of her cell and told her that the worst has happened – Dinakaran was arrested by the Delhi police for allegedly trying to bribe the Election Commission of India to retain two leaves symbol of the AIADMK. She is reported to have just looked at him and collapsed on her bed.
On Wednesday morning, she came out of her cell. But refused to have breakfast. Jail doctors, keeping her health in mind, advised her not to skip breakfast. A chronic diabetic and a BP patient Sasikala refused to budge saying that she was not in a mood to eat anything, said reports.
ALSO READ: Sasikala Banners Out of AIADMK Office After Demand From OPS Camp
A top prison official, who spoke to CNN-News18 on condition of anonymity, said: "Her behavior has changed after alleged broker Sukesh Chandrashekhar was arrested by the Delhi police a week ago. Before that she was looking confident. When she came to know that he was arrested, her face turned pale and asked prison guards to give her all Tamil and English newspapers. On the same day Dinakaran was supposed to meet her at the prison. She was waiting for him. But even he did not come. It led to more anxiety."
According to this official, before the OPS and EPS camps started talking about the merger of two factions, a lot of top AIADMK leaders and ministers used to wait outside the jail seeking an appointment with "Chinnamma". She met only a few of them, but there used to be a steady flow of high-profile visitors from Chennai. Suddenly, all that has stopped after she was removed from the post of AIADMK General Secretary.
"Not a single visitor has come to see her in the last one week. She is getting restless. As long as Dinakaran was out, she was confident that he would bail her out and keep the party under his control. With Dinakaran's arrest, she seems to have lost all hopes. She is in a big shock. She does not know what to do. She is really in a bad shape" this officer said.
ALSO READ | Sasikala Disproportionate Assets Case: How it All Started
However, she is still getting home-cooked food. A local leader of the AIADMK has made arrangements for all that, say sources. "Earlier he used to visit jail every day. Even he has stopped coming in the last one week. We don't know if home cooked food will continue to arrive at the jail in future" said another prison official.
He added that Sasikala had never expected this and her confidence level has now hit rock bottom. In the first one month of her jail term, hundreds of AIADMK leaders used to come to visit her from different parts of Tamil Nadu to express solidarity with her. Luxury hotels near the prison had a good business. Now no one is coming to see her and the hotels have seen a dip in their business.
If Dinakaran continues to languish at the Tihar jail in Delhi for a long time and OPS and EPS factions manage to bury the hatchet, Sasikala will soon be forgotten both by the media and her own people.
ALSO READ: Sasikala, Qaidi No 9235, Will Make Candles in Bangalore Jail
| Edited by: Bijaya Das
Read full article