Himachal Pradesh Elections: Congress, BJP Continue to Back Old horses
While the average age of Congress's candidates for the Himachal Pradesh elections is 54.39, the corresponding figure for the BJP stands at 53.82.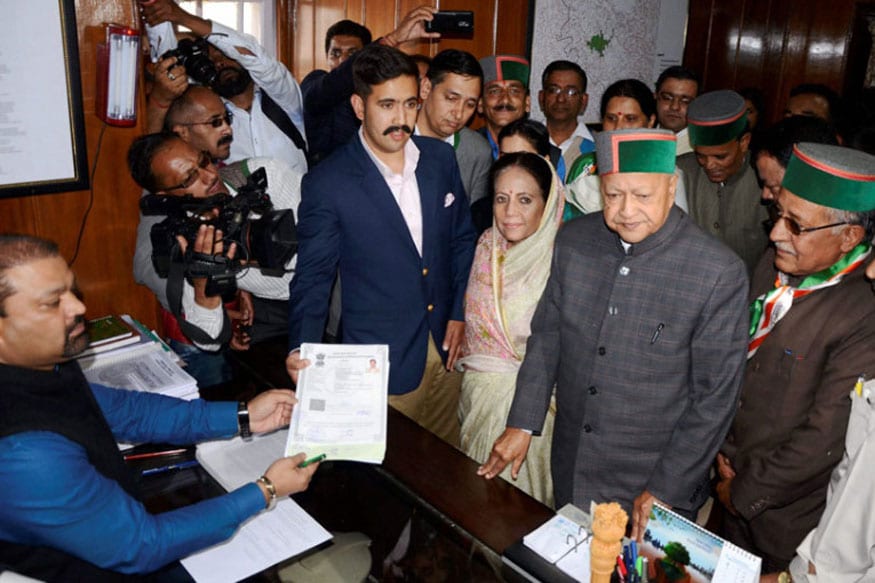 File photo of Himachal Pradesh chief minister Virbhadra Singh. he is contesting as the Chief Minister candidate again in the upcoming assembly elections. (PTI Photo)
New Delhi: The Congress may be drawing some flak for choosing Virbhadra Singh, 83, as their chief ministerial nominee for Himachal Pradesh, but the BJP too is pursuing a similar poll strategy.
While the average age of Congress's candidates in Himachal Pradesh is 54.39, the corresponding figure for the BJP stands at 53.82.
Singh is the oldest candidate between the Congress and the BJP in the upcoming polls to be held on 9 November. The outgoing CM is contesting from Theog assembly segment as Vidya Stokes, 89, a veteran Congress leader, announced her retirement from politics. Stokes offered her seat to Singh.
Anurag Thakur, BJP MP from Hamirpur, tweeted after Singh's candidature was announced: "A 90-year-old leaves Theog seat for an 84-year-old youth. This is Congress for the youth."
एक 90 वर्षीय बुजुर्ग ने एक 84 वर्षीय युवा के लिए ठियोग सीट छोडी 😀, युवाओं की कांग्रेस ! @INCIndia @OfficeOfRG

— Anurag Thakur (@ianuragthakur) October 13, 2017
The Congress has fielded nine septuagenarian candidates in the single-phase election for the hill state. The BJP has given tickets to two septuagenarians.
Prem Kumar Dhumal, a former chief minister of Himachal Pradesh, 73, is among them. Dhumal, the BJP's oldest candidate in this election, is contesting from Sujanpur.
However, there are many candidates, who are in their 60s, from the two rival parties. The Congress has fielded 13 candidates, who are in their 60s, and the BJP has nominated 15 belonging to the similar age bracket.
But, the Congress scores over the BJP when it comes to distributing tickets to young candidates.
For instance, the Congress has fielded Vikramaditya Singh, 28, from Shimla Rural as their nominee. Singh is the son of CM Virbhadra Singh, the sitting MLA from Shimla Rural.
At 34, Hans Raj from Churah constituency is the youngest BJP candidate. Raj got the nod for his successful bid for the same assembly seat in 2012.
The Congress has eight candidates, who are less than 40 years old. Similarly, the BJP has four such candidates.
Both Congress and BJP candidates from Bilaspur haven't mentioned their names in the affidavit filed with the poll panel.
Get the best of News18 delivered to your inbox - subscribe to News18 Daybreak. Follow News18.com on Twitter, Instagram, Facebook, Telegram, TikTok and on YouTube, and stay in the know with what's happening in the world around you – in real time.
| Edited by: Ashish Yechury
Read full article