GET Stock

Quotes


How a 'Tense' Manish Sisodia Introduced AAP Rajya Sabha Nominees to the Party
While there was a visible consensus regarding the candidature of Sanjay Singh, perhaps Sisodia and the party's top leadership were aware of the unease regarding the other two.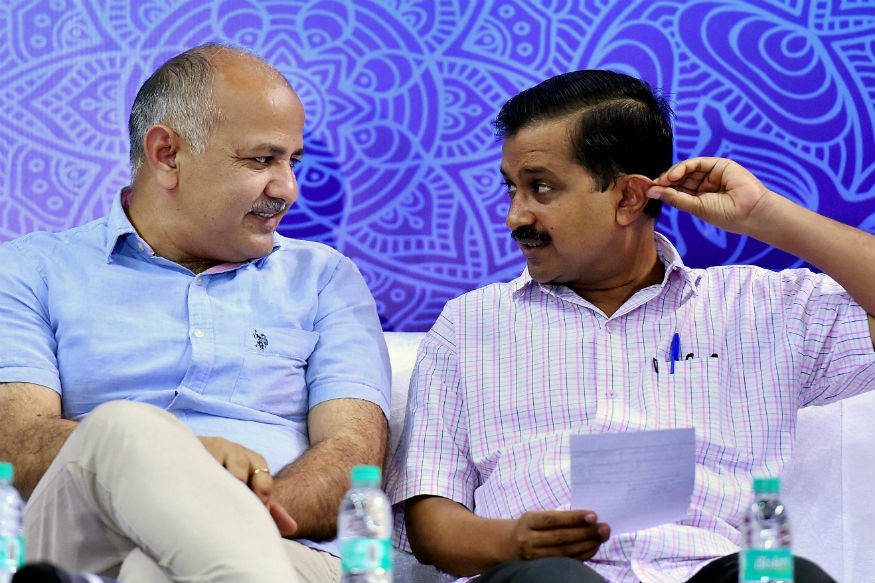 File photo of Delhi CM Arvind Kejriwal and his deputy Manish Sisodia. (PTI)
New Delhi:
Delhi Deputy Chief Minister and AAP's Political Affairs Committee member Manish Sisodia was uncharacteristically tense when he broke the much anticipated names of the party's Rajya Sabha nominees on Wednesday.
While there was a visible consensus regarding the candidature of Sanjay Singh, perhaps Sisodia and the party's top leadership were aware of the unease regarding the other two.
The common surname, Gupta, was not the only question that will be asked. Incidentally, Chief Minister Arvind Kejriwal belongs to the 'Aggarwal' community.
Sisodia took pains to explain that the party had approached as many as 18 big names but they all had turned down an offer of a Rajya Sabha nomination from the party.
The broad reasons they gave, he said, were twofold; hesitation to compromise their independence and fear of being hounded by the central government. One eminent person, made the party wait for 45 days, said a ' yes' and then politely declined saying that his astrologer has advised against it. Chief Minister Kejriwal visited at least three people after positive indications only to be met with refusals, one said, "Beta, aap kyon aye? Hume politics mein interest nahi hai (Why have you come? I am not interested in politics)."
And as the party scaled down its ambitions from sending a Raghuram Rajan or TS Thakur, a section within the top leadership also looked at the role of partymen tasked with identifying and getting candidates from outside.
In other words, did AAP members, in their ambition to become Rajya Sabha candidates themselves, derailed the process of sending eminent people either by accident or by design? Instead of looking for candidates, did they become candidates? Can the AAP today be such a political pariah?
There was lack of consensus in the nine member meeting of the AAP's Political Affairs Committee and two more members, Singh and Kumar Vishwas along with two others were absent. Party leader Ashutosh was the lone voice of dissent to the surprise nomination of Sushil Gupta. Singh had not been invited as the PAC would take a final call on his name while Kumar Vishwas, hopeful of a nomination against all odds was not invited perhaps because of the open challenge he had thrown at Kejriwal.
Vishwas not making it to Rajya Sabha was entirely on expected lines. A party source said Kejriwal does not take kindly to the poet's blackmail tactics while Vishwas signalled the end of a political journey with AAP and a forty-year-old personal journey with Sisodia. Vishwas continues to be a PAC member and Rajasthan in-charge, but for how long?
It was Kejriwal and Sisodia who addressed the 56-odd AAP MLAs present at 6 Flagstaff Road after the PAC meeting to explain the choice of the PAC.
Sushil Gupta, an ex-Congressman who runs charitable schools and hospitals in Delhi and Haryana, would help the party gain a toehold in Haryana, a state that Kejriwal comes from. Gupta, active in vaishya politics, runs charities across 14 districts in Haryana. If Sushil Gupta contested against AAP in 2013, so did Amanatullah Khan, AAP's current MLA. However, unease about Gupta persists not just on account of his deep pocket but more because he has walked out of the Congress and into a RS nomination from AAP.
On the other hand, 74-year-old chartered accountant ND Gupta had been handling the deluge of income tax cases against the party for years free of cost. Additionally, he has known Kejriwal since his parivartan days. Here, perhaps, the party had a debt to repay and a symbiotic relationship to build.
If any MLAs had any reservations, no one expressed it at the meeting. Somnath Bharti and Alka Lamba also kept quiet. Kejriwal had pushed his nominees through.
Singh was perhaps the only choice on which questions were not asked. "The party has given me an opportunity and I will exploit it to its fullest," he said, declining to comment on his co-nominees.
"Rajya Sabha is not about caste politics, look at Jarnardan Dwivedi, a Brahmin from UP representing Delhi, Karan Singh, a Maratha from Kashmir, Parvesh Hashmi, a Muslim…what did they have to do representing Delhi?" an AAP member said.
Another AAP member pointed out that the politics of Delhi was shifting, for the first time in its history a baniya was the chief minister, what is wrong in sending two people from the same community?
Rajya Sabha is about indirect representation, and the choice of the nominee is the party's discretion. Kejriwal has made it clear that those within the party with ambitions to enter Parliament must be ready to fight Lok Sabha elections. The party has, for now, unexpectedly settled for Guptas.
Meanwhile, a few National Council members and municipal councillors are set to meet Kejriwal on Thursday to protest about 'outsiders' being given tickets.
Read full article