How BJP War Room Soldiers Keep Rajasthan Netas from Falling Into 'Media Traps'
A team of researchers at the media centre tells BJP spokespersons and panelists on how to say and what to say on air, and if someone fumbles, they're advised corrective measures.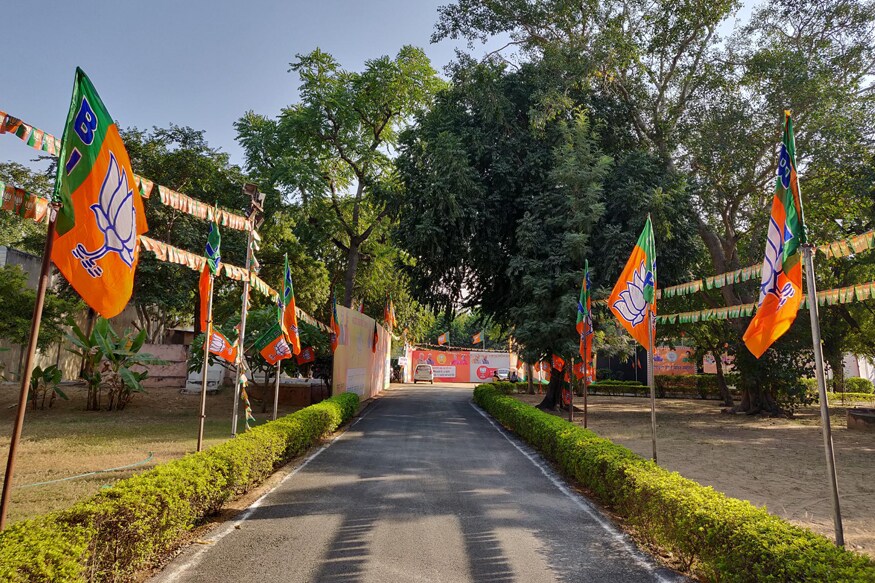 Princess Diya Kumari's private residence has been re-purposed as BJP media centre for Rajasthan Assembly elections (News18.com/Manas Mitul)
Jaipur: From the outside, 16, Sawai Pratap Singh Road in Civil Lines area of Jaipur, looks like an important address. The location (just across the street from Raj Bhavan), the high red walls, and the plaque that reads 'His Highness Maharaja of Jaipur Household' are dead giveaways. But one wouldn't know just how important, even if they walked inside.
It is because Princess Diya Kumari's private residence repurposed as the BJP media centre for Rajasthan Assembly elections doesn't give away much. The sprawling green compound is quiet and homey; inviting, even. Nobody will stop you and ask your business when you enter. In fact, pigeons, parakeets and peacocks are a more common sight than people at the compound. Unless there is a party press conference on the day, you would hardly see any one walking around.
But from the insides of the pale bungalow at the heart of this silent garden, BJP is fighting the state elections. This is the party's media centre. This is where the narrative is set, agenda of the day decided and then meticulously executed on television news channels and newspapers.
This is where a team of people monitor eight news channels, 16 hours a day; analyse positive and negative coverage; and devise ways to maximise the former and minimise the latter. This is where, starting 6 am, every newspaper inch is devoured and 'harmful' coverage is marked down to be countered later. BJP's state election media strategy begins here.
The media centre at the residence of princess Kumari, the daughter of the last Maharaja of Jaipur and also a BJP Legislator from Sawai Madhopur, came into shape just over a month ago. It was officially inaugurated on 21 October, but it had already started operations three days earlier.
"We watch all the prime time television debates," said Pramod Vashisht, co-head of media liaison. "And if they need any improvements, we do that." Vashisht arrives at the media centre at 9 am and stays till 9 pm. He serves as the link between the party and the media. He ensures BJP is getting enough column inches in dailies. He makes sure BJP spokespersons are getting ample airtime. Vashisht and his team also monitor those inches and airtime. They check how much of the coverage is 'positive' and how much of it is 'negative'.
A team of researchers at the media centre provide all materials and data to BJP spokespersons and panelists going on air to talk about Rajasthan elections. What to say, how to say it and which topic to raise — all of it is relayed to the party representative. And if they fumble on air, or walk an undesirable line, Vashisht's team advises corrections to them the next day.
"This is our war room for media," says Yogesh Singh Sisodia. He heads the Ajmer division media duties. The media centre coordinates with all seven divisions of Rajasthan — Jaipur, Jodhpur, Bharatpur, Ajmer, Kota, Bikaner and Udaipur.
BJP has a media in-charge in each division, district and constituency. They report to the media centre in Jaipur and update activities of their regional candidates. The war room receives top-down briefings from his team about each division, district and assembly seat. It ensures the day's top news in papers reaches the top leaders.
Based on all the inputs, the day's strategy is finalised. Issues that will be raised later in the day on news channels are decided. By 11 am, all this information has already reached the leaders scheduled for appearances. "The party line is set early in the day and the TV debates that follow occur on that same line," says a party leader.
Later in the day, if an issue that casts an unfavourable light on the party, a press conference is held at the media centre to counter that narrative. Besides television and print, a morning discussion on the day's social media strategy also takes place. The social media team, however, is separate. But the media centre holds regular consultations and discussions with a representative to pre-empt the day's trends.
Vinay Katiyar, the BJP Rajasthan media in-charge is spearheading the media operations. He has been associated with the RSS since his childhood. He was the Rajasthan media in-charge during the 2013 assembly elections and the 2014 Lok Sabha polls in the state too.
"At that time, social media was not as active as it is today," Katiyar said. "But with increased use, there is misuse too," he added. The need for flags, banners and posters has been eliminated by social media, Katiyar says.
It is a battle of perception, especially now when politics is more polarised divisive than ever. How a party is seen in public eye could swing elections.
Get the best of News18 delivered to your inbox - subscribe to News18 Daybreak. Follow News18.com on Twitter, Instagram, Facebook, TikTok and on YouTube, and stay in the know with what's happening in the world around you – in real time.
Read full article