How Kerala CM is Emerging as Face of Protests Against Cattle Slaughter Ban
Vijayan, who leads the Left Democratic Front (LDF) government in Kerala, called for a united front against the Centre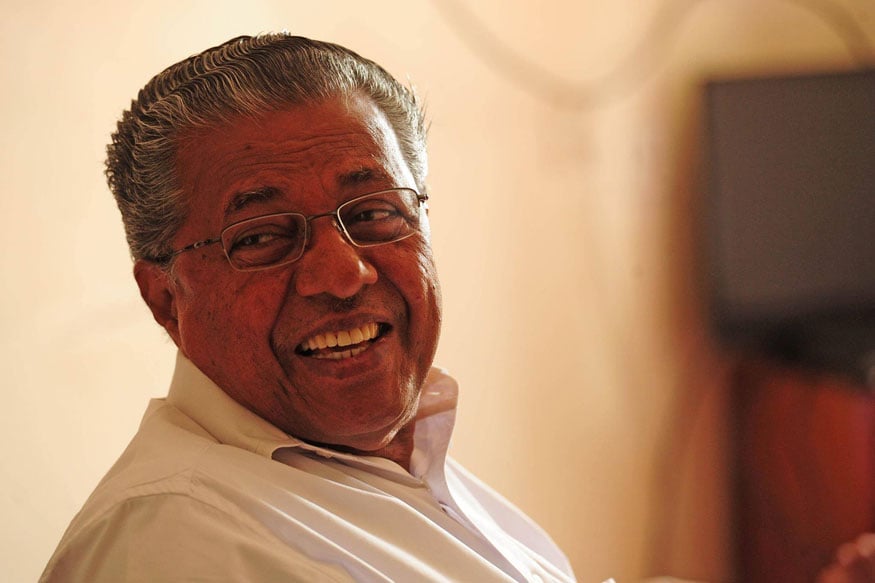 File photo of Kerala Chief Minister Pinarayi Vijayan.
Thiruvananthapuram: "RSS is taking the country in a dangerous direction. They are trying to impose their idea which is not good for a democratic country," said Kerala Chief Minister Pinarayi Vijayan, a day after the news of central government banning sale of cattle for the purpose of slaughtering was aired on national television.
Vijayan, who leads the Left Democratic Front (LDF) government in Kerala, called for a united front against the Centre. Terming the ban 'unconstitutional' and encroachment on the rights of the state, Vijayan asked for an audience with all chief ministers to discuss the further course of action.
"What right does a government have to decide what people can eat? Livelihood of thousands of people will be lost. The state will challenge this legally and not allow a ban on beef through such backdoor policies," he said.
ALSO READ | Police Deployed Outside IIT Madras Campus as Students Protest Beef Ban
At a time when the opposition in the country has been battling for survival with the rise and rise of the Narendra Modi juggernaut, Vijayan and his strong stand on a central policy have come as a breath of fresh air.
"Pinarayi Vijayan is known as a strong leader in his state and now he is trying to emerge as a powerful leader outside of his comfort zone and take initiatives. The most important takeaway from this is that he has been appreciated for it. Look at the support he has from Tamil Nadu and Karnataka," said J Prabhash, a political observer.
Vijayan not only asked for all chief ministers to come together, but also shot a letter to Prime Minister Narendra Modi, scathingly attacking his government's 'ban'.
ALSO READ | Fearing Gau Rakshaks, People Opting to Sell Their Cattle Online
"Meat is the primary source of protein for millions of poor and ordinary people in this country, particularly the Dalits. Such restrictions being imposed on the eve of Ramzan, would certainly appear to certain communities of our country as a direct attack on them. People of all faiths consume meat in our country, not just the minorities," wrote Vijayan.
"Once the prohibition comes into effect, it will not only deprive them of adequate nutrition, but also prevent the availability of raw material for the leather industry. More than 2.5 million people work in India's leather industry and most of them are Dalits, especially those engaged in skinning the carcasses. Hence, this prohibition will severely affect our disadvantaged sections, in terms of both their lives and livelihoods," he said.
ALSO READ | IIT Madras Students Organise Beef Fest To Protest Centre's Cattle Notification
"The new rules should have been introduced in consultation with the states. The absence of efforts to take the states into confidence on such a drastic move with far reaching consequences is detrimental to our democracy. I am afraid it amounts to an intrusion into the rights of the states in our federal structure."
"The introduction of such restrictions in a hasty manner would certainly prove to be a challenge in upholding our plurality, the essence of our nation. It would also be against the principles of secularism and federalism enshrined in our constitution," he added.
ALSO READ | Cultivating the Indian Animal Farm
Reiterating that Kerala did not need food lessons from Delhi or Nagpur, he urged the PM to repeal his order. While it remains to be seen how successful Vijayan will be in rallying the opposition states, he has definitely taken the lead.
Social media has been abuzz with his staunch protest, so much so that many people from other states have asked him to be their CM. Strong backing from everyone in Kerala, including the opposition, has further upped his image as a leader.
Even as BJP state president said that the national opposition was trying to create panic and had misread the rule, state opposition leader Ramesh Chennithala wrote to the chief minister asking him to call a special session of the Assembly to bring in a legislation in this regard.
Chennithala's call for a special session came days after some youth members from his party, Congress, were suspended by the central leadership for their protests, which included slaughtering an ox in public, against the ban. The Cabinet also decided to call a special session of the Assembly.
Beef is a sensitive issue in Kerala because it is a delicacy. Majority of the people in the state consume beef irrespective of their religion, and the fact the Vijayan has taken up their cause has strengthened their protest against the ban.
ALSO READ | Drinking Cow Urine Rids One of Sins from Previous Life: Rajasthan HC Judge
"It is a challenge to the diversity of the country. In Kerala, Hindus, Muslims and Christians, regardless of their faith, eat beef. If at all we stop eating it, it will be for health reasons. Religion will never be a ground. You can totally expect Kerala to rise up in protests," said Arun Krishnan, a student from Thiruvananthapuram.
Another resident, Nithin Kunneparampil, said the impact on Kerala was very high because it was one of the leading states in beef consumption. "The politics of cow from the North is being imposed on us. We don't consider the animal 'Gaumata'," he rued.
It clearly looks like Kerala is hitting moo point.
Get the best of News18 delivered to your inbox - subscribe to News18 Daybreak. Follow News18.com on Twitter, Instagram, Facebook, TikTok and on YouTube, and stay in the know with what's happening in the world around you – in real time.
Subscribe to Moneycontrol Pro and gain access to curated markets data, trading recommendations, equity analysis, investment ideas, insights from market gurus and much more. Get Moneycontrol PRO for 1 year at price of 3 months. Use code FREEDOM.
| Edited by: Aditya Nair
Read full article