How Ramjas Violence Helped NSUI 'Take Back DU'
The National Students' Union of India (NSUI), student wing of the Congress, staged a dramatic comeback in the Delhi University Students' Union (DUSU) polls by winning two out of four seats.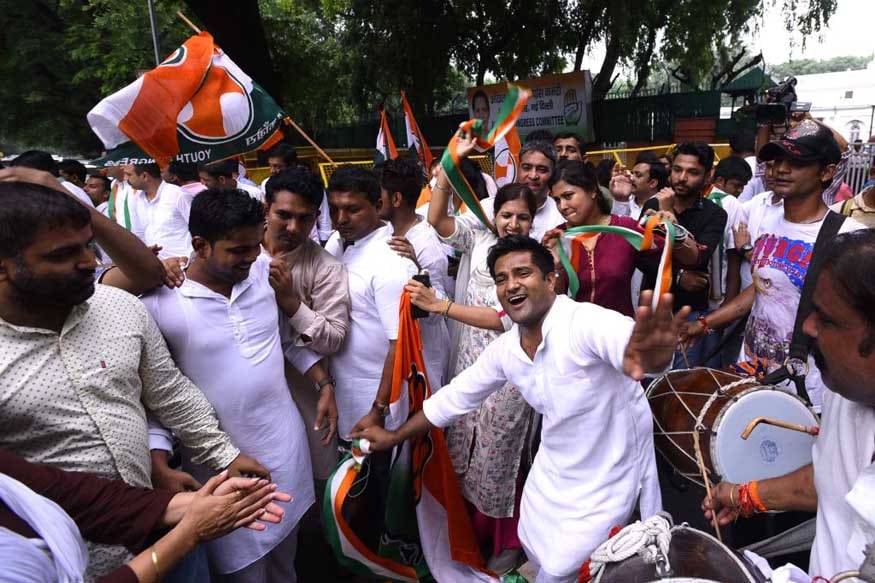 File photo of NSUI members celebrating. (Getty Images)
New Delhi: A third-year Kashmiri student at Delhi University has a stone that adorns his apartment near North Campus. "I got this seven months ago, when I went to Ramjas College. An ABVP goon threw this at me. I could have thrown it back at him, but I picked it up, kept it in my pocket and smiled at him. That really riled him up and he tried to run after me. I have kept this stone with me since then as a memento. This is to remind me of what happened that day," he says.
The day that he spoke about was February 21, 2017. Ramjas College cancelled a seminar called 'Culture of protest'. This was done after Akhil Bhartiya Vidyarthi Parishad (ABVP), student wing of the RSS, protested against the participation of Jawaharlal Nehru University (JNU) research scholar Umar Khalid and former JNUSU vice-president Shehla Rashid. ABVP activists disrupted the event. Anubhav Chakraborty, who was present in Ramjas that day, recalled and said, "When we were sitting inside, the windows of the Ramjas seminar room came crashing down. The ABVP was hurling rocks at us. We were stranded inside for hours and then had to be escorted out by the cops."
The next day, a protest march was organised from Ramjas College to Maurice Nagar police station to protest against the ABVP's actions. The protests were met with violent resistance as the ABVP clashed with agitating students. Journalists covering the event were also manhandled during the chaos. Five months later, Delhi Police submitted a report in the court saying the footage of students and teachers shouting "anti-national" slogans may be doctored. But the debate was far from settled.
The National Students' Union of India (NSUI), student wing of the Congress, staged a dramatic comeback in the Delhi University Students' Union (DUSU) polls by winning two out of four seats. Emblazoned on top of the NSUI's manifesto for the 2017 DUSU elections were the words "Take Back DU!" But who are they taking it back from? Neeraj Mishra, NSUI National Media Coordinator, said, "We have taken the University back from the ABVP and its politics of violence. The Ramjas incident played a very important role this year. After ABVP goons attacked students, we took out a peace rally. We sent our volunteers from classroom to classroom and promised students that we would rid the campus of violence."
The NSUI is not the only student outfit that made this their central plank. The left wing All India Students' Association (AISA), though still the number three player, campaigned aggressively and made "Violence Free DU!" their rallying cry. Congratulating DU students on the win, AISA's National President Sucheta De said, "DU Students have given their mandate. And it is a rejection of state-backed hooliganism, violence and hate mongering. It's a rejection of the ABVP."
While memories of rocks flying in from all directions, fisticuffs breaking out and paramilitary troopers marching on their beloved campus are still fresh in the minds of students, they say they feel assured that their vote counts for something.
We want to reclaim our campus. DU is famous for open debates at chai shops and street corners. That day, the very idea of DU was challenged."
Amaan Shreyas, student at Delhi School of Economics, said, "I am glad we are taking back the university from the disruptive forces, reclaiming our space meant for liberal values of democracy and dissent. DU is not the property of any one outfit. The campus belongs to us all."
The Kashmiri student, who has preserved the rock hurled at him seven months ago, says they should not do to the ABVP what the ABVP did to them. "Main jis campus ka khwab dekhta hoon, usme ABVP bhi shaamil hai. Yeh Azadi sabki azadi hai. (The campus of my dream also has a place for the ABVP. This freedom is freedom for everyone)."
Get the best of News18 delivered to your inbox - subscribe to News18 Daybreak. Follow News18.com on Twitter, Instagram, Facebook, Telegram, TikTok and on YouTube, and stay in the know with what's happening in the world around you – in real time.
| Edited by: Ashish Yechury
Read full article