How RK Nagar Voters Are Responding To Acquittal of All Accused in 2G 'Scam' Verdict
RK Nagar has been an AIADMK bastion for long. But this time, with so much infighting within the party, the DMK smelt an opportunity.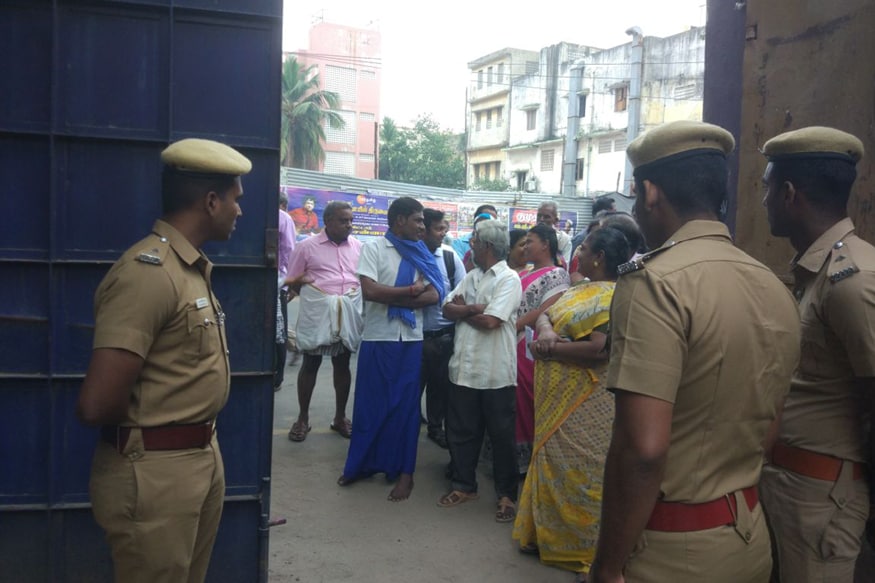 Outside a polling centre in RK Nagar.
Chennai: Minutes after a CBI court in Delhi acquitted all the accused in 2G 'scam', political workers in RK Nagar, former Tamil Nadu chief minister Jayalalitha's constituency where by-poll is underway, were quick to analyse impact of the verdict.
"Now, Modi can go and ally with DMK in Tamil Nadu," read one of the WhatsApp messages being discussed outside polling booths.
Political analysts might want to wait for a while before commenting on the future of Tamil Nadu politics, but never before has a by-poll captured national imagination the way RK Nagar has. The constituency has been an AIADMK bastion for long. But this time, with so much infighting within the party, the DMK smelt an opportunity.
And the verdict in the 2G case that came bright and early by 1030, when more than 90 per cent of the electorate was yet to vote, came as a boost to the party. "Regardless of today's judgment, we were well poised to win RK Nagar… Now with this, the margin of our victory will multiply many times," said DMK spokesperson Manu Sundaram.
It's not an election issue for this constituency per se, but the verdict "vindicated our party's stand and reaffirmed all that the party has said about the case — that the real scam was to have ever called this a scam for political gains," Sundaram added.
So will this verdict have a long-term impact on Tamil Nadu politics?
There is still a long time to go for 2021 Assembly elections, but corruption allegations that have so far kept the DMK down will be countered in different language now. The party is no longer untouchable as far as alliances are concerned.
The first sign of it came in archrival TTV Dinakaran's 'welcome' of the acquittal of DMK leaders: "Even as an opposition party, we didn't want them to go to jail," he said.
Prime Minister Narendra Modi has already extended an olive branch a few months back when he visited ailing DMK patriarch M Karunanidhi during his Chennai visit.
Could other 'factions' of the AIADMK too cozy up to the DMK? Where will Congress stand in all these dynamics? It's too early to comment but politics, after all, is the art of making things possible.
Get the best of News18 delivered to your inbox - subscribe to News18 Daybreak. Follow News18.com on Twitter, Instagram, Facebook, Telegram, TikTok and on YouTube, and stay in the know with what's happening in the world around you – in real time.
| Edited by: Mayur Borah
Read full article