How Sajjad Lone and People's Conference Took Centre Stage in J&K Politics
The J&K People's Conference, which once held a staunchly secessionist position and whose founder Abdul Ghani Lone co-founded the All Parties Hurriyat Conference, has now become as mainstream a party in the valley as there ever was.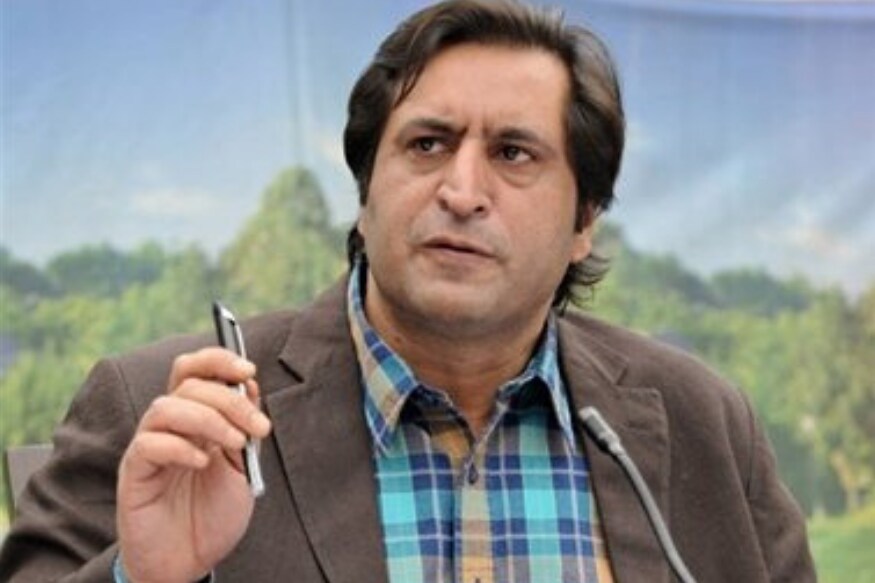 File photo of Sajjad Lone. (Source: Facebook)
New Delhi: In 2002, BBC did a series of stories titled 'Voices from Kashmir' to highlight, the often contradictory, wishes of Kashmiris. One of the people it reached out to was Sajjad Lone. His father Abdul Ghani Lone, the founder of People's Conference and a senior leader of the Hurriyat Conference, was assassinated earlier that year.
In his piece, while advocating talks between India, Kashmir and Pakistan, Sajjad Lone, who is introduced in the story as a 'Kashmiri separatist', wrote "…the basic cause of the violence is rooted in history, when India pledged in 1948 to hold a plebiscite where the people of Kashmir would be free to choose to join India or Pakistan. They reneged on that promise and did not allow the plebiscite to be held.
Over a period of time they brushed the problem under the carpet - India did not even allow any alternative solution to be considered."
Cut to an interview he gave to a local Kashmiri magazine shortly after meeting Prime Minister Narendra Modi in 2014, just before Jammu and Kashmir Assembly elections.
"I see electoral politics as a way of making J&K an economically viable entity, not dependent on doles… I would not want to remain glued to politics for the rest of my life. So let us see what chance we get to serve as. May be as an assembly member or a minister and if chance arises, may be as the head of the state."
Some argue that he's more single-minded about his dream of becoming J&K's Chief Minister than appears in this casual off-hand remark.
"The sum total of all he has said in the past two to three months, in interviews and press conferences, is that he wants to become the next CM of the state. To get rid Kashmir of dynastic rule. Everything in the state seems to revolve around this ambition of his," Yusuf Jameel, veteran Kashmiri journalist says.
By accounts of the people who had switched over to the Sajad Lone camp, including rebel PDP leaders, before the present governor Satya Pal Malik dissolved the state Assembly, Lone had come close to realising this dream of becoming the CM of the state.
The J&K People's Conference, which once held a staunchly secessionist position and whose founder Abdul Ghani Lone co-founded the All Parties Hurriyat Conference (APHC), has now become as mainstream a party in the valley as there ever was.
Lone who, just like many other Hurriyat leaders, dabbled in electoral politics (starting as a Congress MLA, then switching to National Conference, Janata Party, and then Independent) before working to bring several dozen Kashmiri separatist factions together under the banner of APHC.
In his book 'Kashmir: The Vajpayee Years', the former R&AW chief and advisor to former Prime Minister AB Vajpayee on Kashmir, AS Dulat, talked at length about Lone. "He was a typical politician, the only one among these separatists. He was a bit like Vajpayee; Vajpayee used to speak even less. He understood politics. In Kashmir he was regarded as one of the smarter politicians, maybe the smartest after Farooq; maybe even smarter. He was in that league."
Dulat adds, "He was honest enough to acknowledge that the gun had ultimately failed, and that Kashmiris needed to move on. Lone was totally fed up with Pakistan."
At another place, Dulat talks about a key encounter with Lone. "'Look,' I said. 'The PM wants totally free and fair elections.'
'Yes,' he said. 'Free and fair. It is the right way forward.'
It got to a point where I said, 'Will you help us?'
'How?' he asked.
'You could contest,' I said.
'My time is over, but I will help you,' he said. 'Don't ask how, let the time come.'"
Shortly after that conversation, on May 21, 2002, AG Lone was assassinated in a public event. Sajad Lone is said to have dabbled in electoral politics, and started converting his father's secessionist outfit into mainstream party, by fielding proxies in Assembly elections. He himself fought the 2009 Lok Sabha polls but came a distant third.
But despite the lack of electoral success or that of party workers, Lone continued his work of expanding the party and continued to remain relevant to discussions about the future of the valley.
In 2006, he was among a handful of people who were invited for a one-on-one with the then Prime Minister Manmohan Singh for talks on the Kashmir issue.
He continued speaking at public events and on television debates on the resolution of the Kashmir issue. In 2007, he released a document specifying his vision of the future of Kashmir in a document called 'Achievable Nationhood'.
He envisioned a 'single boundary-less economic entity of Jammu & Kashmir Economic Union, with India and Pakistan jointly managing defence and foreign affairs of their respective portions of Kashmir.'
While Lone was talking at length about the future of the valley, the future of his own party was not very clear. His party hadn't made much headway with the people.
"His father and Sajad are quite similar in one way. Both have been larger-than-life figures who have utterly dwarfed their outfit and its potential. While these individuals have gathered enviable clout and influence, their party has hardly been able to move out of his father's constituency of Handwara," veteran Kashmiri journalist Sayeed Malik says.
Success finally shined on People's Conference when two of its MLAs, including Sajad Lone, were elected to the Assembly in 2014.
Having embraced Prime Minister Modi much before anyone else, he was given a ministerial berth, twice, before and after PDP patriarch Mufti Mohammad Sayeed's death. Both times from the BJP's quota.
Lone has since moved from strength to strength. With his two MLAs, and the support of BJP, Lone has been working over-time to expand his party and it is arguably at its strongest right now. With several former PDP MLAs and PDP's co-founder Muzzafar Baig having shown public support for Lone.
"Lone belongs to a generation of political successors like Omar Abdullah and Mehbooba Mufti who are eager to claim power. If they can be CMs, then why not me is what he's basically asking," Malik added.
But what does the immediate future hold for him and his party, given that the current governor of the state, Malik, has hinted at conducting the state polls along with the Lok Sabha elections scheduled in less than six months from now.
"It's hard to say what the future holds for his party. While it is still is no match for the other mainstream parties, one can't tell how a scenario similar to municipal elections [which were boycotted by NC and PDP] will play out in Assembly or Lok Sabha polls. Who is fighting elections will be very important," Jameel adds.
Get the best of News18 delivered to your inbox - subscribe to News18 Daybreak. Follow News18.com on Twitter, Instagram, Facebook, TikTok and on YouTube, and stay in the know with what's happening in the world around you – in real time.
Subscribe to Moneycontrol Pro and gain access to curated markets data, trading recommendations, equity analysis, investment ideas, insights from market gurus and much more. Get Moneycontrol PRO for 1 year at price of 3 months. Use code FREEDOM.
| Edited by: Mayur Borah
Read full article