How Shivpal Yadav and Raja Bhaiya Are Pieces to BJP's 2019 Puzzle Against United Opposition in UP
Analysts suggest that the new political outfits launched by the two will aid the BJP, giving rise to speculation whether there is some tacit understanding with the saffron party.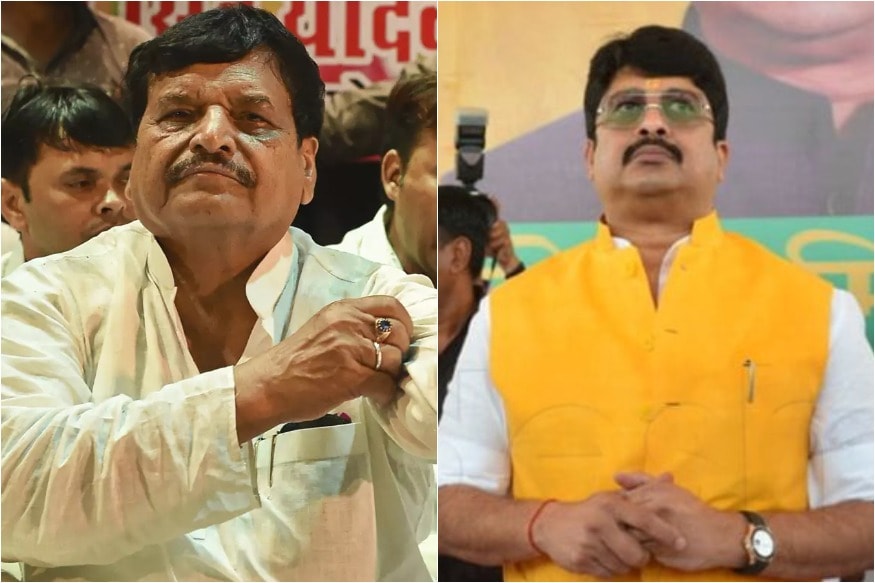 File photos of Shivpal Yadav and Raja Bhiaya.
Lucknow:
Brick by brick, a wall is built. That seems to be the emerging strategy for the BJP when it comes to its Mission 2019 in Uttar Pradesh. Bricks in this case are the likes of Shivpal Singh Yadav and Raghu Raj Pratap Singh, or 'Raja Bhaiya' as he is more popularly known.
The two leaders, both who have recently floated their own political outfits, are the building blocks to this wall that the saffron party is building to protect its seats in the face of the onslaught it is likely to face from a united opposition in UP, which will feature the SP, the BSP and others.
Analysts suggest that the new political outfits will aid the BJP, giving rise to speculation whether these heavyweights launched their parties on their own or with some tacit understanding with the saffron party.
In the case of Shivpal and his Pragatisheel Samajwadi Party, there is a clear motive to dent the Samajwadi Party, and by extension any grand alliance it forms, on some seats during the 2019 Lok Sabha polls.
Shivpal has already declared that his party will field candidates, even against his nephew and SP chief Akhilesh Yadav. Though SP leaders chose not to comment officially against the 'uncle', there is a consensus that BJP's hand is behind his party's launch.
Unlike Shivpal, Raja Bhaiya's motives are still muddy. But the huge turnout at the launch of his Jansatta party at Lucknow's Ramabai Ambedkar maidan on Friday didn't go unnoticed.
Although the numbers at the rally were good, it was short on clear political messagig. Raja remained stuck to his one-line agenda of opposing the amendment to the SC/ST Act, which he described as draconian.
Earlier at a press conference held to announce his new political party, when confronted by News18 as to what he has to say on four-and-half years of Modi government and one-and-half years of Yogi Adityanath rule, he had chosen to sidestep the question, betraying his hesitation in criticising the BJP.
The gangster-turned-politician had been a long-time associate of the Samajwadi Party, but his ties with SP got strained during the Rajya Sabha polls last year. He then voted for the BJP during the closely fought elections.
Raja's hostility with BSP president Mayawati is also an open secret. Mayawati as chief minister had put him behind bars under the stringent TADA and had, for the first time, labelled him as 'Kunda ka Gunda'.
Sources close to him say that given his past equation with Mayawati, it's natural that he can't be in an alliance with her.
But then question arises why he has chosen not to be openly side with the BJP.
The possibility, sources say, is that Raja wants to keep his independent identity intact while strategically working with the BJP, which feels he can be a big factor in at least two Lok Sabha seats - Pratapgarh and Kaushambi.
The saffron party may even support the Jansatta Party candidate on these two seats, they said. The deal would help Raja Bhaiya continue his hold in the region and also give BJP a good chance of adding two more seats to its tally in the Lok Sabha. The maximum mobilisation for his Friday rally had come from this region.
Similarly, the BJP will also hope that Shivpal's party wins a couple of seats, apart from making a significant dent in opposition's vote share on some others.
The likelihood of these tacit understandings then marks a significant shift in the party's strategy in UP as it prepares to fight the combined forces of SP and BSP. Not openly supporting either Shivpal or Raja Bhaiya also suits the BJP as it further adds to claims of disunity among the opposition.
| Edited by: Aakarshuk Sarna
Read full article
Countdown To
Elections Results
To Assembly Elections 2018 Results