As Tata Nano Drives Rahul Gandhi's Gujarat Campaign, BJP Says All is Well
Eight years hence, locals and opposition leaders claim the benefits of the much-publicized Tata factory have hardly trickled down to those on the ground – a damning critique of the 'Gujarat model' itself.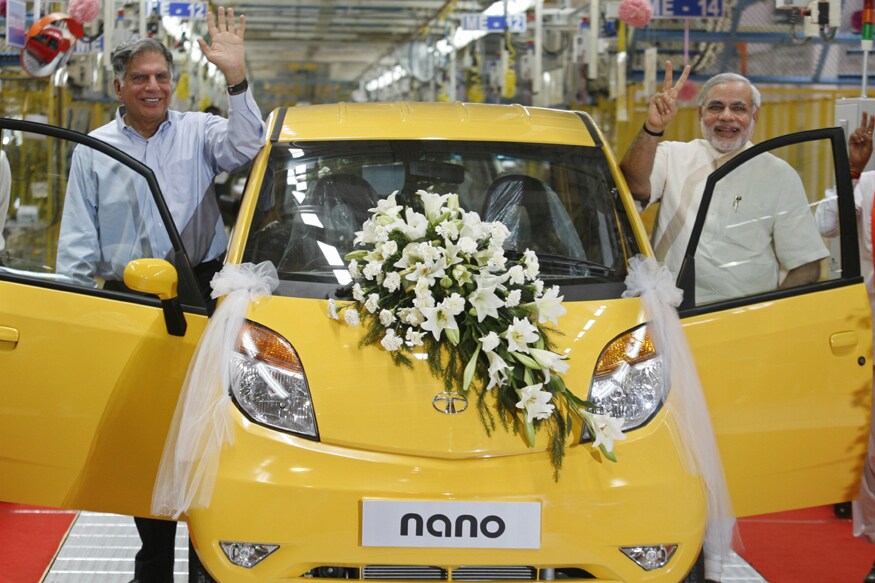 Ratan Tata and Gujarat's then chief minister Narendra Modi wave as they stand beside the Tata Nano car during the inauguration ceremony of the Sanand plant. (File photo: Reuters)
Ahmedabad: Sanand, which lies 40 kilometres west of Ahmedabad, was nothing more than a sleepy suburban town eight years ago. Today, this town of just over 47,000 residents is the 'Auto hub of Gujarat'. The Tata Nano manufacturing plant built in January 2010 became a symbol of Narendra Modi's "Gujarat model" of growth. The factory has, naturally, not been spared from Rahul Gandhi's attacks and is now a poll issue in the Gujarat Assembly elections.
"Land from at least half a dozen villages was taken away to construct this Tata Nano plant. Land was taken away for farmers, but for what? I want to ask all of you present here. Have you seen a Tata Nano plying on the streets of Gujarat? Is any work getting done in this factory? Do you know how many cars it produces? Two cars in a day," Rahul Gandhi said while addressing a rally in Vadnagar, the Prime Minister's hometown.
The Congress President-elect was picking up reports of the Tata Nano's dwindling sales.
The Tata Nano plant came to Gujarat amidst a major controversy in West Bengal that proved to be one of the reasons behind the fall of the Left Front government.
In 2008, Tata Motors had picked Singur in West Bengal to execute Ratan Tata's dream project. However, the then Left Front government came under fire over land acquisition issues. Mamata Banerjee, then an opposition leader, launched a massive agitation against the proposed Tata plant. Feeling the heat of Banerjee's protests, Tata withdrew from West Bengal and that was when Narendra Modi, then Chief Minister of Gujarat, entered the fray.
According to one report, Modi had sent a one-word SMS to Ratan Tata saying, "Suswagatham" (Welcome). The plant was shifted from Singur to Sanand and construction of the factory was completed in 14 months.
The incident gained political dividends for both Mamata and Modi. She cemented her image as a "leader of the masses" and rode to power with a thumping majority in the next West Bengal Assembly elections, ending 34 years of Communist rule in the state, while Modi became a darling of India Inc. and was seen as a man who meant business when it came to promoting growth.
The Tatas were offered several tax incentives in Gujarat as the state was trying to push itself as the most business-friendly state in India. The Nano plant had a domino effect and was soon followed by Ford, Peugeot, Hitachi and a host of other multinational companies, who also came to Sanand.
Eight years hence, locals and opposition leaders claim the benefits of the much-publicized Tata factory have hardly trickled down to those on the ground – a damning critique of the 'Gujarat model' itself.
Amar Solanki, member of the Ahmedabad District Congress Legal Cell and a Sanand resident, said, "When the Tata Nano plant was being built, locals were happy. Modi Ji made tall claims about how this would fuel the growth of Gujarat, especially that of Sanand. But very soon, those claims fell flat. Very few locals got jobs in these plants, while these companies said that Sanand's residents don't have the technical expertise to work here."
He added, "What makes it worse is the haphazard way in which these plants were constructed. For example, the Nano plant was constructed on a natural exit for rainwater. Now, whenever it rains too much in the monsoon, Sanand experiences terrible water logging. The Nano factory was not only a false promise; it is also a sanitation nightmare for the town."
As a member of the Agricultural Produce Market Committee (APMC), local BJP leader Dilip Barad was in charge of negotiating with farmers to acquire their land for the plant in 2008.
Barad disputed Solanki's claims, "The state government was very careful in ensuring that fertile land was not given to the company to construct the plant as was being done in West Bengal. We gave only arid, infertile land to Tata and 1,100 acres were acquired lawfully for them and another 600 acres for the Ford plant. Farmers received their fair share when the land was being acquired. Earlier, those farmers could not earn enough from the arid land. Today, they are 'crorepatis'."
While locals do not reject Barad's claims that some farmers did earn a lot by selling their land, they said it did not change the fact that the plant generated little or no employment for the locals.
Pradipsinh Vaghela said, "Most people who come to work at the Sanand plants are not even Gujaratis. They come from Madhya Pradesh and Uttar Pradesh. So where are the jobs for the Gujaratis, let alone the people of Sanand? A handful of locals did find jobs, but they got menial, low-paying jobs at these plants. That has led to some conflict between outsiders and locals. There were several small clashes in Sanand. So when Rahul Gandhi says that the plant has not offered much to Gujarat, he is not entirely wrong."
| Edited by: Sanchari Chatterjee
Read full article
Countdown To
Elections Results
To Assembly Elections 2018 Results