Jagan at it Again, Says 'Nothing Wrong if Chandrababu Naidu is Hanged'
Jagan Mohan Reddy made the comments during a road show in Nandyal which is up for by-election.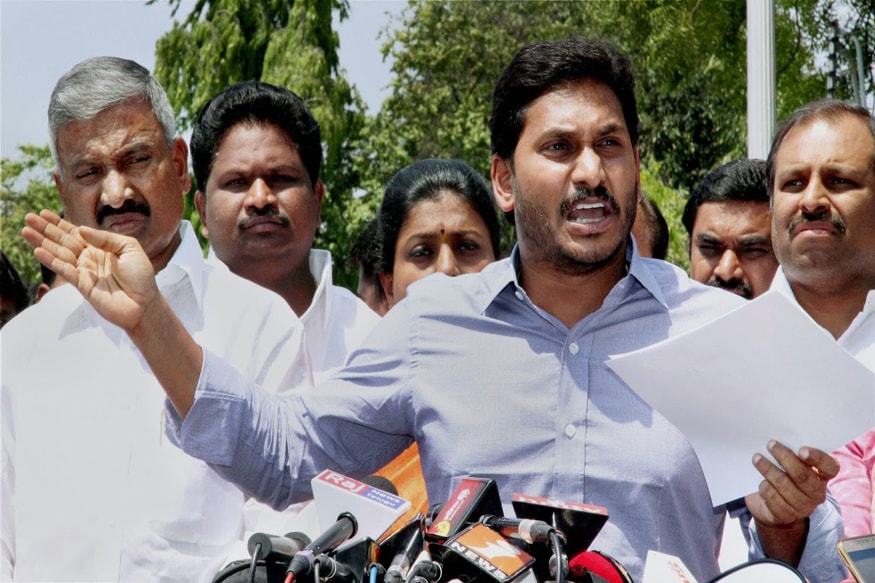 File photo of YSRCP president Jagan Reddy. (File photo: PTI)
Hyderabad:
YSR Congress party chief Jagan Mohan Reddy on Thursday made derogatory remarks against Andhra Pradesh Chief Minister Chandrababu Naidu.
During a road show in Nandyal which is up for by-election, Reddy said, "Even if Chandrababu Naidu is hanged, there is nothing wrong."
"Chandrababu Naidu is tense after my comments. But we will continue to question him and expose all the corruption that he has done. He can be given any punishment for all his misdeeds. And we will say this again and again," he added.
This is not the first time Reddy has made derogatory comments about Naidu. Last week during a public rally in Nandyal, he had said, "If Chandrababu Naidu is shot in the middle of the road for his misdeed, there is nothing wrong."
The Election Commission had issued notice to Reddy for this comment after complaints that it violation of Model Code of Conduct. Reddy was forced to give an explanation to the EC as to why action should not initiated against him.
Calling the Nandyal by-poll a referendum to Chief Minister Chandrababu Naidu's government, YSR Congress chief Jagan Mohan Reddy urged people to cast their vote against Naidu's despicable rule.
"I urge you all to stand in favour of dharma. Every vote you cast, please cast it against Naidu. I don't have resources, I don't have power, I just have my father's legacy which is the YSR Kutumbam (People of Andhra Pradesh)," he said.
"Naidu is dependent on power and money all the time - these are his only two assets. My principles and YSR's good work are my resources. The vote you will cast this time are for these values," he added.
"Chandrababu Naidu assumes that he can buy out voters of Nandyal the way he bought the defected MLA's. Corruption and loot in all aspects is omnipresent in the state from. CM is now giving some part of the money he looted in the form of bribes to you," Reddy said.
Questioning the TDP Government for ignoring Nandyal for years, Jagan said, "The election in Nandyal has bought the entire TDP government to the roads. If they were confident of their work, would they be here in such a hurried and worried state? It has been three years since Naidu became CM, yet he chose to ignore you and he is worried now".
The Nandyal by-elections are scheduled to be held on August 23.
| Edited by: Ashish Yechury
Read full article
Countdown To
Elections Results
To Assembly Elections 2018 Results