In a Change of Strategy in Uttar Pradesh, Rahul Gandhi Draws From PM Modi's Political Playbook
Prime Minister Narendra Modi is often seen taking the route of video conferencing to interact with not only BJP members, but also farmers, self help groups members, students, among others.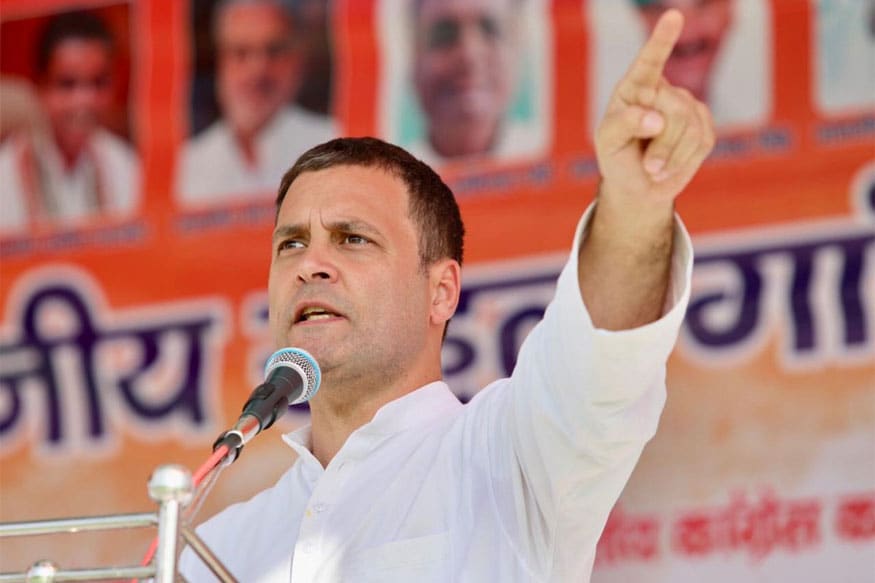 File photo of Congress president Rahul Gandhi.
Lucknow:
The Congress, having failed to secure alliances with the SP and the BSP for the upcoming state elections, is focusing on strengthening its base in the politically crucial state of Uttar Pradesh as the 2019 Lok Sabha polls draw near.
Taking a leaf out of Prime Minister Narendra Modi's political play book, Congress president Rahul Gandhi held a video interaction with block presidents of his party in UP in the last week of September. Rahul will have another video interaction with his party's district presidents and legislators on October 11.
Prime Minister Narendra Modi is often seen taking the route of video conferencing to interact with not only BJP workers, but also farmers, self help group members, students, among others.
In April, Prime Minister Modi, in a video-conference with lawmakers across the country, reminded the motormouth lawmakers not to give "masala to media".
Also, since its launch in June 2015, the NaMo app has been pitched as a platform for public engagement, and facilitates interactions between the common man and NDA office-holders, besides BJP legislators and workers. It also allows users to review the performance of ministers, MPs, MLAs, with separate groups for internal discussions.
In politics, small gestures go a long way. The first video interaction with the grassroot level leaders came just days after Mayawati announced the tie up with Ajit Jogi's party in Chhattisgarh.
With Mayawati having called off the alliance with Congress both in MP and Rajasthan as well, Rahul's meeting with his district president's holds significance.
A senior leader in the know-how of the developments said, "The fact that Rahul ji is taking out time for UP, even when he is extremely busy with the upcoming Assembly polls, is in itself sufficient to indicate the emerging political picture."
What has forced the Congress to revisit its UP strategy? Is it now nervous about alliance possibilities with the SP and the BSP, in UP ahead of the 2019 Lok Sabha polls.
In charge of Congress's campaign committee in UP, Sanjay Singh said, "All those secular forces who wish to defeat the Modi-led BJP government, will unite under the leadership of the Congress in 2019... The Congress has a strategy for UP. It's on our top agenda."
Sources who know about the video conferencing meet told CNN-News18 that a key issue on which Rahul sought feedback was whether the party should go solo in 2019 or fight in alliance with the SP and the BSP. Many block level leaders advocated for go alone policy.
Dr Prashant Trivedi, Assistant Professor with Lucknow-based Giri Institute of Social studies, however feels differently. He said, "2019 is not 2009. A lot has happened since then. The BJP has become increasingly strong and well organised. It will, therefore, be not easy for divided opposition to challenge it effectively.
"Unlike 2009, when a section of upper caste was more inclined towards the Congress, in 2019 going solo might just be too risky for the grand old party."
Whatever be the reasoning behind Congress Party's enhanced UP emphasis, Rahul Gandhi is bringing in a change of strategy in a sense that he is willing to take direct feedback from the grassroot level leaders and not totally relying on the party's top brass. This lesson was apparently learnt after its alliance with the Samajwadi Party in the 2017 state elections.
Congress's secretary organisation for Uttar Pradesh Shiv Pandey said, "Rahul ji will be speaking to district presidents and after that also with respectable people from a cross section of the society. UP is the home state of our top leader, it will always be our priority."
| Edited by: Ashutosh Tripathi
Read full article
Countdown To
Elections Results
To Assembly Elections 2018 Results