GET Stock

Quotes


In a First, Dimple to Share Stage With Akhilesh, Rahul in Varanasi Today
The crowd is getting restless in Azamgarh. Bechai Saroj, the SP candidate from Lalgunj in Azamgarh, stands with folded hands and pleads with the crowd to calm down as they await Dimple Yadav's first rally of the day.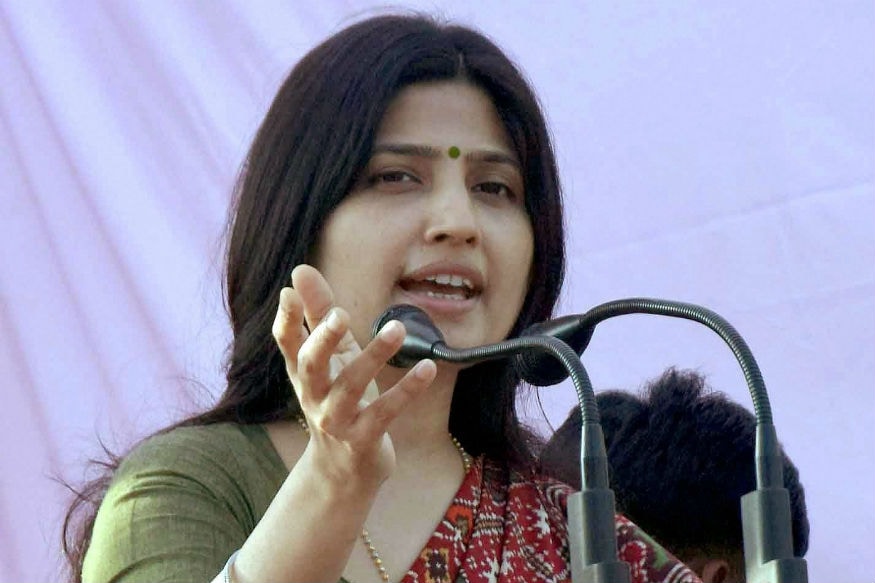 Dimple Yadav, wife of Uttar Pradesh Chief Minister, campaigns in Allahabad on February 20. (PTI)
The crowd is getting restless in Azamgarh. Bechai Saroj, the SP candidate from Lalgunj in Azamgarh, stands with folded hands and pleads with the crowd to calm down as they await Dimple Yadav's first address of the day.
Clad in pale lemon saree, she walks up to the podium, accompanied by SP spokesperson Juhi Singh. The surging crowd gives a determined push to the pickets and barricades on the flank only to meet a posse of equally determined policemen to repel the thrust.
This is the first time Dimple Yadav is holding a rally in Azamgarh, her father-in-law Mulayam Singh Yadav's constituency, in Poorvanchal. Mulayam Singh has not campaigned for anyone, except for his brother Shivpal, and his younger daughter-in-law, Aparna.
Husband Akhilesh held seven rallies in the district in a single day, earlier this week. He could not touch Lalgunj, so Dimple is here to seek votes for party candidate and sitting MLA Bechai Saroj.
"Aapan bhaiya ka jitai hein ki na," she starts her speech haltingly in Bhojpuri to a rapturous applause from the crowd. All this while, Bechai Ram stands beside her, his hands folded to the crowd.
Also Read: I Don't Allow My Kids to Watch Amar Singh on TV, Says Dimple Yadav
This election Dimple Yadav has been trying to fill that void left by near total absence of her father-in-law from campaigning. The target voter is clearly not confined to SP's core Muslim-Yadav constituency.
On Saturday, for the first time, Dimple will be accompanying UP CM Akhilesh Yadav and Congress Vice-President Rahul Gandhi in a road show in Varanasi.
The MP from Kannauj speaks primarily on three issues. Law and order, development, and women.
"Do you see Dial 100 police vans parked on the road? Ye vans kali is liye hein ki inko bahar waalo ki nazar na lag jaye (they are black so that they could be saved from evil eyes)," she says, hitting out indirectly at Prime Minister Narendra Modi and Amit Shah.
With Mulayam not venturing out of Lucknow this time around, Dimple has had to hit the campaign trail from the second phase onwards. She has so far held close to two dozen meetings.
In the last two phases, Akhilesh has, perhaps, faced the stiffest challenge in this multiphased election. Poorvanchal has been to Mulayam, what Western UP is to BSP.
If SP could still manage 100-odd seats in 2007, despite a slump, it was here in Poorvanchal that Mulayam could restrict a BSP on a rampage.
Similarly, Maya could mop up 80 seats in 2012 in the next election, only by fortifying herself in the districts West of Muradabad.
Also Read: Mirzapur: PM Narendra Modi Quotes Rahul Gandhi to Attack Akhilesh
At Dimple's rally in Lalgunj, the crowd is predominantly youth.
Avdhesh Upadhyay, a middle-aged school teacher watching the proceedings from sidelines, is keenly observing for minority faces in the crowd.
"This rally was very important in determining which way minorities will go. They wanted to see if Yadavs, despite Mulayam's absence, are mobilised behind Akhilesh or not. Looking at this crowd, this settles the issue," he says, with a mischievous glint in his eyes.
And, for those who have seen Mulayam operate in the past, would well appreciate the minute observation. In every election in Yadav-dominated areas, whenever there was a chink in the SP armour, Mulayam would descend on the final or the penultimate day of the campaign. It would be a vintage Mulayam performance.
He would take the stage. Looking at his wristwatch, Mulayam was always a man in a hurry in election season. Cutting short all the other speakers, he would take the mike straight away. His chopper would be air-borne in half-an-hour. But in those thirty minutes, his core constituency would know where to vote no matter which way the wind was blowing.
This election, in Mulayam's absence, and with Congress increasingly taking the back seat in the campaign, the alliance is relying heavily on its two star pracharaks, Akhilesh and Dimple Yadav.
So every day, Dimple Yadav takes the chopper to constituencies where bhaiya can't reach. For lunch, she carries her home cooked food along and returns to Lucknow by evening.
Back home, she holds meeting with spokespersons to discuss the media line for the evening debates. Tomorrow would be another day and another day of campaigning in the last phase of UP polls.
| Edited by: Mirza Arif Beg
Read full article
Countdown To
Elections Results
To Assembly Elections 2018 Results