OPINION | In Electoral Politics Unfolding in Bihar, Secularism is a Casualty
Our secularism is based on the idea that we should allow all religious groups to coexist. The state should treat them non-preferentially.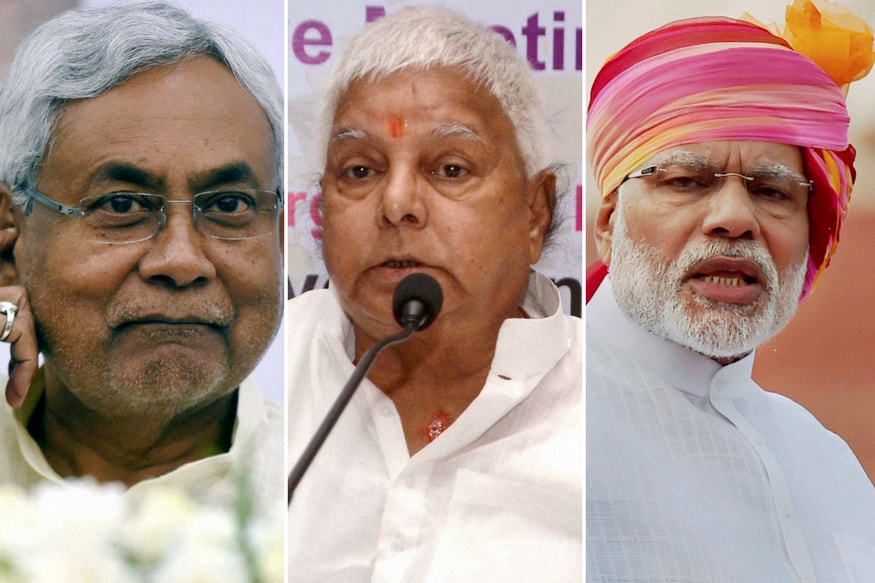 File photos of Bihar CM Nitish Kumar, RJD chief Lalu Prasad Yadav and PM Narendra Modi.
In the electoral politics unfolding in Bihar, our constitutional values are being subjected to abuse, and secularism is one of the casualties. This episode in Indian politics, where the binary between secularism and corruption is being created, calls for a rewind to the genesis and creation of our constitutional secularism, which was developed as an idea for diverse India, and not as a party ideology in electoral democracy.

In Europe, secularism developed in response to the power of the church. After the breakup of Latin Christendom, each society became Anglican, Cavinist, Lutheran or Catholic. Church and state were very closely aligned in most European countries. But soon, the church was seen to become too politically meddlesome and socially oppressive. A movement for un-churching, for curtailing the power of the church, was set in motion. It was a battle between state and the church in predominantly single-religion societies.

In India, the situation was completely different because our society has always had deep religious diversity. Our secularism is based on the idea that we should allow all religious groups to coexist. The state should treat them non-preferentially. Under modern conditions, this developed into a defense of religious pluralism. The state had to respect all religions. But though there was no dominant church here to oppress individuals, quasi-religious institutions such as caste were socially oppressive, particularly to Dalits and women. The 19th century saw many movements of social reform in every religious community.

Respecting religions entailed the necessity of the state to keep off religion but oppression within religion demanded that the state intervened in those aspects of religion that were hierarchical and coercive. Our constitution makers wished the state to keep a principled, value-based distance from religion. And to interfere in religion only when freedom, equality, fraternity and justice demanded so. Thus we respected religion for the meaning it gave to people's lives, for its ethics, but were critical of when it was oppressive. Hence, state interference to ban untouchability, or to reform personal laws for gender justice.

Our constitutional secularism gives citizens the rights to choose, profess, and move from one religion to another. It also gives rights to communities to establish educational institutions, seek funds from the state, etc. Our secularism helps religion grow but is not uncritical of religion. Critical respect for all religions is the hallmark of Indian secularism.

But in last 40 years or so we have developed another kind of secularism, which I call 'Party political secularism', an odd, nefarious, 'secularism' practiced by political parties, particularly so called 'secular forces'. To make sense of what's happening in Bihar, we have to understand this 'secularism'. This secularism keeps an opportunistic distance from all religious communities; its idea of respect is to make deals with the loudest, most fanatical, aggressive sections of religious groups in society. Thus it keeps off religion or intervenes as and when it best suits its party or electoral interests. This has led to banning of Satanic Verses, unlocking the Ram Janmabhoomi Temple and curtailing of women's right to dignity in the Shah Bano Case. Instead of respecting the best in religious groups, political parties hobnob with those least deserving of respect. This, as I said, is not principled but opportunistic distance with religion. This is also a fertile ground for majoritarian Hinduism because when such deals are made, majoritarian Hindutva forces can easily question, "You are doing deals with them and, in vote bank politics, ignoring us despite us being the majority."

In our practice of party political secularism, we have reached this point. Electoral politics has corrupted our constitutional secularism. Now to be fair, anyone in electoral politics can be tempted to be opportunistic. If your main aim is to win, you would be tempted to use unfair means. But it's just here that we need institutions like the courts, a free press, and an alert citizenry to move in and show mirror to political parties. So I am not entirely blaming electoral politics. This is a collective failure. It is for all of us to stop the misuse and abuse of secularism that was fashioned collectively by Jawaharlal Nehru, Dr BR Ambedkar, Sardar Patel and Mahatma Gandhi.

In August 1947, when the creation of Pakistan was certain, one member of the Constituent Assembly, Mahavir Tyagi asked whether India should refrain from clarifying its stand on the minority rights till Pakistan decided its position. Ambedkar's response was firm and decisive: whatever Pakistan does, he said, our own country should grant minorities unconditional rights. Our own judgment on this issue was not dependent on what Pakistan did.

It is sad to see, how in the hunt for votes, secularism is becoming a bad word. But such is the fate of many important values throughout the world. Remember how George Bush abused 'freedom' and 'democracy' when he lied, invaded Iraq, killed its people, all in the name of these values? In its aftermath, the credibility of democracy and freedom have been destroyed in many parts of the world. Here, the same is being done with secularism. If this continues, we will be destroying our civilizational heritage — we are a shining example of religious coexistence in the world. We should not destroy our credibility built over thousands of years of inter-religious equality.

— As told to Eram Agha

(The author is professor at the Centre for the Study of Developing Societies. Views are personal.)
Read full article
Countdown To
Elections Results
To Assembly Elections 2018 Results