GET Stock

Quotes


In My Community, Self-respect is Most Important: Arvinder Lovely on Shift From Congress to BJP
Both Sheila Dikshit and Ajay Maken had left the Congress in 1993. Congress spokesperson Randeep Surjewala, who had called me an opportunist, was blamed for voting against the Congress candidate in the Rajya Sabha polls.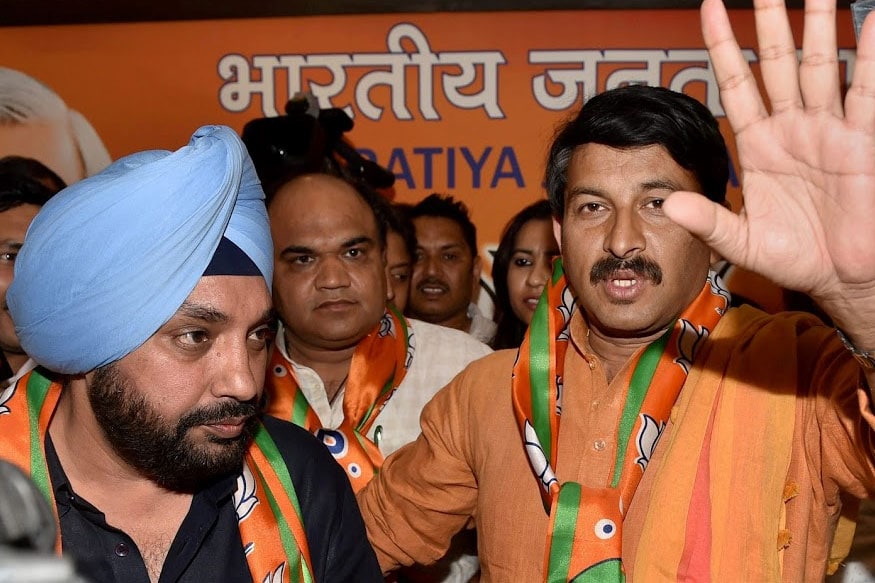 This party has lost its path. The Congress I joined was always ready to help the poor: Arvinder Lovely
New Delhi: Days before the Municipal Corporation of Delhi (MCD) elections, Congress suffered a severe jolt from one of their own. Arvinder Singh Lovely, former Delhi Congress chief and minister in the Sheila Dixit Cabinet, ditched the grand old party and joined the Bhartiya Janata Party (BJP). Two days after his exit, News18's Uday Singh Rana caught up with Lovely, who lashed out at Delhi Congress chief Ajay Maken and Congress vice-president Rahul Gandhi. Edited Excerpts:
You have been a Congressman all this while, and were a key minister in the Sheila Dikshit Cabinet. What prompted you to quit?
This party has lost its path. The Congress I joined was always ready to help the poor. The Congress of today is not listening to its own leaders, how will they ever listen to the people? On the other hand, Narendra Modi and Amit Shah have changed politics completely. Overnight, the image of India has improved worldwide. I tried to meet the Congress leadership for two years to tell them that we are not working properly. However, I could not get a meeting. Many senior leaders like Dr AK Walia are also upset. Some have even alleged that the Congress sold seats for money.
After your exit, questions were raised against Delhi Pradesh Congress Committee (DPCC) chief Ajay Maken. Even former CM Sheila Dikshit has spoken against him. Do you think he is solely to blame?
He is the key person to blame but not the only one. I would also blame the party leadership. We had no say in ticket distribution, we had no say in the manifesto and none of us were even a part of the campaign committee. What are we in politics for? I could either stay silent like Dikshit or speak up. I come from a community where self-respect is the most important thing. If anyone has even an iota of self-respect, they will not stay in the Congress for even a single day.
Did you try to meet Sonia or Rahul Gandhi?
For two years, no leader met me even after persistent trying. Sonia Ji was not well but I did try to meet others. I was removed as DPCC president without a reason. Maken was rewarded for getting us zero seat in 2015 and even losing his own deposit. Now things are beyond anyone's control. Maybe he (Rahul Gandhi) did not think I was worthy of a meeting. On the other hand, Amit Shah, president of a ruling party, met me in just one hour.
AK Walia, another senior Congress leader, recently threatened to quit the party. What would your advice be to leaders like Walia?
Amit Malik and I had the courage to speak up, but I am nobody to comment on others. But someone else will soon raise his or her voice again because everyone in Congress feels the same way as we do.
Do you think Congress has a future without Rahul Gandhi?
I am saying that Congress has no future. It is no more the party of Gandhi and Nehru. Delhi BJP chief Manoj Tiwari went to slums whereas Delhi Congress chief is only interested in going to Lodhi Colony.
 How do you see a potential Rahul-Modi battle playing out in 2019?
There is no contest. Congress has no potential left. A general who does not even meet his soldiers can never win a war.
Ajay Maken, when speaking about you during a television interview, had tears in his eye. Why did you leave such a leader?
Someone should ask him why he didn't meet me, if he was so upset over me leaving. When was the last time he even called me? He cried on TV but I have been silently suffering at home for the last two years.
During the course of this campaign, BJP has referred to the Sheila Dikshit years as '15 years of misrule'. Do you feel comfortable with that?
When I was in Congress, we used to criticise the BJP. In our role as opposition, our job is to pinpoint any shortcomings of the government. In the last two years, however, BJP has shown the way to the country. This is a new BJP.
You were Delhi's education minister. The Aam Aadmi Party says Kejriwal government has revolutionised education in Delhi, but MCD schools are still languishing. How would you reply to such statements?
What has Manish Sisodia, deputy chief minister, done for education in Delhi? The number of out-of-school kids has gone up, the number of vacancies (teachers) has gone up, and results have gone down. When I was education minister, people used to migrate from private schools to government schools. Now, the trend has reversed. AAP is only raising slogans and doing publicity. While there is a lot of work to be done in MCD schools, it does not mean that MCD has not done any work at all. I do believe that this year, the new corporation under BJP will be the best corporation this city has ever seen.
Delhi CM described the MCD as 'Most Corrupt Department'. Do you think anti-incumbency will hurt BJP?
The scenario has changed completely. This new MCD will be under a new leadership. BJP is the only party which can govern honestly. The Congress has been selling tickets and the AAP, which was formed to fight corruption, is already facing corruption charges.
Some would say Mr Lovely was in Congress when times were good but jumped the ship during the tough phase. What would you say to that?
Both Sheila Dikshit and Ajay Maken had left the Congress in 1993. Congress spokesperson Randeep Surjewala, who had called me an opportunist, was blamed for voting against the Congress candidate in the Rajya Sabha polls. I was in the Congress when no Sikh dared to go near the party. I raised my voice against Punjab militancy and even got threats for it. I became DPCC President in 2013, when nobody wanted the post. I am in politics for public service, not sycophancy.
Speaking of militancy, do you approve of Punjab CM Captain Amarinder Singh's decision to not meet Canadian Defence Minister Harjit Sajjan, who had described the 1984 riots as 'genocide'?
I think there are certain radical elements we should not associate with. In Punjab, the Akali Dal may have lost the election but Parkash Singh Badal continuously raised his voice against extremism. Anyone who loves this country should speak out against radicals.
What are your predictions for the MCD polls?
There is no need for predictions anymore. BJP will win majority in all three civic bodies under the MCD. Leave aside East Delhi, I challenge Ajay Maken to make even one Congress candidate win in Rajouri Garden.
Also Watch
| Edited by: Nakshab Khan
Read full article