In Sushil Modi's 'Lalu-Leela', a Bundle of Graft Charges and Forecast of Tejashwi's Political Future
In his the 200-page book, Sushil Modi described Lalu's ascension from a student leader to the chief minister of Bihar as a journey of amassing wealth through improper means.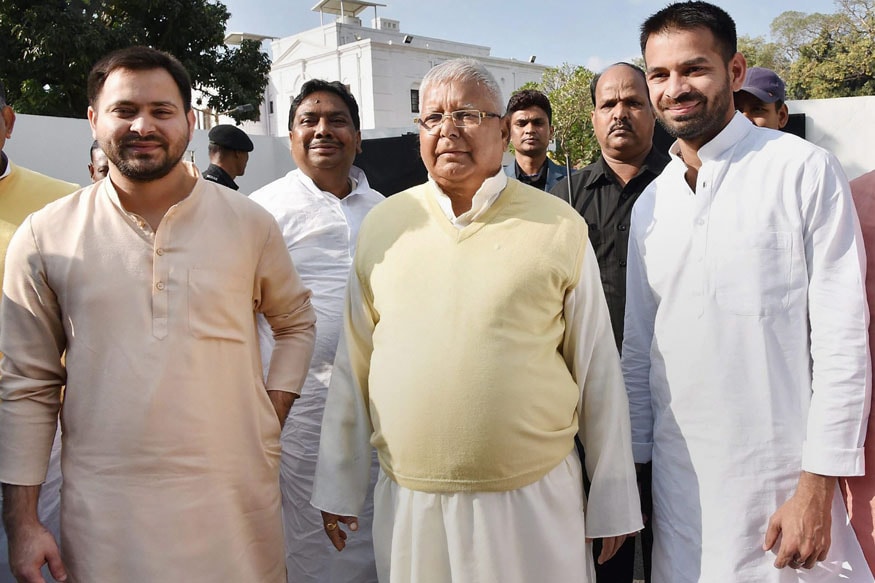 RJD chief Lalu Prasad with his sons Tejashwi Yadav and Tej Pratap Yadav in Patna. (File photo: PTI)
Patna: Bihar's deputy chief minister Sushil Modi on Thursday unveiled his new book titled 'Lalu-Leela' that contains a detailed account of his graft charges against RJD patriarch Lalu Yadav and his family, from fodder scam to Railway hotels tender scam.
Union minister Ravi Shankar Prasad launched his book on the occasion of birth anniversary of socialist leader Jay Prakash Narayan, who had shaped the political careers of both Lalu Yadav and Sushil Modi, among others.
In the 200-page book, Modi has described Lalu's ascension from a student leader of Patna University to the chief minister of Bihar as a journey of amassing wealth through improper means and forgetting the ideals of JP, Ram Manohar Lohia and Karpoori Thakur.
He has attached what he claims documentary proofs of corruption by Yadav family that he had made public during the Mahagathbandhan government, when Lalu's younger son Tejashwi Yadav was deputy of Nitish Kumar, and even after an overnight change of guard after Nitish's return in the NDA.
Lalu-Leela claims Yadav family owns 141 plots, more than 30 residential properties and half a dozen commercial properties including a car showroom owned by Lalu's elder son Tej Pratap Yadav.
The book focuses on Lalu's journey from 1990 when he became chief minister and says he rode on the bandwagon of social justice but lost his way after getting a taste of power, which corrupted him.
It questions how a leader from a humble background amassed about thousand crore in the fodder scam. Modi's book also talks about political corruption by Lalu as he chose his wife Rabri Devi and ignored other senior leaders when the law caught up with him in the fodder scam in 1997.
The book also mentions many RJD leaders like Kanti Singh, Raghunath Jha and Abu Dojana who, Modi claims, paid or sold precious pieces of lands for getting election tickets. The deputy CM has written that Lalu's family, mainly eldest daughter Misa Bharti and sons - Tejashwi and Tej Pratap, inherited corruption from their father in the last decade.
The book has named many companies like Misha Bharti and husband Shailesh Kumar owned Ms Mishail Packers and Printers Pvt Ltd, Lara Projects which has Rabri and Tejaswhi as directors and Fairgrow Pvt Ltd, which Modi claimed were the shell companies used to convert black money into white.
The book also talks about Lalu's affection for his children but hints the RJD leader is closer to Tejashwi than Tej Pratap while referring to the charge sheet filed by the ED and CBI in railway tender scam in which contract of running and maintenance of two Railway hotels were allegedly given to a company as quid pro quo for a prime piece of land in Patna.
Tejashwi Yadav, already the object of envy for his siblings - if all the stories are to be believed - has apparently bagged a lion's share of his father's properties. Tejashwi and Rabri along with Lalu have been made accused in the case which, Modi predicts, will result in conviction of Lalu scion.
Get the best of News18 delivered to your inbox - subscribe to News18 Daybreak. Follow News18.com on Twitter, Instagram, Facebook, Telegram, TikTok and on YouTube, and stay in the know with what's happening in the world around you – in real time.
| Edited by: Aakarshuk Sarna
Read full article