In Chennai's Political Tug-of-war, the IPS is Caught Between EPS and OPS
Was a senior IPS officer subjected to verbal abuse by MLAs who got into an argument with a police team that was enquiring into the alleged 'kidnap' of MLAs? Yes, if you go by the video of a leaked argument between Kanchipuram SP and MLAs staying at the Golden Bay resort. The video shows one MLA being pulled back from an altercation by (newly-inducted) School Education Minister KA Sengottaiyan. The SP, Mutharasi, is heard asking the MLAs in shock: "How can you possibly hurl such abuses at an IG? Words like 'kuppai porikki' (garbage collector), is that what you call an IG?"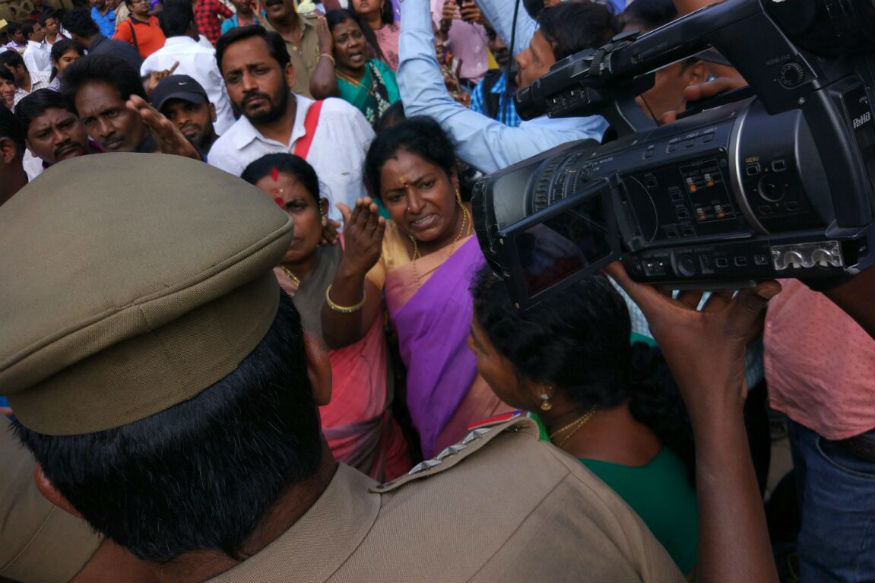 For the last two weeks, police in Tamil Nadu have been caught in the tussle for the throne of Tamil Nadu. (Deepa Balakrishnan/News18)
Chennai: Was a senior IPS officer subjected to verbal abuse by MLAs who got into an argument with a police team that was enquiring into the alleged 'kidnap' of MLAs?
Yes, if you go by the video of a leaked argument between Kanchipuram SP and MLAs staying at the Golden Bay resort. The video shows one MLA being pulled back from an altercation by (newly-inducted) School Education Minister KA Sengottaiyan. The SP, Mutharasi, is heard asking the MLAs in shock: "How can you possibly hurl such abuses at an IG? Words like 'kuppai porikki' (garbage collector), is that what you call an IG?"
This happened on Wednesday when police teams went on a fact-finding mission based on an FIR filed by 'runaway' MLA SS Saravanan. Saravanan had lodged a complaint of kidnap and criminal intimidation against VK Sasikala, after proclaiming to the media that he too was held captive, but was able to escape from the resort in disguise.
The police team that went up to the resort included both Kanchipuram SP Mutharasi and Central Zone IG NK Senthamarai Kannan.
Caught in the tussle for the throne of Tamil Nadu over the last two weeks, the police have faced many a delicate situation — Wednesday's rude and indecent language by our elected representatives probably taking this to a peak.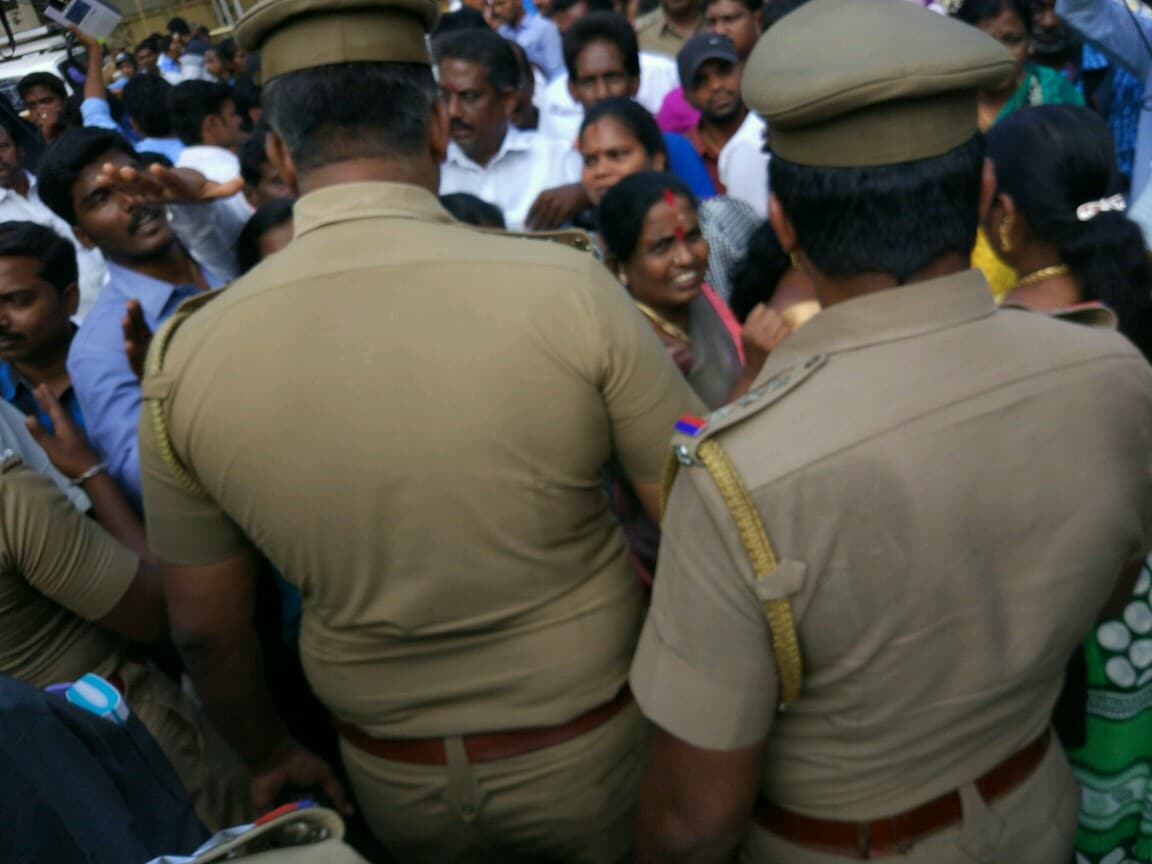 "No, we have not filed any complaint about abusing a public servant (the IGP). We just want all this (the transition of power) to end smoothly. That's the main concern. We may follow up on the abuse later, but not now," says a senior police officer, who was part of the team that went to the resort.
Doubtless, it has downed morale in a police force that has already been highly stressed and over-worked — Chennai has seen a security overdrive since September — first, around the hospital where J Jayalalithaa was admitted, later extending to many parts of the city and the state, mainly as a preventive measure, where people are wont to do extreme things in a fit of emotion.
When Jayalalithaa died, police personnel worked 15 straight hours sometimes, many just lying down in the basement of a building near the hospital for a couple of hours of shut-eye, before getting on duty again. The cyclone, a prolonged Jallikattu agitation — all these have left them nervy, tired and on edge. To then be abused by people in positions of power, who are supposed to represent lakhs of people in their constituencies, hasn't gone down well with the police rank and file.
Also Read: Sasikala Elected General Secretary in Violation of Norms: OPS Camp to EC
"A complaint is filed. If MLAs say they are detained, police will have to act, to free them from the resort. But if they say they are not under duress, it's difficult to make out whether they are being made to say that, or there is some quid pro quo. Police realize the complaint is made because a few people are for party A and others for party B. So how much is instigated, police can't know," says G Thilagavathi, retired DGP who was Tamil Nadu's first woman IPS officer.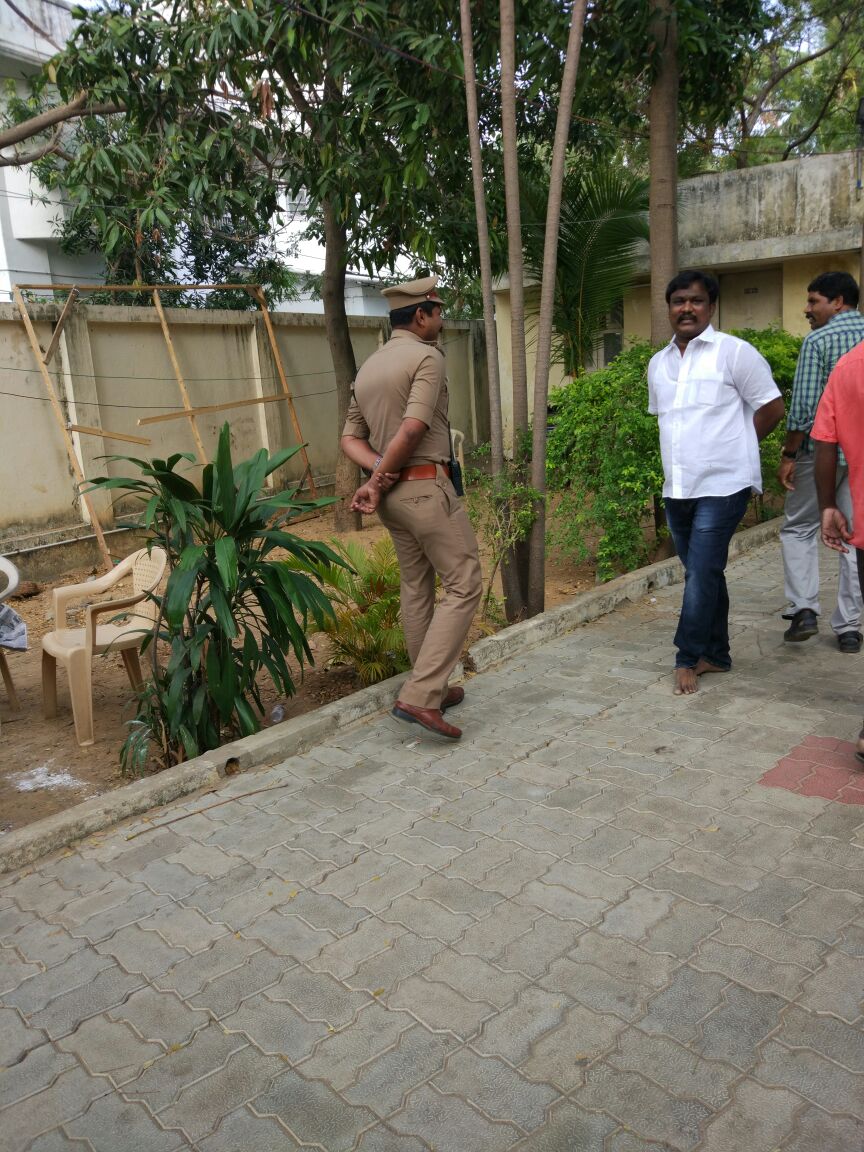 Police, whoever they may be taking instruction from — whether the caretaker CM O Panneerselvam or the politically-more-powerful Sasikala camp — would still have to uphold the law, while remaining calm in dealing with abusive politicians, she feels.
Allegations that over 120 MLAs are being held against their wishes have been pouring in ever since February 8, when the MLAs who unsuspectingly went for a Legislature Party meeting at the party office at 10 am, were whisked off to hotels first, and then the resort that night.
Also Read: E Palaniswami Sworn in as Tamil Nadu CM in a Low-profile Ceremony
The resort, 80 km away from Chennai off the East Coast Road, is a secluded one surrounded by backwaters on two sides, at the end of a narrow road that leads up to it, with just barren land, a bunch of coconut palms and random brush on either side. In other words, an ideal 'hostage' place for VIPs if you wanted one.
"Police can act if the MLAs' human rights are violated. They can act if media is beaten or assaulted in front of them. They can act if villagers are threatened or beaten. But how can they take action for someone being foolish or being wilful prisoners?" asks Thilagavathi.
Policemen are, in any case, trained to be patient in the face of politicians abusing them, she says. "During their training itself, we tell them not to get emotional, not to precipitate things," she says.
Also Read: Palaniswami Takes Oath as TN's Third CM in 2 Months, Trust Vote on Feb 18
Letika Saran, another veteran IPS officer who has worked with the politics of revenge that has often been seen in Tamil Nadu, says police officials have by now developed a thick skin.
"People may say anything. Yes police officials feel bad, but you can't react to what someone says because the minute you lose your cool, it becomes a different story. It's tough, but it has to be done," says Saran, indicating that a 'different story' could well mean being accused of supporting either of the factions.
Easily believable, when you see that police officials are at the receiving end of public ire often — a police sub-inspector on duty for former chief minister O Pannerselvam, for instance, was completely taken aback when a supporter asked him angrily: "Will you go and salute that man now and stand guard at his house?", obviously referring to the newly-sworn-in E Palaniswami.
At the end of the day, no officer wants trouble with law and order — if he retaliates to loose comments (even from people in responsible positions), that goal may not be met.
| Edited by: Nitya Thirumalai
Read full article