GET Stock

Quotes


In Uttar Pradesh, 403 Separate Battles Will Decide Assembly Elections
For the last year, analysts have been searching for an overarching theme that will decide the 2017 UP Assembly polls.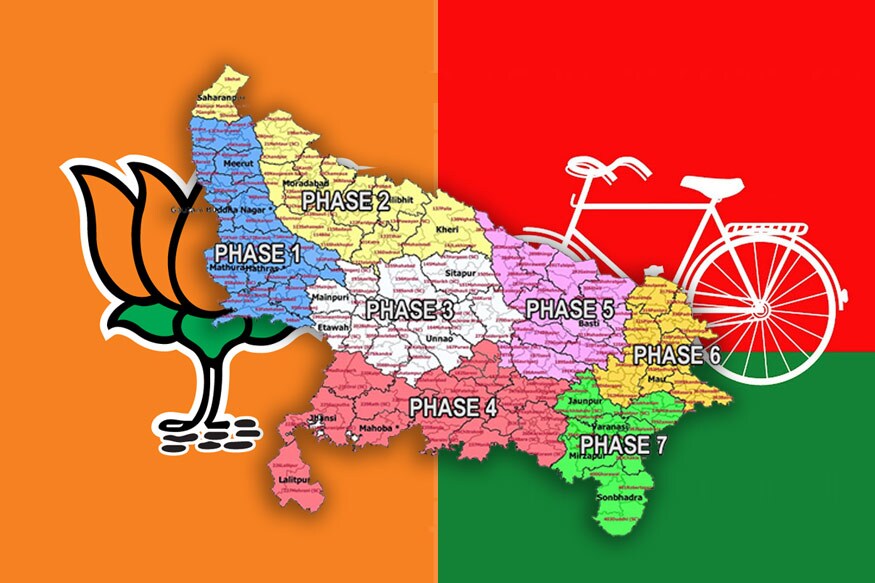 An infographic showing how the polls are scheduled in Uttar Pradesh.
New Delhi/Lucknow: For the last year, analysts have been searching for an overarching theme that will decide the 2017 UP Assembly polls.
Will BJP manage a 2014 Modi-wave redux? Will Mayawati's efforts at forging Dalit-Muslim coalition translate into electoral success? Will the Rahul-Akhilesh duo pull a Nitish-Lalu of 2015?
After the dust from the first two phases has settled, there is a growing realisation that the overarching theme of this election is that there is none.
UP assembly polls will be decided not on the larger battles but by 403 separate battles being fought in each constituency. Increasingly, the phrase 'neck-to-neck' contest is being used in nearly every constituency in Uttar Pradesh.
What is, perhaps, an indicator of the volatility of this election is that several heavyweight leaders are worried about saving their own seats after polling in the first two phases.
In the Meerut city seat, for example, BJP leaders are not fully certain that former UP BJP chief Laxmikant Bajpai will be able to defend his seat against Rafiq Ansari of the Samajwadi Party, who has been trying to consolidate the minority vote.
In Rampur, where SP veteran Azam Khan is a seven-time MLA, the nomination of Dr Tanveer Ahmed of the BSP has thrown up a tough political battle. In Suar Tanda, also in Rampur district, five-time MLA Nawab Kazim Ali Khan is facing Azam Khan's youngest son Abdullah Azam Khan.
In Saharanpur, UP Congress vice-president Imran Masood, who lost the Lok Sabha elections by less than a margin of 6%, is contesting from the Nakur Assembly seat. While Masood is believed to be popular in his bastion, he is taking on Dharam Singh Saini, who switched from BSP to BJP, in a close election.
In Meerut Cantt, a seat that BJP has not lost since 1989, three-time MLA Satyaprakash Aggarwal is on a sticky wicket. Candidates, too, admit that the election will not be a cakewalk for any of them.
Also Read: Caught Between SRK and 'Gabbar', RaGa Spins Magic Realist Song in Raebareli
A senior Congress leader, who contested in the second phase, says that he faces a "tough fight". "We have the strongest chance in the constituency but it would be unwise to write the other candidates off. It will be a tough fight for sure," he said.
Also Read: Priyanka Hits Campaign Trail, Woos Women Voters in Raebareli
Last year, bypolls were held in three Assembly seats in UP. All three constituencies threw up vastly different results. The BJP won the Muzaffarnagar Assembly seat, Congress won Deoband and the Samajwadi Party won the Bikapur seat.
While Muzaffarnagar and Deoband are less than 25 km apart, polarising issues played out differently in both seats in 2016. While BJP candidate Kapil Dev Aggarwal won in Muzaffarnagar by more than 7,000 votes, Rampal Singh Pundhir came in third in Deoband.
This time, too, local trends are likely to dominate in these seats. Aggarwal, while confident of his own win, is aware of the fact that he will face a tough battle against Gaurav Swaroop, the son of deceased former MLA Chitaranjan Swaroop.
"It would be wrong to say that he (Swaroop) has no support. He is the only one in the fight against me and will throw a good challenge. However, it will not be enough. I will certainly win because I am running on a progressive platform. People are with BJP," said Aggarwal.
With a population of over 20 crore people, the issues in UP are just as diverse as its people. In some western UP districts, for example, one of the biggest issues facing farmers is the delay in payment of sugarcane arrears by sugar mills.
In the 2014 Lok Sabha elections, when the BJP swept the state, old considerations of caste and community broke down. This time, however, identity politics – of the caste and clan variety, not religion-based – is likely to play a large role in the election.
Vinod Jatoli, a Meerut-based sugarcane farmer from the Jat community, said: "In 2014, it was a Modi wave. Rajendra Aggawal won the Meerut Lok Sabha seat because he belonged to Modi's party. In fact, there was a saying - Rajendra Aggarwal majboori hai, kyunki Modi zaroori hai (Rajendra Aggarwal is a compulsion because Modi is a necessity). Now we know that Modi is not going to be the CM. Besides, they have proven in the last two years that they are running an anti-farmer government. We are Hindus later and farmers first. Even our identity as Jats is linked to our profession as farmers. Neither Akhilesh nor Modi has ensured payment for sugarcane farmers. Modi promised a raise in minimum support price of wheat but that has been unfulfilled. That is why most of us are going back to the Rashtriya Lok Dal (RLD) because they are the only ones who have been agitating for sugarcane farmers in western UP."
Like Jats, Muslims, too, are keen to break the image that they vote en bloc, as one vote-bank.
Yusuf, a tea-stall owner on the Rampur-Moradabad road, said, "Akhilesh Yadav bahut achche hain, kaam bhi kiya hai, lekin hamara problem Lucknow tho nahin le jayenge! (Akhilesh Yadav is a good man, he has worked also. But he will not take our local problems to Lucknow)."
The BSP has been hoping that endorsements from top clerics will help build support among minorities. On the ground, however, there is little evidence that Muslims will vote for one party simply because clerics said so. Take, for example, Hashimpura colony in Meerut. In 1987, 42 Muslim men from the colony were allegedly rounded up by security personnel, shot dead and dumped into the Muradnagar canal. Years later, survivors of the massacre say they remain unaffected by any "wave" in support for one party or another. For them, their own personal fight for justice matters above all.
Zulfikar Nassir, who was 17 years old when he was picked up, said, "When the verdict came and the accused were acquitted, nobody from any other party came to meet us. Only SP leaders sympathised with us. Mayawati didn't lift a finger to help us. It doesn't matter how many Muslim candidates are fielded by BSP. We will only support the party that has wiped our tears."
Also Read: Brahmin Face of SP's Majority Outreach Now Rides BSP's Jumbo
Muslim voters told News18 that they are voting "like any other community" rather than as one homogeneous group. Dr Shabnam, a Rampur-based physician, said, "My vote is for safety and security instead of religion. It is about local issues. Over here, I don't see the need for consolidation of the Muslim vote."
If 2014 was the year of 'Ab ki baar, Modi Sarkar' and 2015 was the year of 'Phir ek baar Nitish Kumar' and 'Paanch Saal Kejriwal', 2017 is shaping up to be a wave-less election. In an election where local issues like sugarcane in western UP and drought in Bundelkhand will matter more than polarisation, where the pro-activeness of local candidates will matter more than the "brand Akhilesh" or "brand Modi", every single one of UP's 403 seats could throw up a surprise.
Also Watch
| Edited by: Ashutosh Tripathi
Read full article