In UP's Bundelkhand, Young Voters Remember Broken Promises
As the fourth of UP's seven Assembly election phases looms over the state's Bundelkhand region, on 23 February, first time voters such as her, in the small town of Atarra in Bundelkhand's Banda district, of look on it with bemusement and barely there expectations of change.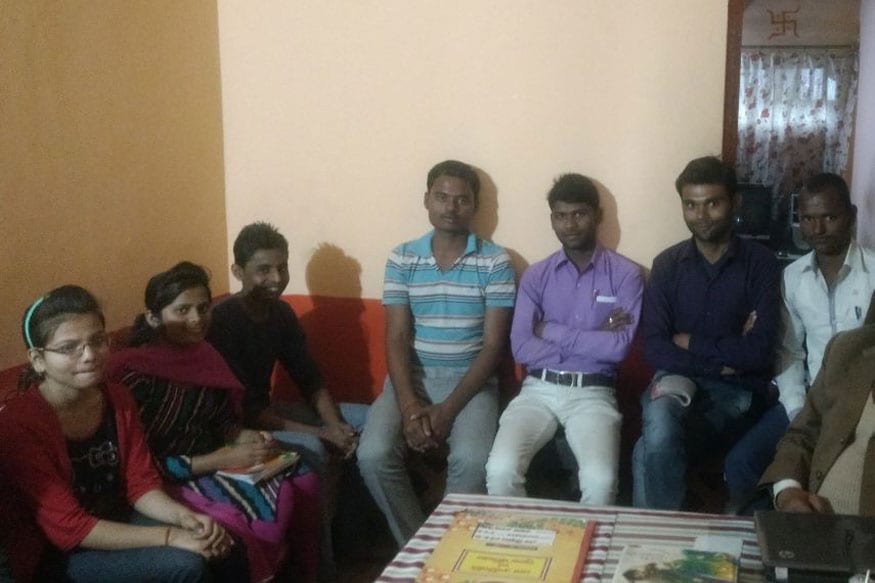 Young voters of Atarra. Photo: Aradhna Wal
Atarra, Banda: The news constantly on 19-year-old Shalini Gupta's mind is of PhD holders applying for jobs as safai karamcharis, news that repeatedly came out of her home state of Uttar Pradesh over the course of 2016.
Shalini, a final year BSc. student at Bundelkhand University, is worried at the utter lack of jobs available for her and others her age.
As the fourth of UP's seven Assembly election phases looms over the state's Bundelkhand region, on 23 February, first time voters such as her, in the small town of Atarra in Bundelkhand's Banda district, of look on it with bemusement and barely there expectations of change.
"Every party is campaigning now, but we don't know who to trust," said 20-year-old Saket, who teaches maths to class eight students in a local school. "After elections who will remember us? Whoever wins will say, we don't know you."
Some 30 km outside of the congested Banda town, Atarra, typical of most hinterland towns, is situated on either side of the main Banda road, soon giving way to wheat fields and villages. It falls in Banda's Naraini Assembly constituency, reserved for Scheduled Caste candidates, where the Bahujan Samaj Party beat out the Samajwadi Party in 2012.
Off this road, just before the town three ATMs, is local NGO Jan Shikshan Evam Prashikshan Samiti's computer training centre, where Shalini and a group of 18 to 21 year olds clack away at typewriters every evening, to perfect their typing before they go on to actual computers.
Before this course, none of them had even used computers. Now, they hope more doors will open for them; banking, working in "big companies" in Delhi, Lucknow, Mumbai, running shops, as their friends are now doing, having passed out of the centre's previous batches.
At home, there is barely any work, and the group's social aspirations are to get out of town. "Even if there is government work here, we keep hearing you to pay bribes to get it," Shalini added. She hopes to be a banker, in whichever city she can get posted in.
Manoj Singh (21) wants to be a computer operator, 19-year-old Jeetender a sub inspector and 18 –year-old Deepender an electronic engineer. Amar Singh (21), a recent BSc. graduate from Bundelkhand University admitted, "We can't be fixed on any one thing. I have to apply for as many jobs as I can, for whatever I can get." Manoj summed up their situation, "They say a person shouldn't sail on two boats at once, but here we have to keep a foot in as many boats as possible."
They represent a sliver of the 25 lakh first-time voters in Uttar Pradesh's elections. Though they know that the country's eyes are trained on the outcome of their state, likely to decide India's political future, here they barely know who to believe and who will remember them after the elections. "Everything works on bribes," said Saket, "I had to go to the police station once, and they first asked for Rs 100. In banks, they yell at you if they don't know you. Only the big people get their work done."
Banks, they recounted, remain a problem, since demonetisation pushed through by the Bharatiya Janta Party's government in the centre. Be it State Bank of India or Tulsi Gramin Bank, people, said Saket, are still standing in line till evening, not sure if they'll get cash.
When their teacher and head of the samiti, Shiv Kumar, tried to argue in favour of demonetisation, the students immediately disagreed, saying that whatever advantages a poor person got, the disadvantages were equal.
Kumar, who also leads a network of similar small organisations in Bundelkhand, explained the job crunch, further; even if jobs were available, they couldn't match the pay for qualified candidates. A local institute wanted a BTech qualified teacher but couldn't hope to pay the salaries available in nearby Allahabad. Hence, people aim to leave.
To an outsider, such as this reporter, the students say caste does not matter to them. After some questioning however, they admit that people do and will end up voting for candidates who belong to their caste. Still, some, like Saket like current chief minister Akhilesh Yadav of SP, even if, as they say, he's done the work of five years in one month to look good for the elections. Others, like Shalini, think BJP might be a better bet.
Here, Amar and Manoj protested, saying that BJP candidates had promised better electricity to their villages in 2014's Lok Sabha election campaign. "The pillars they built have been lying broken for two years and there has never been an electricity," Amar said.
Everyone has stories of promises made and broken like clockwork. The road to Shalini's and Deepender's village, Hastam, has been broken for as long as they can remember. "It has such big holes," Deepender indicated stretching his arms. All campaigners and local leaders use it, promise to repair it when even local panchayat elections happen, but no one ever has.
Akhilesh Yadav's much touted distribution of free laptops in late 2016 has become a joke. The students say many who got the laptops don't know how to use them. "They watch videos at home, they don't even know where the battery goes," said Saket.
The Primary Health Centre's in their villages have only an Auxiliary Nurse Midwife, no doctors. "In my village, Chattaria," said Manoj, "the ANM has told everyone that she's available only on Wednesday. A hospital was built four or five years ago and it has never seen a doctor or a nurse. People's cows and goats roam about there." The hospital, he laughed, needs its own health check. The same goes, it seems, for everything else.
| Edited by: Ashish Yechury
Read full article
Countdown To
Elections Results
To Assembly Elections 2018 Results