In Western UP, Slaughterhouses Are Once Again in BJP's Crosshairs
BJP president Amit Shah has made it amply evident, at the core of the strategy would be a focus on slaughterhouses in Western UP, which he said engaged in cattle theft.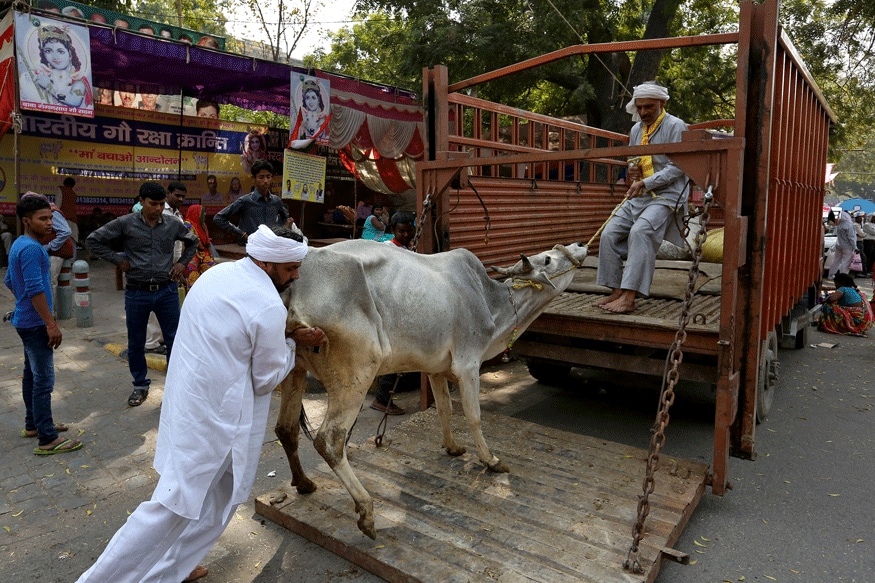 The officials of the Animal Husbandry Department of Tamil Nadu government had purchased 50 cows and calves from Jaisalmer and were transporting them in five trucks with NOC.(Image for representation only. Photo: Reuters)
New Delhi: BJP plans to take the Samajwadi-Congress head on by stressing on the "complete collapse" of law and order in the state under the Akhilesh Yadav government. But as BJP national president Amit Shah made it amply evident, at the core of the strategy would be a focus on slaughterhouses in Western UP, which he said engaged in cattle theft.
"In all of UP – whether it is Western UP, Awadh, Rohilkhand or Purvanchal – you will see that due to slaughterhouses, cows that give milk are finished. If there is a drought or flood, farmers fall back on cattle for sustenance... In UP, we want to prevent cattle smuggling and slaughter. Today, even FIRs are not registered in UP in such cases," he told Network18 Group Editor-in-Chief Rahul Joshi in an exclusive interview.
The party manifesto declares that a BJP government in the state will shut down all "illegal abattoirs" and ban mechanized abattoirs with immediate effect.
Sure enough, the ruling SP is not taking the charges lying down that under its watch cattle theft has become a flourishing business.
Raisuddin Qureshi, SP's Agra district chief, said Shah's statement was aimed more at Muslims than from any real concern towards cattle. "Everything they propose has to be against Muslims. There is no such big threat of cattle thieves, the real trouble is how Bajrang Dal leaders harass the cattle traders and hamper the trade. They are trying to get political mileage out of this," he told News18.
Uttar Pradesh Elections 2017: Congress, Samajwadi Party Dodge Amit Shah Gambit on Minority Quotas
Ashok Chowdhury, an environment activist in western Uttar Pradesh, who prides himself as a BJP supporter put a different spin to the argument. He felt that the manifesto mentioned about banning the abattoirs without acknowledging the fact that there are people who eat cattle meat and would do anything to consume it.
"If there is a crackdown on the abattoirs there will be much more illegal slaughtering in unauthorized abattoirs to meet the demands. This will lead to environmental problems with polluting the water and air." Chowdhury said, adding that cattle are being illegally transported from one region to another in collusion with the local police and administration.
India exports about 13,43,607 tons of meat, mostly buffalo meat, according to industry body APEDA. "Indian buffalo meat is witnessing strong demand in international markets due to its lean character and near organic nature. Unlike cow slaughter, there is no social taboo in killing buffalo for meat. Goat and lamb meat are relatively small segments where local demand is outstripping supply," according to APEDA.
Uttar Pradesh Police claim they have a strategy is in place to deal with cattle theft, which often leads to murder and communal tension. "The instances of cattle theft are high in the region. Since it is situated close to Haryana border the illegal passage of cattle is high here. We are going to deploy police personnel to start the interstate border checking to curb the cases of cattle theft," Saharanpur SSP Love Kumar said.
In Aligarh the police has sought help from public in fighting cattle theft. There are gram suraksha samitis where the locals are part of the vigilance on rotation and keep the cattle thieves at bay, according to Vinod Singh, SO, Akrabad. "There are vigilant gram suraksha samitis where 10-12 villagers participate in tracking cattle thieves. When they are active the thieves stay away. We will also be upgrading the team – changing the members and getting the interested ones to have keep the vigil. There are slaughter houses here which is why we see many instances of theft. Another thing that the administration has started is convey system, where the vehicles on the road to track the illegal passage of cattle," he said.
Sanjay Pahal, an activist in the region, felt Shah's concerns sounded hollow. "Even after being at the Centre they could not do anything to curb the abattoirs," he said.
Earlier, a newspaper report that claimed that BJP MLA Sangeet Som was involved in one of the leading abattoirs had raised a furore. Fringe organisations like Hindu Mahasabha had long accused BJP leaders of playing a double game on the issue.
"BJP is trading the cause of Hindutva for monetary gains as meat export earned them money to keep the abattoirs running because Uttar Pradesh is one of the important areas of production," Pooja Shakun of Hindu Mahasabha had said when reports of Som's involvement came out.
Speaking to News18, one of the top meat exporters in western UP said the industry would welcome if the government cracks down on illegal abattoirs.
"We are with the government on this issue. The BJP manifesto clearly mentions the illegal ones, the legal ones do not have to worry. The instance of cattle theft have nothing to do with registered legal abattoirs, we produce tonnes of meat, how can a handful of illegally procured buffaloes be of any help on our production?" he said on condition of anonymity.
ALSO READ:
UP Elections 2017: Amit Shah Dares Opposition to Make Polls a Referendum on Demonetisation
Reading Between Amit Shah's Lines: Back to Basics, With a Twist
Get the best of News18 delivered to your inbox - subscribe to News18 Daybreak. Follow News18.com on Twitter, Instagram, Facebook, Telegram, TikTok and on YouTube, and stay in the know with what's happening in the world around you – in real time.
| Edited by: Bijaya Das
Read full article