GET Stock

Quotes


In Western UP's Thana Bhawan, BJP's 'Rabble-Rouser' Squares Off With SP's Academic
One of them is a riot-accused MLA who just can't seem to stay away from controversies, and the other is a soft-spoken professor of zoology from Lucknow University.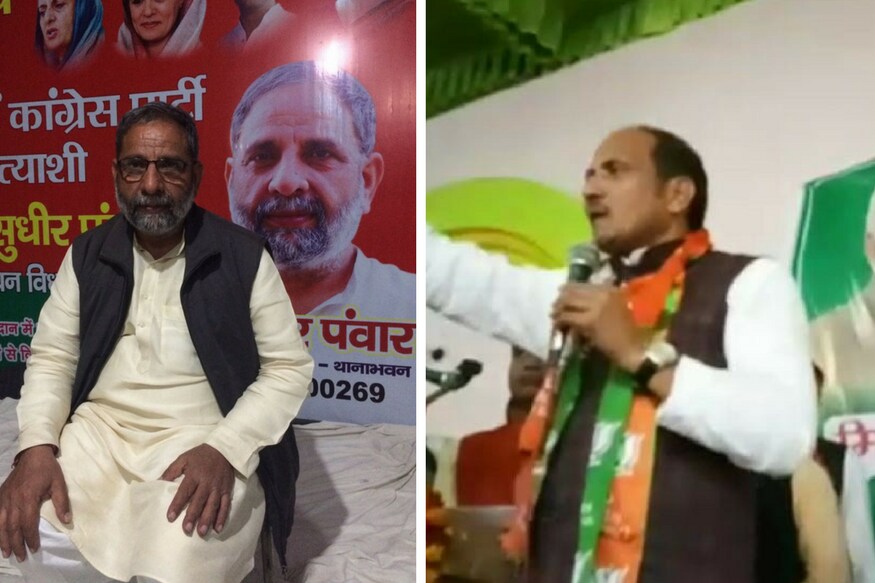 BJP's Suresh Rana (right) is pitted against Dr Sudhir Panwar (left) of the Samajwadi Party in Thana Bhawan constituency in western Uttar Pradesh.
Thana Bhawan (UP): One of them is a riot-accused MLA who just can't seem to stay away from controversies, and the other is a soft-spoken professor of zoology from Lucknow University. One promises he would impose curfew in his constituency to ensure law and order; the other preaches the 'power of education'. One sports a tilak on his forehead, and the other wears spectacles.
Welcome to Thana Bhawan constituency in western Uttar Pradesh, bang in the middle of the Ground Zero of polarisation, where BJP's Suresh Rana is pitted against Dr Sudhir Panwar of the Samajwadi Party. BSP candidate Abdul Waris Khan completes the picture in Thana Bhawan.
Rana says he has been a "loyal karyakarta of the BJP" for the last 27 years. Perhaps that is why, he wonders, he was elevated to the position of UP BJP vice-president. "I have spent 60 percent of my life in the BJP. I was a karyakarta, the BJP district president and even fought Assembly elections twice. If the party has shown faith in me, it must have been for these reasons," he says.
The firebrand lawmaker recently made headlines last month after a video of him making an alleged "hate speech" had gone viral. "If Suresh Rana wins the election again, curfew will be imposed in Kairana, Deoband and Moradabad.
March 11 will be the date and a procession will move from Shamli to Thana Bhawan with slogans of 'Bharat Mata ki Jai'," Rana, an accused in the 2013 Muzaffarnagar riots, could be seen saying in the video. On January 30, an FIR was filed against him for making a "hate speech".
When News 18 caught up with Rana on the campaign trail, he doubled-down on his statement. "There are many cities in western UP like Kairana, Moradabad and Meerut where people have fled due to crime. Criminals are celebrating on the streets and they rule the streets. If nationalist forces come to power, then crime will come under control. There is no place in UP where our sisters feel safe. I only meant to say that when BJP comes to power, it will be a curfew-like situation for criminals."
Interestingly, all the towns Rana mentioned in the controversial speech have significant Muslim populations. Does he mean to say only Muslim-majority towns have crime? He claimed his statement had nothing to do with religion. "I mentioned these towns because I struggled against crime in these cities. The town of Kairana has almost been emptied. In Deoband, AK-47s belonging to cops were stolen and nothing was done. Till today, those weapons have not been recovered. This is the situation in these towns," he told News 18.
After having worked with the party for nearly two decades, Rana got his big break in 2007 when he contested on a BJP ticket from Thana Bhawan, but lost to RLD candidate Abdul Waris Khan. This year, Khan is contesting on a BSP ticket. In 2012, he finally managed to win the election and polled over 53,000 votes. However, it wasn't until 2013 that he shot to infamy. During the peak of the Muzaffarnagar riots, which claimed 50 lives and rendered over 40,000 people homeless, Rana was accused of violating prohibitory orders after he addressed a mahapanchayat that was said to stoke communal passions in riot-hit Muzaffarnagar and Shamli districts. Rana, along with other BJP leaders, was arrested in September 2013.
According to Panwar, the latest controversy surrounding the video is a reflection on Rana's modus operandi. "If you look at the election scenario, he is solely dependent on the polarisation of the election because he could not do much for the people here," he says.
Panwar's path to the electoral fray has been very different. The zoology professor, who has been associated with farmers' struggles in his own village of Bhainswal in Shamli, was appointed a member of the Uttar Pradesh Planning Commission after Akhilesh Yadav became the Chief Minister. Once the CM won the political tug-of-war in the Samajwadi Party, Panwar's ticket from his native Thana Bhawan was all but confirmed. According to Panwar, Akhilesh Yadav's decision to give a ticket to a professor is the CM's way of undercutting polarisation. "You cannot fight hatred with hatred. You can only fight polarisation through the power of education," he says.
Is it difficult for an academic to find his footing in politics? Panwar says, "I find it a little bit difficult but not so much since my native village is here and I belong to the community here. I am not an outsider to Thana Bhawan. As a professor, I was preaching. I am doing the same thing here."
Rana, however, believes that it will be an easy route to victory for him. "I think it will be a no-contest because the people are sick of the Samajwadi Party's policies. Sugarcane farmers are not getting paid, young boys are being framed in false cases, women are unsafe, a mother and daughter were raped in Bulandshahr and then SP leaders say these are 'mistakes'. They will not be able to match the BJP."
Panwar's problems will be compounded by the fact that he will be vying for the Muslim vote with BSP candidate Abdul Waris Khan. A split in the Muslim vote could end up helping the BJP chances in this seat. Masrur Alam, a tea shop owner in Thana Bhawan, said, "It's a tough fight here. I wanted to vote for the cycle symbol but I think Waris has the best chance of beating Suresh Rana. But even if the minority vote is split, Rana will lose. A lot of my Jat friends have decided that they will vote against BJP this time. The Thakurs, Rana's own community, are unhappy with him because he has not managed to get any development work done."
Another hot issue in Thana Bhawan, bound to polarise voters, is that of an alleged 'Hindu exodus'. Kairana, just 30 km away and part of the same district, was in the news last June after BJP MP Hukum Singh had claimed that 250 Hindu families had "fled Kairana" due to "pressure from another community". Singh soon clarified that it was not a "communal issue" but one related to law and order. Rana agrees. "We should not look at whether the families that fled were Hindu or Muslim. In large numbers, people have fled Kairana due to rising crime. It is just a coincidence that the families that fled were Hindu families. In fact, I can say that the situation in Kairana is like what it was in Kashmir."
Panwar, on the other hand, commends the media for "exposing BJP's false claims" on the alleged exodus. "I think the media exposed the BJP's claims and proved that the migration in Kairana is like migration anywhere in India. There was no exodus. Yet, we will work towards building employment opportunities to mitigate this migration. The crime statistics in Kairana are not much different than any other place. In fact, the Superintendent of Police of Shamli at the time was even awarded the President's medal for five consecutive years. BJP is only trying to polarise voters by using inflammatory words."
With just a few days left before campaigning for the first phase of the UP elections ends, both candidates have a packed schedule. Each of them has been addressing 8-9 public meetings in villages across the constituency. For now, Thana Bhawan is watching this electoral battle with bated breath.
Also Watch
| Edited by: Huma Tabassum
Read full article