In Yogi Adityanath, Everyone in Saffron Coalition Found a Point of Convergence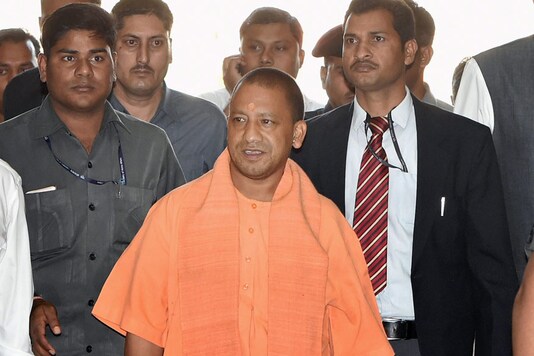 File Photo of UP Chief Minister Yogi Adityanath. (PTI Photo)
After storming back to power in 1980, Indira Gandhi appointed several obscure party leaders as state chief ministers to cut down influential satraps.
After storming back to power in 1980, Indira Gandhi appointed several obscure party leaders as state chief ministers to cut down influential satraps. The redoubtable RK Laxman drew a memorable cartoon, depicting her taking a virtual guard of honour. In the next box, she stops and points at a Gandhi-cap clad leader: "Hey, you out there, you are the next chief minister. What's your name?" This was particularly true of Andhra Pradesh which saw as many as four chief ministers in two years and two months.
After he became Prime Minister and when BJP won several state Assembly polls in November 2014, Narendra Modi handpicked chief ministers who were almost unknown outside close Sangh circles. In the run up to the polls and before the final selection, the names doing the rounds for Uttar Pradesh, barring Rajnath Singh and Keshav Prasad Maurya, were unknown outside their small areas of influence. Why then has Modi selected someone who has an identity of his own?
For the past two days, a debate has raged on how and why Yogi Adityanath was selected. One viewpoint suggested that the choice was made after a polite nudge to Modi from the RSS leadership. Another opinion has it that the decision was in fact taken by the Modi-Shah duo after Rajnath Singh expressed disinclination. Other narratives suggest that Manoj Sinha was Modi's choice and Maurya was the nominee of VHP and allied sections of the Sangh Parivar.
The truth, like in Akira Kurosawa's Rashomon, shall always remain unknown. Because, the dramatis personae themselves will undoubted remain tight-lipped, narratives will depend on loyalists' representing the same turn of events from multiple viewpoints, each aimed at highlighting the stellar role of their patrons. The added trouble in reaching the truth is that there is always an element that contradicts the theory floated.
For instance, the argument that the Yogi is a nominee of the RSS: truth be told, it is not the RSS, but the Hindu Mahasabha that is part of Adityanath's genealogy. The temporal seat of the Gorakhnath temple, of the Nath monastic group, named after the medieval saint of the same name, was previously headed (post-independence) by Mahants Avaidynath and Digvijai Nath, both members of Hindu Mahasabha and MPs at various times.
The former joined the BJP in 1991 but retained his dual identity. After Independence, especially following Mahatma Gandhi's assassination, there were conflicting opinions between VD Savarkar and MS Golwalkar on future role and strategy. Personal enmity between the two remained throughout till the former's death in 1966.
Even today, the Mahasabha, though a force of little political consequence, survives and their leadership remain critical of BJP. Adityanath, after becoming BJP MP in 1998, maintained his individuality and Hindu Yuva Vahini, floated after 1998, is not connected to RSS and remains his privately run outfit. In 2002 and 2007, he set up candidates against BJP in UP. RSS, which pays significant importance to organisational loyalty, would not consider an outsider to be their own.
Similarly, after such as superlative electoral performance, greatly on his personal appeal, it is difficult to imagine that Modi can be arm-twisted by the RSS. Arguments can be framed to back more theories and these can be immediately discounted by another line of reasoning. It is thus best to conclude that in Adityanath, everyone found a point of convergence.
But the decision to appoint two deputy chief ministers should never be missed. This indicates both compromise and compulsion. The former because the VHP-led group had to be assuaged and also since the Yogi couldn't be given a free run. Moreover, the promise of development cannot be ignored, and thus a man, Dinesh Sharma, considered adept at picking up necessities of governance. Above all, a caste balance had to be maintained.
If all this appears extremely complicated, take it in your stride for that's what the Sangh is all about. The next time anyone calls it a Parivar there is enough to argue that it is more a saffron coalition than a cohesive unit. They are all in it together because the common goal is one – Hindu Rashtra.
Cricket captains often either toss the ball to unpredictable bowlers or promote batsmen with capacity to blast bowlers out of line. Adityanath's appointment may eventually turn out to be a similar move. The decision ensures unity in the fraternity and now one now dare queer the pitch for the Prime Minister. The move will force critics, save professional baiters, to remain circumspect because of realisation that all-out criticism of the decision will enable Modi to polarise society further in favour of BJP.
It is easy to jump to the conclusion that by appointing the Yogi, the Prime Minister has created another power centre that has the potential to emerge as threat in future. But Modi is not what he is just because he is seen as Hindu Hriday Samrat. His capacity to project dissimilar images of himself to diverse groups is at the root of Modi's popularity.
In contrast, Adityanath is currently perceived solely as a rabble-rouser and he can enlist only the already converted. For him to reinvent himself and draw support from outside the fold, the Yogi will require time and effort. This will leave Modi with space to run his government and party unhindered.
If the new chief minister doesn't walk the development talk and singularly pursues the Ram temple and other Hindutva-centric promises, Modi has the option of taking over the bandwagon and claim credit for the government's achievements.
But if Adityanath opts to either go along with Modi, his hand-picked leaders and officials, or decides to play second fiddle, the Prime Minister can surely focus on his priorities: development and nationalism based on Hindu egalitarianism based on his defining principle of Antyodaya spelt out by Deendayal Upadhyaya. Where the religious minorities fit into this scheme, is a different subject altogether.
The author is a Delhi-based writer and journalist. He authored 'Narendra Modi: The Man, The Times', and 'Sikhs: The Untold Agony of 1984.' He is @NilanjanUdwin on Twitter.
Next Story