Is There an Alternate Narrative to BJP? The Grand Alliance is a Grand Idea
After the UP victory, there is obviously an attempt by the alternative forces to at least know one another's mind on the current political situation.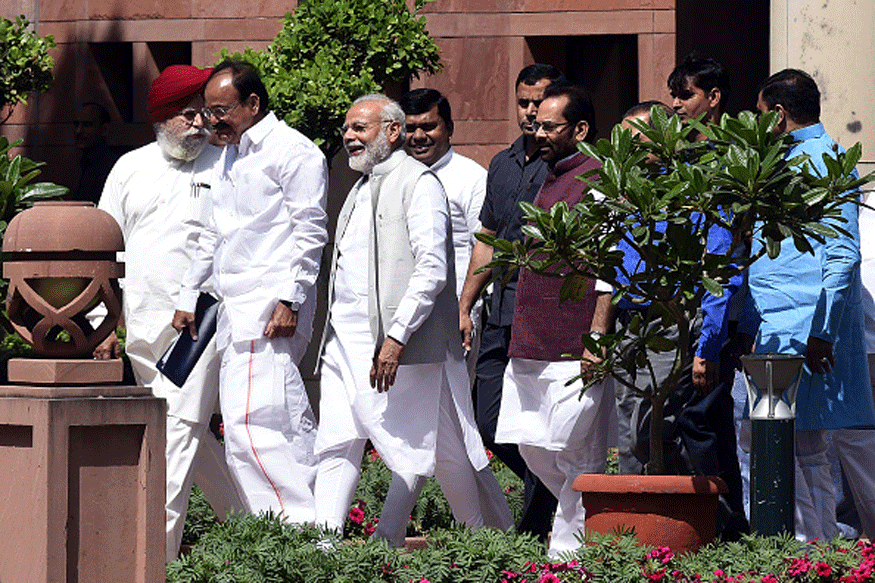 Prime Minister of India Narendra Modi talking to other ministers after attending the BJP Parliamentary Party Meeting at Parliament House on April 11, 2017 in New Delhi. (Photo: Getty Images)
New Delhi: The post-recess part of the budget session of Parliament marks the beginning and the end of things both administrative and otherwise.
Parliament gives its nod to the government of the day to withdraw and spend to meet its annual expenses. The sun firmly establishes itself in the northern firmament. Spring gingerly makes way for a precocious summer stepping in with intermittent sweep of warm westerly which strews all about a thick carpet of old and worn out leaves.
On one such day in the penultimate week of the session, Congress Vice-president Rahul Gandhi met CPI MP D Raja. The same morning newspapers had carried headlines in bold letters of Yogi Adityanath endorsing the concept of Hindu Rashtra.
"After the UP victory, there is no pretence on the part of the RSS and the BJP what they intend to do. So there is obviously an attempt by the alternative forces to at least know one another's mind on the current political situation," said a Left leader privy to the discussions in the meeting.
Rahul has also had round of meeting in this regard with CPM General Secretary Sitaram Yechury. In the corridors of Parliament and Central Hall where MPs gather for a cup of tea or butter milk served by liveried bearers, the post-UP political situation has been discussed many times over in the last four weeks.
There is still time and no one really wants to jump the gun. Or rush into something which may complicate matters further. The grand alliance is a grand idea. But in electoral politics two and two isn't always four. The two twos can add up to eight; or even contract in a zero sum game. Electoral politics is as much chemistry as it is about arithmetic - between social groups and their immediate compatibility.
ALSO READ: BJP, RSS Seek to Upend Possible SP-BSP Grand Alliance in 2019
"We first need to understand the possible action plans and their feasibility," says a Left leader who is aware of these developments.
CPI has already had a discussion within and a round with CPM in this regard. There are many proposals doing the round. Presidential elections slated in July this year could be one opportunity where this opposition unity could be put to an early test.
"But more than that it is about an alternative narrative. Do we have one in the face of BJP attempting to appropriate Ambedkar? Do we have one in the face of government's media blitz when NDA complete three years in power in May this year," says a leader.
But more than that, the larger framework to work together both inside and outside Parliament has to be thrashed out amongst opposition parties. Especially when contradictions are inherent, and compulsions are both political and personal in nature.
Can CPM and Mamata work together- in Bengal and outside? Can SP get its core Yadav constituency to vote for BSP's Dalit candidates if the two parties are to join hands? Feasibility of an electoral pact is more about compatibility of the social groups seeking to join hands for political power than their leadership holding joint rallies.
Which is why every party, and every leader is playing it safe for now. Congress' political capital is at its all time low. As it happens in transformative years, the grand old party has for the last three years been afflicted with an extended bout of after-me-deluge syndrome with old guards steadfastly refusing to give way.
ALSO READ: Time to Think of 'Grand Alliance' of Regional Parties, Says Uddhav Thackeray
As was evident on the last day of the session when one statement by a former union minister was enough to shatter an assiduously built campaign against the use of EVMs by 16 opposition parties.
The task before the UPA or whatever remains of it is cut out. Especially in the face of an adversary which has settled leadership issues; has an ambitious strategy in place to expand its political footprint in consort with an ideological bulwark which operates on an entirely different plane.
Sensing realignments in the next two years, BJP has already started to plan its next move. All NDA allies, small and big were invited by party president Amit Shah for a meeting in Delhi at the close of the budget session.
The first of its kind meeting in two years where a BJP minister counted 34 parties breaking bread and exchange notes. "That is ten more than Atalji's NDA," he told reporters.
East, North-east and the Coromandal Coast is the new catchment area. In the second week of April, senior party leaders and ministers were sent to spend a day in at least one Lok Sabha constituency which NDA lost in 2014.
For the opposition, recreating secular versus communal binary - as in 2004 - won't be easy. And Congress' positioning as a pan-India national party would be critical in determining both the pitch and strength of the challenge opposition can mount.
Read full article
Countdown To
Elections Results
To Assembly Elections 2018 Results