0/288 Seats ((145 Seats to Win)
Alliance
BJP+
YSRCP+
TDP+
INC+
OTH
Wins + Leads
133
31
31
18
13
+/- 2014
+12
-06
-02
+01
0/90 Seats ((145 Seats to Win)
| Alliance | BJP+ | INC+ | BJD+ | OTH |
| --- | --- | --- | --- | --- |
| Wins + Leads | 133 | 31 | 18 | 13 |
| +/- 2014 | +12 | -06 | -02 | +01 |
It's Not Just Congress, Even 'Diggy Raja' is Back with a Bang
Digvijaya Singh, who had gone into hibernation from MP politics after his defeat to the Uma Bharti-led BJP in 2003, is now taking calls on appointment of senior officers and is expected to have his say in the cabinet as well.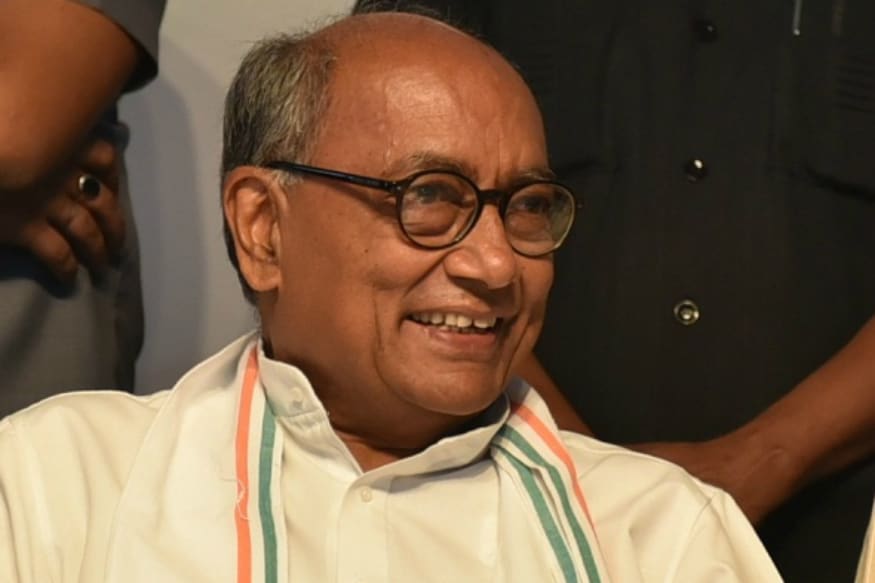 File photo of Congress leader Digvijaya Singh.
Bhopal: It is not just the Congress which rode back to power in Madhya Pradesh this year. 2018 also saw the resurrection of Digvijaya Singh, the man once synonymous with the grand old party in India's heartland state.
The MP unit was faction-ridden with many blaming Digvijaya for the situation. But the two-time Chief Minister turned it around for the party by bringing warring factions together and standing firmly behind his friend Kamal Nath. His 'Narmada Parikrama' also helped the Congress establish connect with the public, something it had failed to do over the last 10 years.
It just proves the old adage about the man — you can love or hate him, but you can't ignore him.
From placating dissenters after ticket distribution to bringing party rebels who emerged victorious back into the fold, Digvijaya's behind-the-scenes role in the MP poll drama was crucial.
After government formation, 'Diggy Raja' as he is popularly known, is taking calls on appointment of senior officers and is expected to have his say in the cabinet as well.
Digvijaya had gone into hibernation from MP politics after a morale-shattering defeat to the Uma Bharti-led BJP in 2003. Just before the elections, Divijaya, confident of a third consecutive win, said he would not take any responsibility in the state for 10 years, in case of a defeat.
He shifted base to Delhi and was appointed general secretary of the party. But in 2017, things went further south for the Maharaja of Raghogarh. Then Congress president Sonia Gandhi stripped Digvijaya of his responsibilities as in charge of poll-bound Goa and Karnataka and by August that year he had also lost his post as in-charge of Telangana. This surprised many in the party as he was considered one of the most trusted lieutenants of the Nehru-Gandhi family.
It also sparked a debate if time was finally up for this old Congress warhorse. But Digvijaya soon turned his attention back to his home state.
As his brother Laxman Singh puts it, "You can't separate him from politics as he breathes, drinks and sleeps it."
But MP wasn't going to be easy. Shivraj Singh Chouhan was a popular CM and the BJP had made Digvijaya a favourite punching bag, blaming him for misgovernance of the state. "Sriman Bantadhar (One who destroyed MP)" is what they called him.
The BJP also targeted him for what they called "minority appeasement".
Digvijaya is a wily customer and he treaded carefully. He began the Narmada Parikrama, calling it "apolitical and spiritual journey". He also announced that he would not talk politics or tweet about it. He has remained popular on social media with nearly 8 lakh followers on Twitter.
The yatra drew crowds and made many in the Congress worried about his return. The yatra ended on April 9 in Narsinghpur in the company of hundreds of seers, with Shankaracharya Swaroopananad Saraswati blessing the event.
However, as his yatra brought him back to prominence in MP politics and even fuelled speculation that he could be a CM contender, came another twist when Digvijaya Singh himself announced he did not crave any post and wanted to work for unity within the party.
It was around this time that Jyotiraditya Scindia emerged as the frontrunner for the CM's post and there were reports that even Kamal Nath was okay with it. But Digvijaya's support for Nath changed the scenario and threw cold water on Scindia's plans.
Digvijaya was appointed chairman of the 13-member co-ordination committee and he set out on an 'Ekta Yatra' to bring together warring factions. He was not part of the election committee, but he was a special invitee in ticket distribution meetings and his spat with campaign committee chairman Scindia grabbed headlines, though the party was quick to debunk these claims.
In the meantime, a video of Digvijaya saying he avoids public meetings as it costs the party votes went viral. He, however, broke this pledge and held public meeting for his son Jaivardhan, brother Laxman Singh, and a few other party candidates.
When the party managed to get 114 seats after the elections, two short of the 'magic figure' of 116, the Congress leadership asked Digvijaya to reach out to the party rebels and the BSP. Aided by Nath, the task was achieved in no time.
With his old friend Kamal Nath at the helm, Digvijaya continues to have a hold over key appointments and several of his loyalists, including son Jaivardha, are expected to get ministerial berths during the December 25 cabinet expansion.
Many also believe Digvijaya played a crucial role in Nath promptly announcing the farm loan waiver and ordering a probe into a Vyapam related case.
Digvijaya has said he has been an SP and won't be a thanedaar now. This means he won't accept a party post but would continue to be part of the bigger picture.
The Narmada Parkirama possibly helps gauge his ground connect. Of the 54 constituencies the yatra covered, the Congress won 33. The Congress will count on this master tactician to reap a good harvest from MP in 2019 Lok Sabha elections.
Get the best of News18 delivered to your inbox - subscribe to News18 Daybreak. Follow News18.com on Twitter, Instagram, Facebook, Telegram, TikTok and on YouTube, and stay in the know with what's happening in the world around you – in real time.
| Edited by: Mayur Borah
Read full article