Jammu & Kashmir Governor Satya Pal Malik's Decision to Dissolve Assembly Was Right But the Reason was Wrong
In the current scenario, a spell of President's Rule followed by elections is probably the best way forward. A measure of law and order must be restored before the democratic process can begin.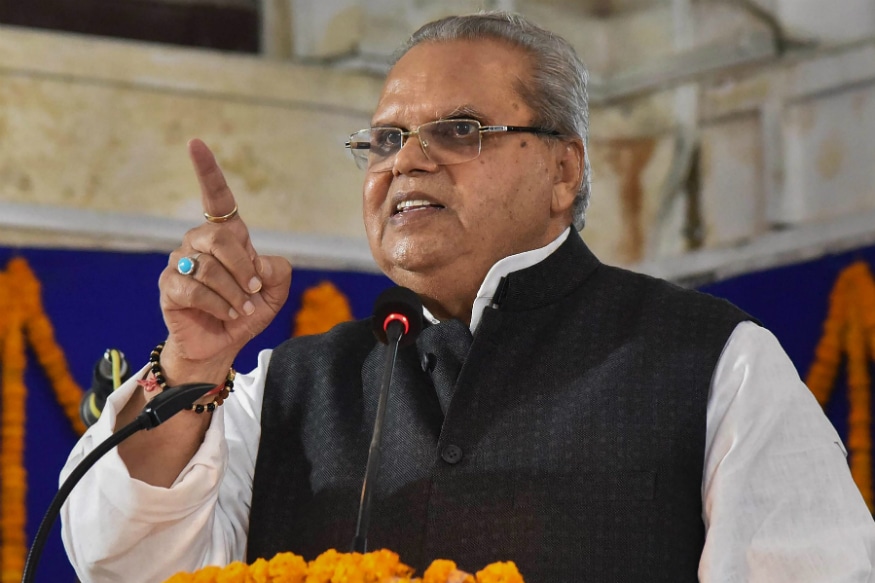 File photo of Satya Pal Malik.
New Delhi: Jammu & Kashmir governor Satya Pal Malik took the right decision in dissolving the J&K assembly, although possibly for the wrong reasons. Ironically, the very parties which had been demanding the dissolution of the state Assembly are now slamming him for having done so.

When the BJP-PDP alliance split earlier this year, National Conference leader Omar Abdullah promptly urged the then governor N N Vora to dissolve the Assembly immediately, on the grounds that suspended animation would lead to horse-trading. Malik has cited precisely that reason for refusing to accept the PDP-NC-Congress alliance's claim to form a government.

At the time, the Congress categorically ruled out an alliance with the PDP. To quote former chief minister and Congress pointsman in J&K Ghulam Nabi Azad: "There is no question, for now or in the future, of forging an alliance with the PDP". Likewise, the NC refused to extend support to the PDP and after a chit-chat with Vora, hailed Governor's rule as the best way forward.

Against this backdrop, Malik's reservations vis-a-vis the volte face by the NC and Congress are understandable. It took all of five months to hammer out an alliance which would probably not have lasted the next five months. A government too busy with internecine battles to address the business of governance would not have been in the state's best interests.

At the same time, the legal eagles who have faulted Malik for not having invited Mehmooba Mufti or her nominee Altaf Bukhari, do have a point. The 1993 Bommai judgment circumscribed the discretion of the governor with regard to President's Rule. So, Malik's arguments against the alliance—horse-trading and ideologically disparate parties— don't hold water and could well be challenged in court.

Whatever horse-trading went down in the last five months clearly did not work in the BJP's favour. Even with PDP rebels adding to the BJP's 25 seats and the People's Conference's two, it was nowhere near the half way mark of 44. There's no way the governor could have accepted an unsubstantiated claim of 53 MLAs without coming across as unashamedly partisan. This may well have prompted the decision to dissolve the Assembly. Needless to say, it could have been handled more gracefully, without a failing fax machine drama to fuel outcries of betrayal and conspiracy.

That said, J&K is a special case, a state where violence had become normalised and the one thing the regional parties have in common, other than doublespeak and the urge to power, is a strident sub-nationalism. Had the governor accepted the PDP-NC-Congress alliance's claim to form a government, it would have further polarized the state between soft separatism and (as liberals like to call it) ultra-nationalism.

The PDP-BJP coalition which fell apart earlier this year represented a sort of middle ground, but the PDP-NC-Congress alliance is perceived at being at the opposite end of the political spectrum from the BJP. A deepening of polarisation in the state would work solely to the advantage of disruptive forces.

In the current scenario, a spell of President's Rule followed by elections is probably the best way forward. A measure of law and order must be restored before the democratic process can begin. By the same token, too long a spell would be counter-productive. The Centre cannot afford to lose sight of the fact that this is a strictly temporary solution. Assembly elections will hopefully be held along with the Lok Sabha polls next year, as Malik has indicated.

It is unlikely that the J&K mahagathbandhan will endure until then, because the regional parties target the same votebank, although NC is stronger in the north and centre and the PDP in the militancy-affected south. In the past, the Congress has allied with the PDP and NC separately, but neither formation proved viable. The BJP, for its part, is likely to project Sajjad Lone as the face of its alliance, at least in the Valley.

The challenge now is to ensure that the abysmal polling percentages in the urban local body elections last month are not repeated. While the turnout in Jammu & Ladakh was upwards of 60 per cent, it stood at just 8.3 per cent in the Valley in the absence of PDP and NC. The best vindication of President's Rule would be to get the voter to the polling booth.

(The writer is a senior journalist. Views expressed are personal)

Read full article
Next Story
Next Story
Also Watch

India Will 'Stop' Flow of Our Share of Water to Pakistan, Says Nitin Gadkari
Countdown To
Elections Results
To Assembly Elections 2018 Results