New Delhi:
The 'Yuva Hunkar' rally led by Dalit spearhead Jignesh Mevani, a newly-elected Gujarat MLA, began at Parliament Street here on Tuesday, amid heavy police presence in and around the venue.
Although the authorities had maintained till the last minute that Mevani and his supporters did not have permission to hold the event, it seems the rally organisers and Delhi Police reached a compromise later.
The rally, which began around 1 pm, saw a modest turnout. Former and current JNU student leaders, including Kanhaiya Kumar, Shehla Rashid and Umar Khalid were present on the stage, metres away from the Parliament Street Police Station.
Assam farmers' leader Akhil Gogoi and senior Supreme Court lawyer Prashant Bhushan were also present apart from students from JNU, Delhi University, Lucknow University and Allahabad University among others.
The rally seeks to raise the demand for the release of Dalit outfit Bhim Army's founder Chandrashekhar Azad and emphasise on issues like educational rights, employment, livelihood and gender justice.
Azad (30) was arrested in June last year from Himachal Pradesh as he is the main accused in Thakur-Dalit clashes in Uttar Pradesh's Saharanpur district.
His supporters turned up with posters bearing his image.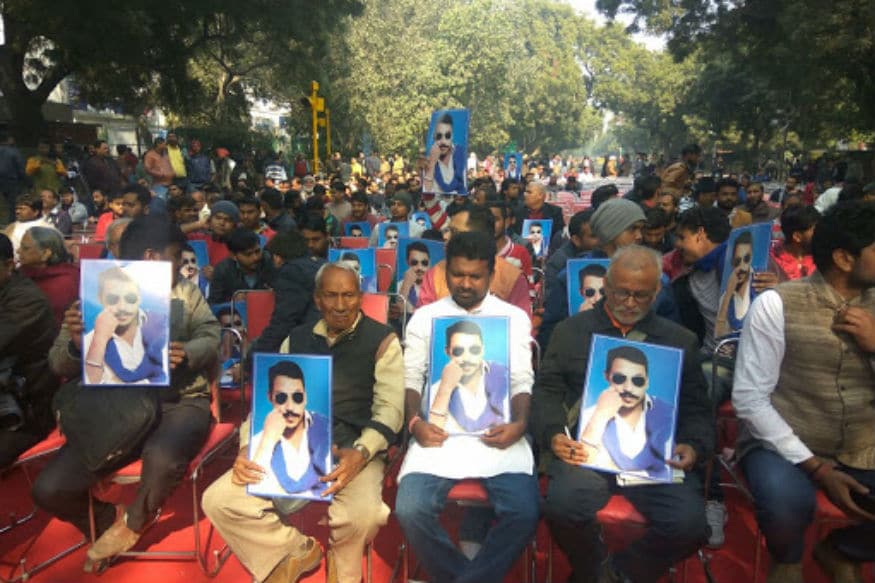 The organisers said after the rally, a delegation will walk to Prime Minister Narendra Modi's official residence at Lok Kalyan Marg to hand over a copy of the Indian Constitution and the 'Manusmriti' to him, and ask him to choose between the two.
Around 2,000 security personnel, including the paramilitary forces, have been deployed in the national capital.
A senior officer from New Delhi district told PTI that additional forces from other districts of the city have been called in.
Parliament Street has been fortified and water cannon vehicles have been deployed, he said.
Yesterday, the city police had said that no permission was given to organise the protest in the city, citing orders of National Green Tribunal (NGT).
Bhushan, however, said in a tweet, "Please don't mislead people @DCPNewDelhi. NGT orders are for Jantar Mantar, not Parliament St. SC has always held right to peaceful protest meetings is a fundamental right. Any attempt by police to stop the #YuvaRally tomorrow will be undemocratic & violation of fundamental rights".