195/288 Seats ((145 Seats to Win)
Alliance
BJP+
YSRCP+
TDP+
INC+
OTH
Wins + Leads
133
31
31
18
13
+/- 2014
+12
-06
-02
+01
195/90 Seats ((145 Seats to Win)
| Alliance | BJP+ | INC+ | BJD+ | OTH |
| --- | --- | --- | --- | --- |
| Wins + Leads | 133 | 31 | 18 | 13 |
| +/- 2014 | +12 | -06 | -02 | +01 |
No 'Black' in Swiss Banks: Rahul Gandhi Takes a Swipe at PM Modi
Rahul reminded how PM promised to get back black money and put 15 lakh in each account and how even demonetisation was an exercise to that effect.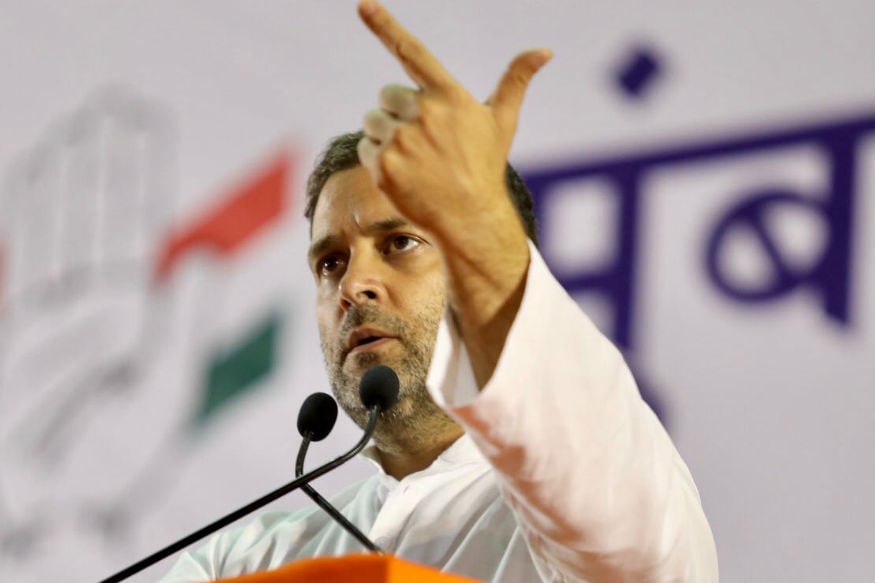 File photo of Congress president Rahul Gandhi.
New Delhi: Congress president Rahul Gandhi took a swipe at Prime Minister Narendra Modi on Friday over his claims of bringing back black money parked abroad after data showed that Indians' money in Swiss banks has risen by 50 per cent in the last one year.
Gandhi took to twitter to allege that PM Modi said the 50 per cent jump in deposits is "white money" and that there is no "black money".
"2014, HE said: I will bring back all the "BLACK" money in Swiss Banks & put 15 Lakhs in each Indian bank A/C. 2016, HE said: Demonetisation will cure India of "BLACK" money. 2018, HE says: 50% jump in Swiss Bank deposits by Indians, is "WHITE" money. No "BLACK" in Swiss Banks!(sic)" Gandhi said on Twitter, tagging a media report on the matter.
Money parked by Indians in Swiss banks rose over 50 per cent to CHF 1.01 billion (Rs 7,000 crore) in 2017, reversing a three-year downward trend amid India's clampdown on suspected black money stashed there.
The Congress also targeted the PM over his government's claims of putting a bringing back money back and said Swiss bank deposits during the UPA had fallen and the same has risen by 50 per cent under the Modi government.
"Swiss Bank deposits fell during Dr. Manmohan Singh's time, only to rise to record levels under PM Modi. The current increase of 50.2 pc post demonetisation, is the maximum since 2004," the party said on its Twitter handle.
"What happened to Prime Minister Modi's promise of eradicating corruption and bringing back black money?" asked Congress spokesperson RPN Singh.
The BJP hit back, saying that all deposits made by Indians in Swiss banks cannot be assumed to be black money. Union minister Piyush Goyal said the Centre will get all data related to black money by next year under a bilateral treaty.
According to the official annual data released by Swiss National Bank (SNB), the central banking authority of the Alpine nation, the total funds held by all foreign clients of Swiss banks rose about 3 per cent to CHF 1.46 trillion or about Rs 100 lakh crore in 2017.
The surge in Indian money held with Swiss banks has come as a surprise. It had fallen by 45 per cent in 2016, marking their biggest ever yearly plunge, to CHF 676 million (about Rs 4,500 crore) - the lowest ever since the European nation began making the data public in 1987.
According to the SNB data, the total funds held by Indians directly with Swiss banks rose to 999 million Swiss franc (Rs 6,891 crore) in 2017, while the same held through fiduciaries or wealth managers increased to CHF 16.2 million (Rs 112 crore). These figures stood at CHF 664.8 million and CHF 11 million, respectively, at the end of 2016.
Get the best of News18 delivered to your inbox - subscribe to News18 Daybreak. Follow News18.com on Twitter, Instagram, Facebook, Telegram, TikTok and on YouTube, and stay in the know with what's happening in the world around you – in real time.
| Edited by: Ashutosh Tripathi
Read full article