Karnataka Assembly Election 2018: 8 High-Voltage Clashes to Watch Out for Today
After an exhaustive and bitter campaign spread out over months, Karnataka will finally vote on Saturday to elect its representatives to the 224-member Karnataka Assembly. Take a look at the key constituencies of the state.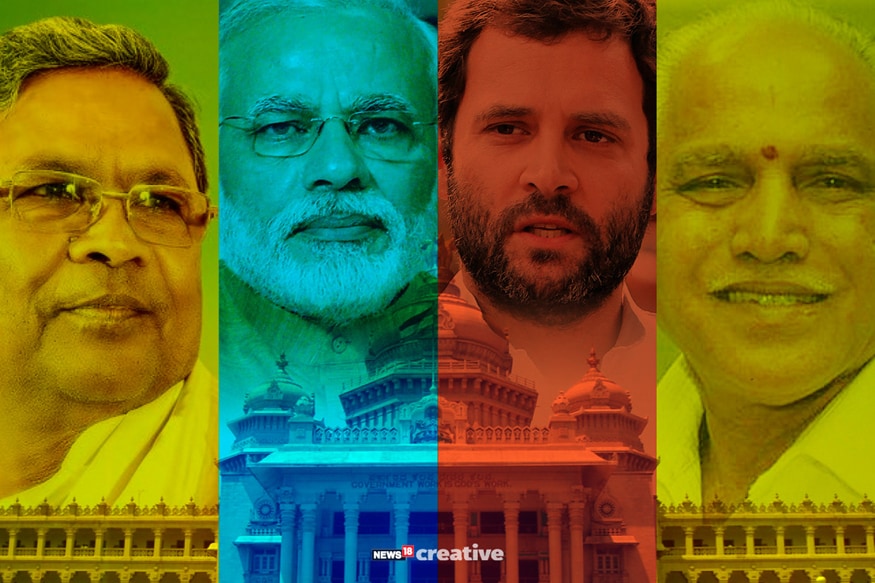 Karnataka CM Siddaramaiah, Prime Minister Narendra Modi, Congress president Rahul Gandhi and BJP's CM candidate BS Yedyurappa.
New Delhi:
After an exhaustive and bitter campaign spread out over months, Karnataka is voting on Saturday to elect its representatives to the 224-member Karnataka Assembly. Most opinion polls have predicted a fractured verdict for this three-cornered contest between the ruling Congress, BJP and JD(S). The results will be out on May 15.
Here's a look at some of the key seats to watch out for in the Karnataka Assembly elections:
CHAMUNDESHWARI
The battle here is between Chief Minister Siddaramaiah and sitting JD(S) MLA GT Deve Gowda. In the run up to the elections the exuberance of the Congress workers in Varuna, where Siddaramaiah's son is contesting, was missing in Chamundeshwari. Despite the lull, Siddaramaiah's supporters claim that he will win this prestige battle. Siddaramaiah vacated Varuna for his son and returned his old seat Chamundeshwari in this "do or die" election. He has claimed that he is supremely confident of his win and no amount of mudslinging and harassment by the JDS and BJP will work against him. On the other hand, JDS' Gowda hasn't lost a single election from Chamundeswari. He has been successful in two zilla panchayat, one APMC, one assembly and some cooperative society elections from here. His winning margin in 2013 was 7,103 votes.
VARUNA
Will Varuna see the son's rise? Siddaramaiah's son Yathindra has picked Varuna as his battlefield for the Assembly elections. This is a seat that his father had won in 2008 and 2013 and it's now on him to repeat the feat. While the mood in Varuna is upbeat, it is equally tense in the neighbouring Chamundeshwari. In Varuna, Siddaramaiah's main vote bank of AHINDA (Minorities, Backward Classes, (SC/STs) looks intact. These community leaders claim that the AHINDA will firmly stand behind Yathindra who is expected to make it to the Assembly on his very first try. Dalit groups have pledged their support to Yathindra because of Siddaramaiah despite BJP trying to project him as an anti-Dalit force. A local Congress leader told News18 that 30% of Lingayats and Vokkaligas are backing Siddaramaiah while the BJP is creating divides in the society on caste lines by spreading rumours that they are not with the Congress.
SHIMOGA
Shimoga will see a three-cornered contest on May 12 as candidates from BJP, JD(S) and Congress come from the three different castes of Kurubas, Lingayats and Brahmins, respectively, and all of these castes have a significant presence in the constituency. However, for the rural voters of Shikaripura, from where BS Yeddyurappa is staking claim for his second stint as the chief minister, there is no contest at all as they feel BSY will easily win this seat for the eighth term. Both Congress and JDS have refrained from fielding any high-profile names from here.
Poll observers say Yeddyurappa has maintained a strong position in Shikaripura over the past 35 years and it is very well a bastion for the BJP here. The same feeling echoes across Yeddyurappa's fiefdom in Shimoga district. In the run up to elections, News18 spoke to several voters who agreed that Yeddyurappa will definitely win Shikaripura irrespective of what happens in the rest of Shimoga and Karnataka. Unlike Chief Minister Siddaramaiah, who is fighting from two tough seats – Chamundeshwari and Badami — Yeddyurappa is seeking re-election from his strong base and spending most of his time on campaigning across Karnataka. His son and current MLA BY Raghavendra is managing his father's campaign here and is supremely confident of a big win.
BADAMI
After holding the decision till the last moment, Siddaramaiah chose Badami as his second option after Chamundeshwari for the Saturday elections. Ahead of the polls, he held several closed doors meetings with Dalit leaders, backward and linguistic groups. This group holds the key to make or break the election results. Siddaramaiah's decision to contest from here is being seen as an act of playing it safe in case Chamundeshwari does not turn up in favour of Congress. Badami is a seat to watch out for with the contest between the CM and BJP strongman B Sriramulu. Sriramulu, too, is contesting from two seats.
BANTWAL
Congress and BJP have been the main contenders in this constituency for a very long time while the others have not made much impact here. Congress' Ramanath Rai, has been a well-known face in this constituency since 1985. BJP has been working on its strategies to defeat Rai and has pitted Rajesh Naik for the second time against him. Naik had last contested the elections here in 2013 and lost. While he did not lose hope, BJP has given him a chance to contest again.
CHANNAPATNA
Whose joy would be the 'City of Toys', Channapatna? The constituency has gained importance this time after JD(S) state president HD Kumaraswamy's decision to contest from here. He is contesting from Ramanagaram constituency as well. He is fighting against MLA CP Yogeshwar who quit the Congress and joined the BJP recently. Both the contestants have indulged in a bitter war of words and questioned each other's politics in the run up to the polls.
CHIKKAMAGALURU
A seasoned politician and former minister, BL Shankar is again trying his luck in politics and this time from his native district of Chikkamagaluru as a Congress candidate. His fight is tough as he is competing against three-time MLA CT Ravi of the BJP, who has won all elections from this seat since 2004. Shankar is hopeful that his past records as an MLA will help him win the seat. During his tenure, foundation stone of the railway station was laid and water supply was started into the Chikkamagaluru town from Yagachi reservoir.
BALLARI
That the contest is between Congress and BJP is known. But with Janata Dal (S) and rebels in both Congress and BJP, results can be surprising. The fight here is mainly between Anil Lad of Congress and G Somashekar Reddy, who is the elder brother of Janardhan Reddy, also a BJP candidate. Failed to get Congress ticket in the past, Hothur Mohammed, also a mine owner, is contesting for the first time on a JD(S) ticket. He is being seen as a major challenger to both Congress and BJP.
| Edited by: Sanchari Chatterjee
Read full article
Countdown To
Elections Results
To Assembly Elections 2018 Results