Karnataka Cabinet Set for Expansion With Induction of Seven More Ministers
Chairpersons to various boards and corporations will also be appointed in the third week of September, said coordination committee head Siddaramaiah.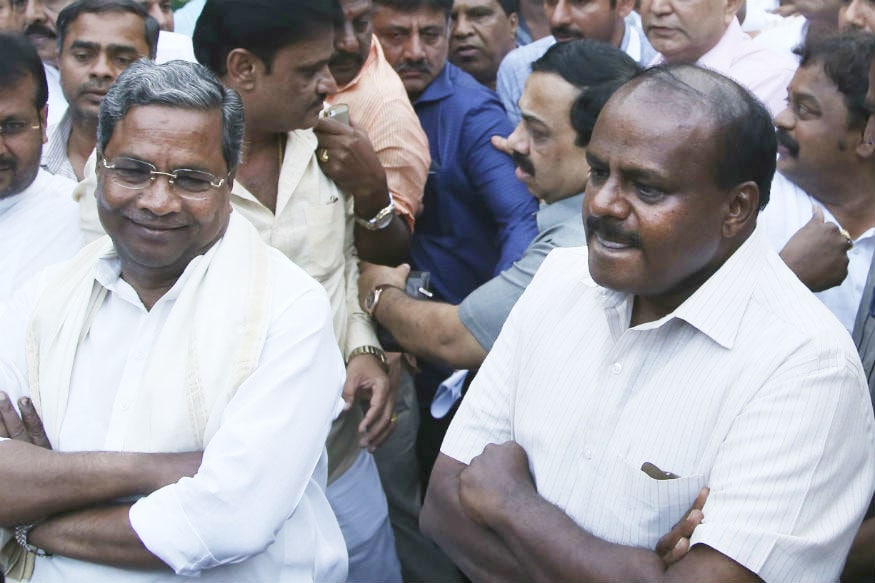 Former Karnataka CM Siddaramaiah (left) and chief minister HD Kumaraswamy.
Bengaluru: The three-month-old Congress-JDS coalition government will be expanded in the third week of September with the induction of seven ministers, former chief minister Siddaramaiah said on Friday.
The Congress heavyweight, who heads the coordination committee of the two parties, made the statement after the committee meeting.
"We have taken a decision to expand the cabinet in the third week of September. Six people from our (Congress) side and one from JD(S) will be included in the cabinet," he said.
Simultaneously, chairpersons to various boards and corporations would be appointed in the third week of September, Siddaramaiah said.
"The first preference will be given to the MLAs and then the party workers will be given a chance. We cannot fulfil the aspirations of many MLAs who want to become ministers. Hence we are making them chairpersons of boards and corporations," the Congress leader said.
He said decisions have to be taken on 30 posts, of which 20 would be given to Congress leaders and the rest to JD(S).
The coordination committee has not yet taken a decision on the appointment of three nominated MLCs and filling the vacancies due to resignation of three others — V Somanna, Dr G Parameshwara and KS Eshwarappa — he said.
While Somanna had four years left, Parameshwara and Eshwarappa had two more years.
Apart from them, three people have to be nominated to the legislative council by the governor on the advice of the government.
To a question on the JD(S) demand to include their state president Adagur H Vishwanath in the committee, Siddaramaiah said the matter was not discussed.
Asked about reservations in promotions for the SC/ST, the former chief minister said the government would wait for the Supreme Court verdict on September 5.
On relief works in flood-hit areas in Karnataka, he said the government has decided to take them up on a war footing.
He termed as 'baseless, unfounded and speculative stories' reports that there is growing discord between the Congress and JD(S). He reiterated that he had wished to become chief minister only after the next election with people's blessings.
"This government will survive for five years. This government is totally stable and we will deliver as per the common minimum programme agreed upon by both parties," he said.
Asked whether he would contest the next election, he said, "I have made it very clear that I am not going to contest the next assembly election."
Read full article