Modi vs Siddaramaiah Fight Escalates as Congress, BJP Coin New Terms to Attack Each Other
Siddaramaiah attacked both Modi and BJP's Karnataka CM face B S Yeddyurappa alleging that both are anti-farmers. Siddaramaiah said, "Modi is against farmers and villagers. His government policies are killing them. Yeddyurappa government had opened fire on innocent farmers killing two of them in 2008. How can he claim that he is pro-farmer?"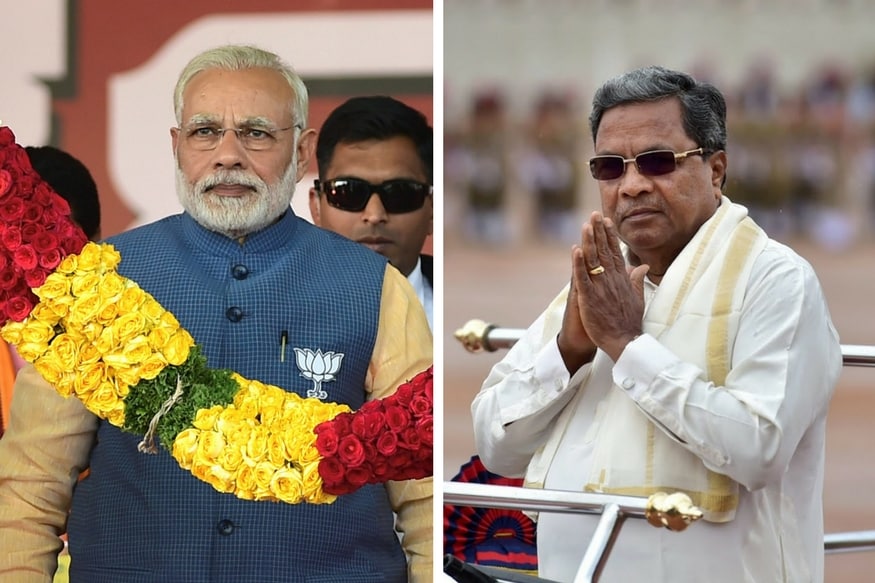 File image of Narendra Modi and Siddaramaiah
Bengaluru: The focus of the Karnataka Assembly election campaign has oscillated between "corruption" and "Hindutva", and now it is back to corruption. The Prime Minister Narendra Modi who first raised the issue of corruption calling Siddaramaiah-led Congress government a "percentage sarkar" has stuck to it by coining a new term to describe the state government. Addressing a farmers rally at central Karnataka city of Davanagere on Tuesday, Modi said that it was not a Siddaramaiah government and it was a "Seeda Rupaiyya" government, indirectly hinting that nothing happens without bribe in the state.

A day after PM's visit, a visibly angry Siddaramaiah has hit back at him calling Modi the most corrupt Prime Minister. Talking to media at Koppal in Hyderabad – Karnataka region, the chief minister said, "I have not seen a more corrupt central government than the present one in my entire life. Prime Minister Modi himself is facilitating corruption. His government is a 90% commission government. Who is he to call our government corrupt? Who has allowed fraudsters like Vijay Mallya and Nirav Modi to flee the country with tens of thousands of crores public money? What was Modi doing?"

He said that Modi was the worst PM in the history of India and his statements were unbecoming of a Prime Minister.

Siddaramaiah attacked both Modi and BJP's Karnataka CM face B S Yeddyurappa alleging that both are anti-farmers. Siddaramaiah said, "Modi is against farmers and villagers. His government policies are killing them. Yeddyurappa government had opened fire on innocent farmers killing two of them in 2008. How can he claim that he is pro-farmer?"

The state Congress has also decided to take the BJP head-on closer to election. Senior Congress leader and KPCC working president Dinesh Gundurao has returned the favours, saying that NAMO means "Namage Mosa". Kannada phrase "Namage Mosa" means "Betrayal to us or betraying us".

On Tuesday, Modi had said, "You have such a chief minister here. Some people feel that in Karnataka there is Siddaramaiah government. But the fact is here there is seeda rupaiya sarkar. In everything there is seeda Rupaiya, only then work happens."

The rally in the Lingayat belt in Devangere was organised to coincide with the 75th birthday of state BJP chief B S Yeddyurappa, who is being projected as the party's chief ministerial candidate for the upcoming assembly polls.

With the prime minister himself in attendance, the rally was also seen as an attempt by the BJP to set at rest any doubts about the choice of Yeddyurappa, a Lingayat strongman, for the chief ministership in the event of BJP winning the polls. The Lingayat community forms a strong voter base for the BJP.

The Saffron party is seeking to unseat the Congress with its 150-plus seats target in the 224-member assembly, polls to which are expected to be held in coming April or May.

In his earlier rallies, Modi had called the Siddaramaiah dispensation "a 10 per cent commission government" and later said his information was not correct and came to know that it was much more.
Read full article
Countdown To
Elections Results
To Assembly Elections 2018 Results