Karnataka Elections: When Kumaraswamy Tried to Clarify PM Modi's Praise for Dad Deve Gowda
PM Narendra Modi's lavish praise for JD(S) supremo Deve Gowda has come as a big surprise to many as just a day earlier, the latter had declared that he would disown son Kumaraswamy if he goes with the BJP in case of a hung Assembly.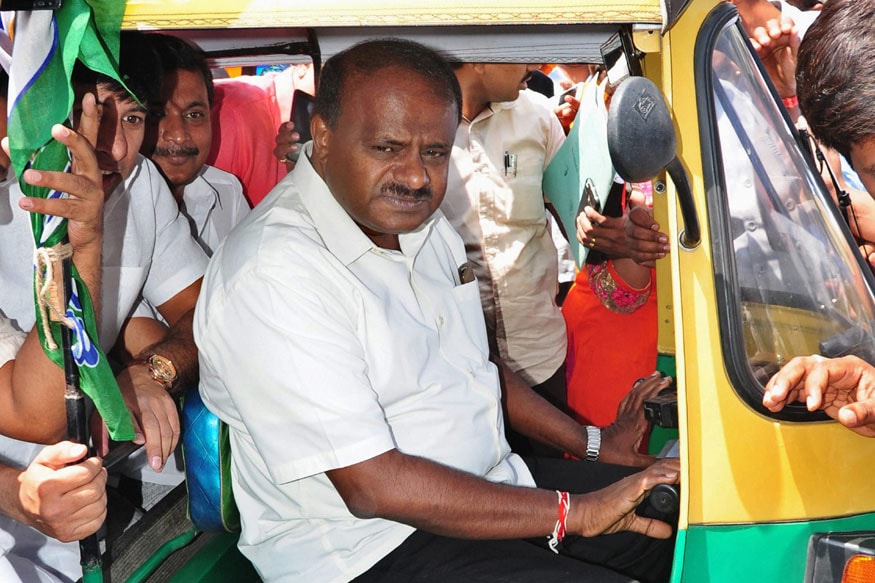 JD(S) leader HD Kumaraswamy poses for a photograph from the driver seat of an autorickshaw before an event in Bengaluru on February 14, 2018. (PTI)
Bengaluru:
Prime Minister Narendra Modi, who kicked off his whirlwind tour of
poll-bound Karnataka
on Tuesday, surprised many by praising Janata Dal (Secular) supremo and former prime minister HD Deve Gowda in his first public meeting in the southern-most Chamarajanagar district.
Addressing voters, Modi said he had always treated a senior leader like Deve Gowda with "great respect".
The statement, made in the Gowda heartland just 12 days before voting in the most crucial Assembly election, has led to several interpretations and a war of words between Gowda's son and JD(S) chief ministerial candidate HD Kumaraswamy and CM Siddaramaiah.
PM Modi's lavish praise for Gowda has come as a big surprise to many as just a day earlier, the latter had declared that he would disown Kumaraswamy if he goes with the BJP in case of a hung Assembly.
Speaking to the media, Gowda had said that Kumaraswamy had betrayed him by aligning with the BJP in 2006 and that he would disown his son if he repeats the "mistake" this time.
But Siddaramaiah, who has been accusing the JD(S) of having a secret understanding with the BJP, said Gowda, through his statement, was informing people that the JD(S) would go with the BJP if the elections result in a hung verdict.
PM has suddenly discovered love & respect for Shri HD Deve Gowda. Shri Modi had not long ago said he will send Shri Deve Gowda to a retirement home.

Is this new love a sign of the not so secret understanding between BJP & JDS?#BJPJDSBhaiBhai https://t.co/RfbrTQ6zdQ

— Siddaramaiah (@siddaramaiah) May 1, 2018
Modi ji you are dispensing free advise about being courteous to Shri Deve Gowda. We all know how respectfully you treat your mentor Shri LK Advani & how courteous you were to HDD in 2014.

How about showing some courtsey to this 75 year old man who is stooping so low before you? pic.twitter.com/pHp5QFCBPm

— Siddaramaiah (@siddaramaiah) May 2, 2018
After the PM praised Gowda, the Chief Minister once again attacked them, saying that it was the "confirmation" of a "deal" between the BJP and JD(S). He alleged that Modi was reaching out to the JD(S), fearing a hung House in Karnataka.
He also alleged that Kumaraswamy had travelled to Delhi with BJP chief Amit Shah to finalise the "deal".
Kumaraswamy, who is not as active on social media as Siddaramaiah, took to Twitter to counter him. He called Siddaramaiah a "frustrated man", who was staring at a "certain defeat".
He also reminded Siddaramaiah that he had come to Deve Gowda's house, seeking his guidance during the Cauvery crisis in 2016 and wanted to know if he had come to clinch a "secret deal" with the JD(S).
Siddaramaiah has also asked Gowda to go through what Modi had said about the former PM during the 2014 Lok Sabha election campaign. In April 2014, addressing an election meeting at Yelahanka in the outskirts of Bengaluru, Modi had ridiculed Deve Gowda, saying he could come and stay at his house in Gujarat instead of leaving India if he became PM.
An angry Gowda had hit back at Modi saying that he had six children to take care of him and was not a "beggar" to seek Modi's shelter.
Political analysts in Karnataka argue that Gowda is setting the stage for Kumaraswamy to go with the BJP by making statements against the saffron party.
Renowned Kannada novelist and thinker Vivek Shanbhag said, "Deve Gowda is very clever. By saying this, he is suggesting that his son might back the BJP. He had disowned his son when he had joined hands with the BJP the last time. So nothing new; he will disown him again."
Siddaramaiah and Congress president Rahul Gandhi have been attacking the Gowda clan, calling them the "B team" of the BJP for over two months. Analysts even argue that Gowda is making statements against the BJP to "confuse" Muslim voters and save himself from embarrassment in case he has to deal with the BJP after May 15, the counting day.
| Edited by: Nitya Thirumalai
Read full article
Countdown To
Elections Results
To Assembly Elections 2018 Results