GET Stock

Quotes


Karnataka Elections: The Battle Within Parties on Who to Field
In an attempt to do a balancing act between caste matrix and winnability, parties are caught in many a dilemma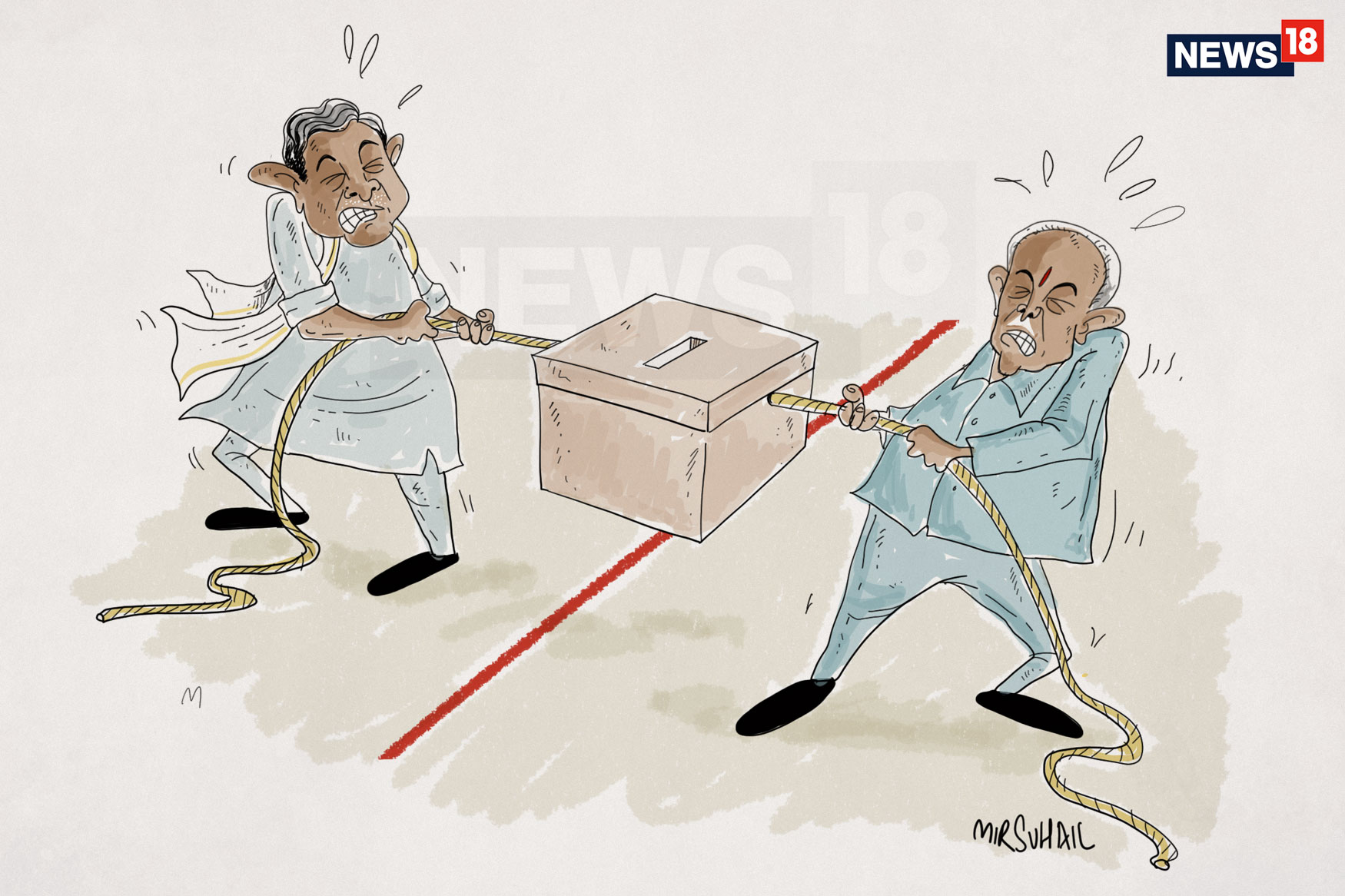 Illustration by Mir Suhail.
Bengaluru:
Nine days to go for netas in Karnataka to start filing their nominations and both the national parties are in a huddle with hectic 'screening committee' meetings as they try to finalise the highest winnable factor in each Assembly segment.
Constituencies are being divided caste-wise, the math being done on what should be the profile of certain candidates who would best win. That, coupled with the continuous list of aspirants and applicants, has put the BJP and the Congress in a fix.
Some have declared themselves candidates; some have declared their sons or relatives as candidates; a few others have declared themselves candidates from a different constituency every day over the past week, and a few who have been told by one leader they won't get the party ticket have declared they will get it from a different leader within the same party.
The BJP's first list of 72 candidates is out and it is on predictable lines. Most of the candidates are sitting MLAs who were assured of a ticket anyway. The party-hoppers who have moved to the BJP either from the JDS or the Congress in the last two months – Mallikarjuna Khuba, Mallikkayya Guttedar, AS Patil Nadahalli, Basavanagouda Patil Yatnal, Manappa Vajjal – have all been accommodated. This is despite some anger and ruffled feathers in some of their constituencies – where the 'original' BJP aspirants are miffed that their loyalty of the last few years has been ignored.
In Chikpet constituency in Bengaluru, for example, traders shut shop because a former corporator NR Ramesh—who has been most vocal in 'exposing' the Congress' misdeeds for over a year—was denied a ticket to make way for Uday Garudachar, a real estate baron.
The BJP's first list also shows that the party is quite flexible in its own earlier-announced policy of 'No MP other than B S Yeddyurappa will contest the Assembly election.' B Sriramulu, the Bellary MP and close aide of illegal-mining-accused Janardhana Reddy, is going to contest from from Molkalmuru, a constituency in neighbouring Chitradurga district. The party obviously cannot ignore his mass appeal among Scheduled Tribes.
The Congress will hold its central election committee meeting on Tuesday, and is caught in a bind. Some of their sitting MLAs are facing anti-incumbency in their constituencies while there are some constituencies like Hebbal where there are as many as 13 applicants and Chitradurga has 26 applicants. "Most of them are irrelevant people," a Congress leader in the know says.
There are seven JDS MLAs who have moved to the party with the 'promise' of tickets – and these promises have to be met.
The party is also trying to balance surefire winnability against its image of 'dynastocracy' – a host of children of sitting MLAs want to contest (along with their dads). That means you will end up with many fathers and kids in the Assembly, similar to how M Krishnappa and son Priya Krishna represent neighbouring constituencies in Bengaluru.
Chief Minister Siddaramaiah's son Yathindra, PWD Minister Mahadevappa's son Sunil, Home Minister Ramalinga Reddy's daughter Soumya, KH Muniyappa's daughter are all aspirants – and they want tickets for both fathers and kids. There are a few others like former MPs Rahman Khan, Jaffer Sharief and Margaret Alva rooting for their sons, grandsons.
To accommodate all of them would mean a family shindig at any strategy meetings, legislature party meetings and probably Assembly sessions as well. That could send a wrong message to party workers. But ignore these leaders' love for their kids, and you risk the possibility that they would not back the other candidates chosen instead.
This is also a problem other parties are beseeched with as well – HD Deve Gowda's grandson Prajwal wants to contest, there are demands afoot to have both of BJP president BS Yeddyurappa's sons to contest from two different constituencies and his bete noire within the party, KS Eshwarappa, has political aspirations for his son Kantesh too.
Congress leaders say all, or most, of their candidates will be announced by April 14. In some constituencies, the party is re-jigging its strategies based on announcements made by the BJP. What also matters is the caste-matrix.
The BJP's first list had 21 Lingayats, 19 OBCs, 10 Dalits, 10 Vokkaligas, six Scheduled Tribes, five Brahmins, and one Kodava. There are no minorities in this list (unless Lingayats are taken as a minority – in which case, they had the maximum minorities!).
The Congress' most reliable votebank has been of the A-Hin-Da castes – a Kannada acronym that stands for Minorities, Backward castes and Dalits. Together, the SCs and STs constitute 25.5 per cent of the state's population. Minorities—Muslims and Christians—make up 19 per cent, while OBCs make up 23 per cent of the population (this includes the largest community of Kurubas, who total 7 per cent of the population).
Going purely by math, this would give the Congress an upper-hand across the state if they think that A-Hin-Da population of over 67 per cent will actually en masse vote for them. But this is not going to happen (despite the Siddaramaiah government having spent thousands of crores for programmes aimed at these communities in the last five years).
Further, in each constituency, there is an intricate mix of these castes and the Lingayat (14 per cent) and Vokkaliga (11 per cent) communities hold a swing factor in many. What's more the BJP too has this caste-matrix and will field candidates based on what 'sells' better in each Assembly segment.
Decision-makers in both parties acknowledge that the final tally will hugely depend on the final choice of candidates – you can't make a mistake there. In Bengaluru, for instance, a city MLA felt they could have upped their tally in 2013 by at least five to seven seats but for the wrong choice of candidates—and wants these errors corrected. A BJP MLA talks of how they are expecting some more party-hoppers by Saturday, in which case they would be in a far better position than they are in currently. Saturday is just three days before nominations will have to be filed.
One Congress leader is confident that the party's first list may come next week, but its final list will likely come only on the April 23, with just hours to go before nominations close for the Assembly polls.
The mental turbulence of parties in finalising their candidates – either a winning horse or a super-expensive mistake – has even brought down the tone of campaigning in the last three days. The usual mud-slinging and rhetoric of campaign speeches have toned down considerably, as the top-brass frets over who to zero in on.
| Edited by: Ahona Sengupta
Read full article
Countdown To
Elections Results
To Assembly Elections 2018 Results