Karnataka Government Plans Some Pre-poll Love For Upper Caste Poor
The Social Welfare Department has forwarded the file to the CMO, suggesting benefits or welfare plans for the upper-caste poor.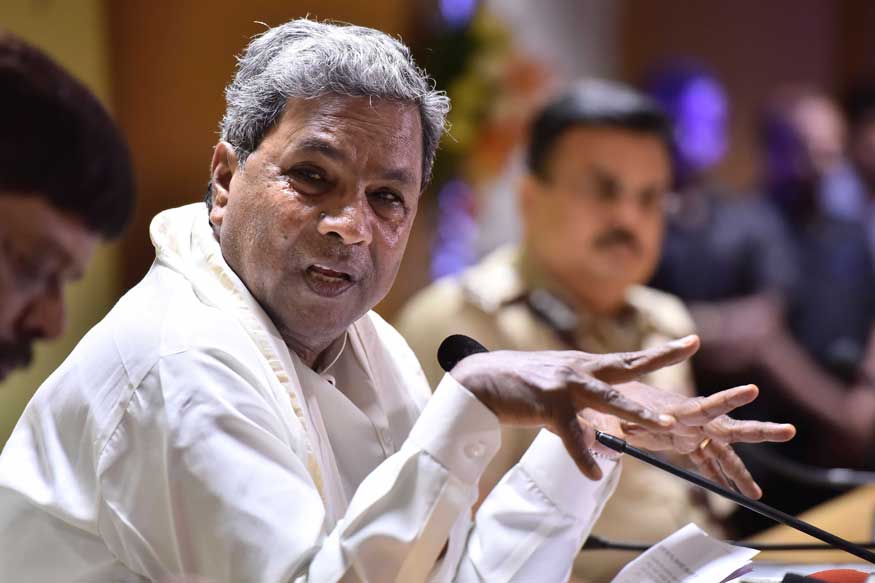 File photo of Karnataka CM Siddaramaiah. (via Getty Images)
Bengaluru: Karnataka Chief Minister Siddaramaiah is reportedly mulling over a move to address the needs of the economically-weaker sections of upper castes in the state.
The issue has been on the back-burner for some months now after an MLA from Shimoga raised the issue of how the needs of economically-weaker sections among upper castes have never been addressed.
MLA Prasanna Kumar had sought a discussion on the long-pending demand to look after the welfare of the upper-caste-poor – especially those in the Brahmin and Vysya (traders) communities.
At the time, the discussion on the grants to the social welfare department was on and the government had merely responded that a relevant proposal had not been placed before it.
"The government had given an assurance in the Assembly that if there is a suitable proposal or petition, we would look into it since there is one such now, we are putting together a plan to address this," Social Welfare Minister H Anjaneya told News18.
The Social Welfare Department has forwarded the file to the CMO, suggesting benefits or welfare plans for the upper-caste poor. Whether a separate corporation or board would be set up is yet to be finalised. This could include benefits such as scholarships, loans and other such schemes.
The issue of some sort of "relief or support" for the poor among Brahmin and Vysya has been considered for these communities that don't enjoy any reservations, says Congress Working President said AICC spokesperson Dinesh Gundu Rao.
"It may not necessarily be a corporation, that I'm not sure of, but at least some programmes where they can get loans for self-employment or scholarships, these kind of welfare schemes where they also get the benefits, because there are many economically-poor people from the Vysya and Brahmin community also. So we need to look at that. So how do you bring them in is the question. So I think that should be the priority more than forming a corporation or forming a body," Rao told News18.
All other communities are getting some form of 'support' or other – like the Jains are minorities, even the dominant Lingayat population in Karnataka comes under the 3B category.
"We are not saying give reservations, but at least support the weaker in these sections. The concept of social justice is to support people who are weaker socially, educationally and economically. So that is the intention, but no decision has been taken so far," Rao said.
The government is likely to take into account the opinions of other institutions like the National Backward Classes Commission, and data from its own caste-census, before a final call is taken on what kind of programmes or schemes to decide on.
But coming just months before the assembly elections, it is being seen as yet another step towards appeasing of certain communities – especially since these upper-castes are traditionally known to support the BJP.
BJP spokesperson and general secretary CT Ravi said they wouldn't want to do politics in everything and will wait to see if the schemes are really beneficial or just an eye-wash.
"Whatever they do now, it will be towards elections – after all, why would they come up with some scheme now that they couldn't think of in all of the last four and half years? But if there is some kind of institution that is set up, it would be a long process that needs legislation. We will discuss when the time comes for it. All castes have poorer sections, we don't dispute that," Ravi told News18.
Get the best of News18 delivered to your inbox - subscribe to News18 Daybreak. Follow News18.com on Twitter, Instagram, Facebook, Telegram, TikTok and on YouTube, and stay in the know with what's happening in the world around you – in real time.
| Edited by: Ashish Yechury
Read full article