Kashmir Braces for Crucial Bypolls, PDP-BJP Coalition Faces Reality Check
Within the next 10 days is scheduled perhaps the most significant event of the year in Kashmir — parliamentary bypolls.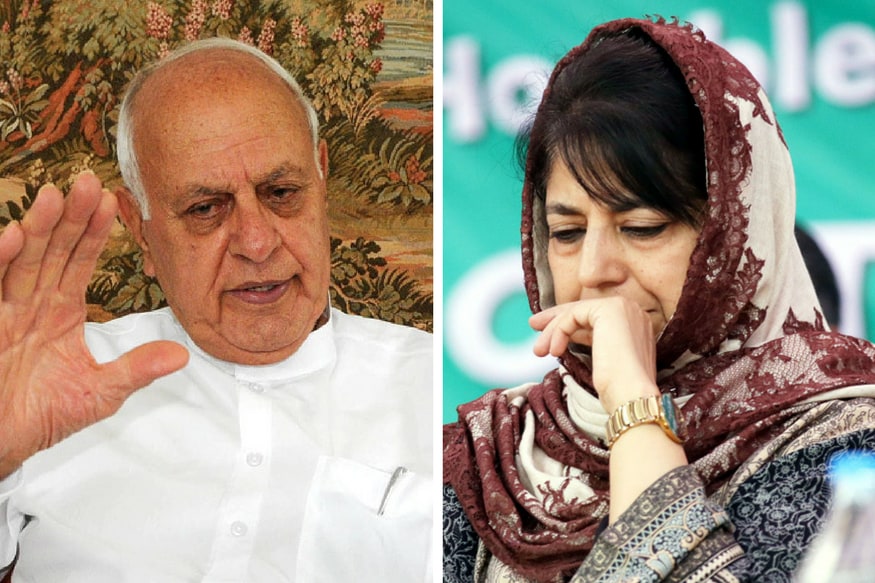 File image of Farooq Abdullah (L) and Mehbooba Mufti. (Image: Getty Images)
Srinagar: Within the next 10 days is scheduled perhaps the most significant event of the year in Kashmir — parliamentary bypolls. Two seats — Srinagar on April 9 and Anantnag on April 12 — will go to polls right after the bloody 2016 unrest and just before, what is looking like, the beginning of another lengthy cycle of violence.
News18 spoke to candidates and leaders from all the big parties in the state and some other people, to get an idea of what the elections mean for the Valley, who's promising what and what is at stake.
The elections happen to be placed right in the middle of the PDP–BJP government's six-year tenure. For this reason, the bypolls will be a mid-term reality check for the ruling coalition.
Comfortable victories in both seats could ensure that 'North pole and South pole', as the deceased founder of PDP Mufti Mohammad Saeed called the coalition, stick to each other for another three years. Defeat in one or both seats could shake the alliance and the government.
The Opposition — National Conference and Congress — will hope that three years of anti-incumbency and resentment against the PDP and the BJP will help them sail through. The NC and Congress have forged a stopgap coalition just for these polls. Both are anxious to win in the hope of staying relevant in Kashmir.
Also Read: In Kashmir, a Singular 'Iron-Glove' Approach Won't Help
The big question is will the association of the PDP, which rode on an anti-BJP sentiment in 2014 Assembly elections, with the BJP, which is being identified for its aggressive Hindutva, prove to be the undoing for both?
"You cannot generalise some perceptions about our alliance with the BJP. You can't say our association with the BJP will be our only challenge. But it is one of those things that may be a challenge for us in coming times," says Tasaduq Mufti, brother of Chief Minister and PDP chief Mehbooba Mufti.
Even before the elections, PDP's alliance partner did come close to becoming not just a challenge but a challenger. A few days ago, the state BJP chief announced that they would field their own candidate in Srinagar, where the PDP had already fielded their own candidate.
But according to sources, the state BJP overturned its decision after a closed-door meeting with them was chaired by Ram Madav.
"Yes, it is true that we wanted to fight it alone in Srinagar. We have a good support base there and are confident of winning elections on our own. But the Centre prevailed on us since these are central elections. Anyway, I'm sure now that things are clear, people will come out and vote for our alliance partner," said Satpal Sharma, BJP's state president in J&K.
Given the situation on the ground, people "coming out" and voting for any party at the moment seems a distant possibility. This is one, and perhaps the only, reason why PDP cadre are upbeat about elections. The party knows that low voter turnout usually favours the ruling party.
In a recent rally held in South Kashmir, Tasaduq Mufti reportedly told his audience, "To cast your vote is your right, not duty…. Obviously, there are safety concerns." These sort of campaigns are not really helping the Opposition's cause.
"The situation on the ground is absolutely not conducive to polls. People have to be assured of their safety. Our campaigners' movements have to be facilitated. These people have in fact withdrawn security," said GA Mir, the state Congress chief and Tasaduq Mufti's rival candidate in Anantnag.
ALSO READ | Those Rushing to Encounter Sites are Committing Suicide: J&K Top Cop
He added, "Everyone knows that vote percentages in these elections will be low. But we are still going to the people and urging them to get out and vote. I don't need to tell you how angry people are with the current establishment."
The Congress's alliance partner for these elections, the National Conference, has fielded none other than its party patriarch Farooq Abdullah from Srinagar. The NC's choice of candidate, or rather Abdullah putting his prestige on the line, shows the seriousness with which the party is fighting for the Srinagar seat.
"There is a wave of resentment and a strong emotion of anti-incumbency that we are hoping to tap into. Plus, there is this very muscular Hindutva agenda which locals are angry about. We are putting in whatever resources we have in this poll. But let's also understand that the atmosphere is not conducive to elections," said Junaid Matto, NC spokesperson.
Last year was one of the bloodiest in Kashmir. Security forces lost 87 personnel, 95 civilians were killed, thousands were injured and some blinded forever by pellet guns. In a sharp contrast to his predecessor, the new Army chief Bipin Rawat issued a stern warning to protestors in February this year.
"Those who obstruct our operations during encounters and are not supportive will be treated as over-ground workers of terrorists," Rawat had said.
More civilians have lost their lives this year. Three of them died earlier this week in Budgam's Chadoora, the highest toll of civilian in the Valley deaths this year.
Senior security officials on ground say that militants are quite likely to use this situation to further widen the growing mistrust between state and the people.
"It is quite likely that militant activities are linked to the upcoming elections, though we have yet to observe any new pattern in their attacks. Winters had ended so we were expecting something like this. With Hurriyat also calling for election boycott and bands we can see a slight dip in voting percentages but political activities and campaigns are not getting affected at all," said a senior CRPF officer posted in Srinagar.
Noor Ahmed Baba, political science professor at Kashmir University, however, begs to differ.
"There is very little political activity on ground this time. Everyone is scared. Elections should have ideally not been conducted in the Valley at this time. I can see vote percentages dipping well below those seen in 2014 elections."
In 2014 general elections, Anantnag saw a voter turnout of 28% and Srinagar 26%.
Though to Baba, the ruling coalition should have been automatically at a disadvantage, the Opposition too has been subdued this time.
"Recurrence of violence and degree of alienation is quite high at this time. And it's not just the violence. The PDP hasn't been able to achieve much of what it promised in the manifesto in 2014 and there is a palpable anti-BJP sentiment here. Normally, this should have given enough ammo to the Opposition, but with a low voter turnout, I'm not sure what they'll be able to achieve."
Apart from finding out which party holds sway over others, the elections in Kashmir will also give an indication of the distance between Delhi and Kashmir. A voter turnout lower than that registered in 2014 could indicate and angrier and more isolated Kashmir.
At stake in Kashmir parliamentary bypolls are not just political fortunes but, in a small way, the immediate future of Kashmir.
| Edited by: Puja Menon
Read full article
Countdown To
Elections Results
To Assembly Elections 2018 Results