KCR Faces a 'Number Deficit' in His Own Seat, Yet Has Not Set Foot Here Once During Campaign
The Congress and TDP together had secured about 15,000 more votes than KCR in 2014 and together in a grand alliance, they would pose a tough challenge for him this Friday.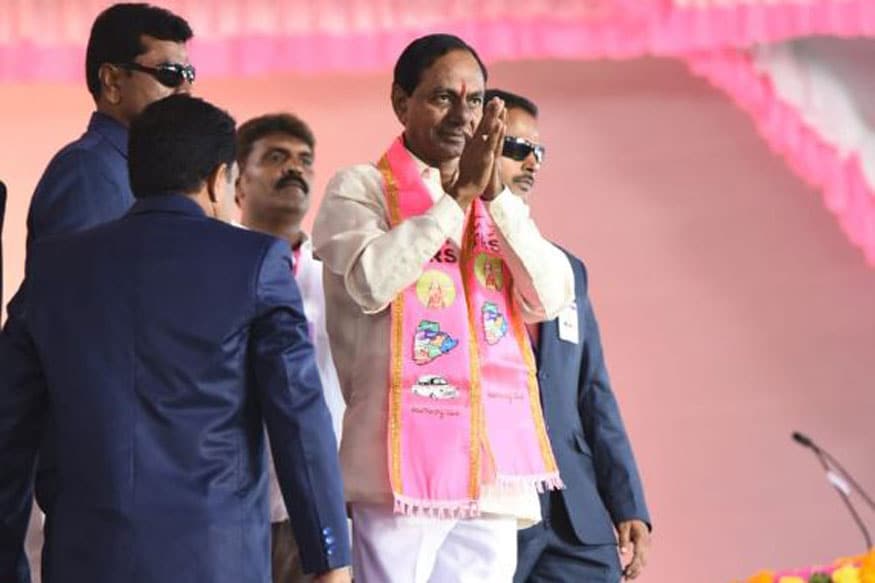 File photo of TRS chief K Chandrashekar Rao. (Twitter)
Gajwel (Telangana): In chief minister K Chandrashekar Rao's assembly constituency Gajwel, arithmetic favours Congress-led and TDP-backed 'Mahakutami' or 'Grand Alliance'. But the perception and development record favour KCR.
In this small town, about 75 kilometers from Hyderabad, many people feel pride that the CM represents them. But KCR is yet to set foot here. He has not campaigned even once in the consistency, even though the voting is just four days away.
He is scheduled to campaign for himself on Wednesday, just 48 hours before voting. KCR's ardent followers claim that his win is a forgone thing and voting is just a formality.
KCR's nephew and water resources minister T Harish Rao, who is an MLA from neighbouring Siddipet, is taking care of his uncle's prestigious seat and has campaigned extensively for him in the past two months.
The support the CM enjoys here is surmised by an auto driver named Yadagiri. "KCR is our chief minister. He will continue to be the CM. He does not need to campaign. Harish Rao has been good to us. We go to him for any work. He will do that. We will vote for KCR. We are happy that KCR is our MLA candidate," he says.
KCR has a luxurious farmhouse at Yerravalli, 6 km from Gajwel town and visits it twice a week. He is currently running his election campaign from there. But he rarely ventures out of it and has visited Gajwel three - four times in the past four and a half years, claim people of this town.
The 'Mahakutami' has fielded Vanteru Pratap Reddy on a Congress ticket. Last time he had contested as a TDP candidate and lost to KCR by just 19,000 votes. He had secured 67,000 votes and KCR had got 86,000.
Congress candidate Tumkunta Narsa Reddy had polled 34,000 votes.
Speaking to News18, Pratap Reddy said that Congress and TDP together had secured about 15,000 more votes than KCR in 2014 and it is not going to be easy for him this time.
"During the height of Telangana movement, KCR won by just 19,000 votes. There is no such sentiments now. I will defeat him this time" said Pratap Reddy.
A rich businessman, Reddy has been campaigning aggressively across Gajwel hoping to defeat KCR.
But the TRS leaders call him a fool, and dismiss his claims as day dreaming.
Harish Rao who is holding the fort for KCR, told News18 that he was supremely confident of his uncle's big win from Gajwel.
"KCR has done a lot of good work for Gajwel. It was totally neglected earlier. He will easily defeat the 'Mahakutami' by a huge margin. I don't see any fight here", he said.
Gajwel has a substantial number of Muslim, SC/ST and Backward class voters. The 'Mahakutami' is trying to snatch a big chunk of it from the TRS this time.
A local voter, Mir Usman Ali feels that Gajwel is witnessing an intense fight this time. He said "TRS is confident because the candidate is KCR. But the 'Mahakutami' candidate is not weak. Pratap Reddy is giving a tough fight. If the Muslim and other votes split, KCR will have to sweat it out".
The proposed Mallanna Sagara reservior project near Gajwel has also upset over 10,000 voters in the constituency, claim locals. The villagers who are going to lose their agricultural land once the dam is built are up in arms against KCR.
They vow to defeat him, hoping it will save their land. Many villagers told News18 that they would be voting against KCR on Friday.
"If KCR wins, the project will be completed. Our land will be under water. We don't want to leave our villages. We will vote against him. If he loses, the irrigation project will be scrapped," said a local farmer leader Yadagiri.
The TRS rubbishes his claims as politically motivated, and says all the farmers who would be displaced will be taken care of.
In the absence of a visible Telangana sentiments, KCR is banking on development to repeat his victory. His flagship schemes like "Mission Bhageeratha", "Raithu Bandhu" etc are being touted as hugely successful by the TRS cadres.
Gajwel town has got better roads, public buildings, educational institutions and drinking water under KCR and the grateful voters will elect him by a huge margin this time, say local TRS leaders.
Unlike his uncle in Gajwel, in Siddipet, Harish Rao is facing no fight at all. His followers are hoping for a win with a margin of over a lakh votes this time. In 2014, Harish Rao won by a whopping margin of over 93,000 votes.
Get the best of News18 delivered to your inbox - subscribe to News18 Daybreak. Follow News18.com on Twitter, Instagram, Facebook, Telegram, TikTok and on YouTube, and stay in the know with what's happening in the world around you – in real time.
| Edited by: Aakarshuk Sarna
Read full article