GET Stock

Quotes


KCR Lunches With DMK's Stalin, Both Dial Mamata Banerjee to Discuss Federal Front
The Telangana Rashtra Samithi (TRS) chief along with some other leaders of the party arrived in Chennai by a special aircraft, following which they had lunch together. He called on former Tamil Nadu chief minister Karunanidhi and his son Stalin, who is also the working president of DMK.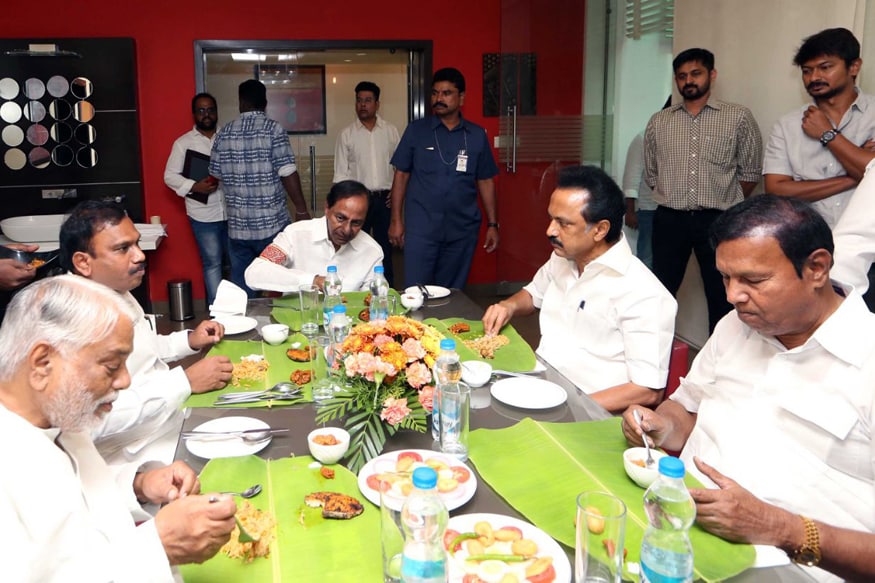 K Chandrasekhar Rao had lunch with DMK leaders M Karunanidhi and MK Stalin in Chennai on Sunday.
Chennai:
Telangana Chief Minister K Chandrasekhar Rao, who is attempting to stitch a coalition of non-BJP parties ahead of the next year's Lok Sabha elections, on Sunday met DMK president M Karunanidhi at his residence and dined with MK Stalin while the two spoke to Trinamool Congress chief Mamata Banerjee over the phone.
Rao, the Telangana Rashtra Samithi (TRS) supremo, stayed at Karunanidhi's residence for a brief period while before proceeding to the house of DMK Working President MK Stalin, where the latter hosted him for lunch.
KCR said after the meeting, "We have been sharing ideas with Mamata Banerjee. We will also meet Chandrababu Naidu. We are good friends. The parties who are going to join us and who will leave us is a decision that will be taken in the future. I was lucky to have Karunanidhi's blessings as he is one of the tallest leader of the country."
Stalin added, "KCR met Karunanidhi and myself. We had lunch and had a discussion on politics. KCR spoke on secularism and the federal front. There are certain parties in Tamil Nadu who have aligned with us and we will discuss KCR's ideology with them. After a discussion with the DMK's high level committee, I will give an answer to KCR."
Asked on the 'Third Front', KCR said, "We have not proposed any third or fourth front. Who said there is a third front? It'll be an alignment of farmers and India's youth. The idea of third front has been created by the media."
He said his ongoing effort was not aimed at some kind of a 'third front' and it was not a mere alignment of political parties but "that of the people" of the country, the Telangana Rashtra
Samithi supremo told reporters in a joint press meet with Stalin.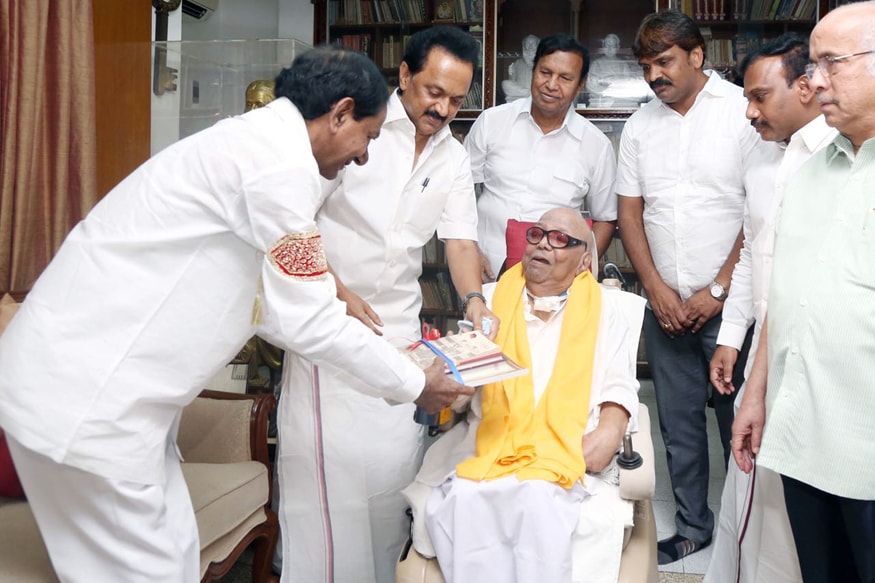 Telangana Chief Minister K Chandrasekhar Rao with DMK leader M Karunanidhi.
The TRS leader, who was welcomed by Stalin at the Gopalapuram residence of Karunanidhi, later left for the house of the Leader of Opposition in the Tamil Nadu Assembly, who also joined him in the same vehicle.
Earlier, the Telangana chief minister had met West Bengal Chief Minister and Mamata Banerjee as part of efforts to build a non-Congress, non-BJP federal front ahead of the 2019 Lok Sabha polls.
On Sunday Rao said, "We had a telephonic conversation with Mamata Banerjee. and we are firm on the fact that India should be secular while the Centre should give more power to the state in the health, education, transport, urban and rural development sectors."
Stalin too said that his party "endorsed" the efforts of Mamata Banerjee to bring together various parties against the BJP.
The DMK and Congress are allies in Tamil Nadu and the two had faced the 2016 Assembly elections as part of an alliance.
| Edited by: Ahona Sengupta
Read full article