Kejriwal ends stir, govt says no question of isolating Khurshid
Kejriwal, who ended his protest on Monday, announced a fresh campaign against Khurshid in his constituency Farrukhabad from November 1.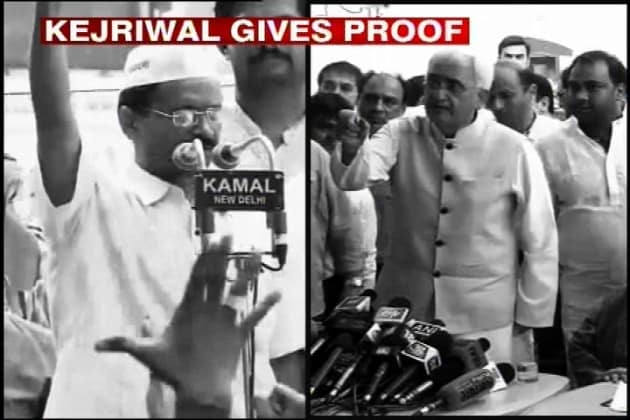 Kejriwal, who ended his protest on Monday, announced a fresh campaign against Khurshid in his constituency Farrukhabad from November 1.
New Delhi: Even as Arvind Kejriwal-led Indian Against Corruption levelled fresh allegations of financial irregularities on an NGO run by Salman Khurshid and his wife, the government on Monday rallied behind the Union Law Minister, terming him "an important minister of UPA II" and ruling out his resignation. In another development surrounding the controversy, Union Steel Minister Beni Prasad Verma created a flutter on Monday, saying Khurshid will not do any wrong for Rs 71 lakh, which is a "very small amount" for a Central Minister. As news channels played up his remarks, Verma backtracked saying that even corruption of Rs 1 is also serious.
Gearing up for another political fight, Kejriwal, who ended his four-day-old protest in Delhi against Khurshid on Monday, announced a fresh campaign against him in his UP constituency Farrukhabad from November 1. Kejriwal, who on Sunday said he would produce more "evidence" against Khurshid whom he has accused of forgery and embezzlement of funds through his NGO Zakir Hussain Trust, said IAC members tried to locate the people given wheelchairs, hearing aids and tricycles by the trust, but found most of them to be "fictitious".
In a bid to find out the real story behind the controversy, CNN-IBN also travelled to Uttar Pradesh's Bulandshahr district and found startling facts which could create more trouble for Khurshid. Talking to CNN-IBN, the Bulandshahr's handicapped welfare officer said his predecessor never signed on the documents of the beneficiaries shown by the Zakir Hussain Trust, owned by the Union Minister and his wife. He claimed that his predecessor had told the state government that her signature on a report on equipment distributed to 42 disabled people was forged.
Meanwhile, the Economic Offences Wing of the Uttar Pradesh Police on Monday started collecting evidence in connection with its probe into alleged financial irregularities by the NGO. A PIL was also filed in the registry of the Lucknow Bench of the Allahabad High Court seeking registration of an FIR against Khurshid and his wife Louise Khurshid. The petitioner wanted the court to monitor the case.
Earlier in the day, Kejriwal levelled fresh charges against Khurshid, Kejriwal alleged that one Pankaj Kumar from Mainpuri whose name figures in the list of beneficiaries did not get any help from the NGO. At the protest site, Vivek Yadav, an activist from Mainpuri, claimed that they had searched for beneficiaries in the locality of Dewar block but they could not locate two names -- Santosh Kumari and Sasi Mohan -- who were said to have been provided with wheel-chairs.
Kejriwal alleged that there was a quid pro quo between the Congress, which is supporting Khurshid, and SP chief Mulayam Singh Yadav who is facing a disproportionate assets case in the Supreme Court. Akhilesh Yadav was guarded in his response over the controversy saying that one should await the outcome of the probe before drawing any conclusion. "It will not be appropriate to comment on the matter as inquiry is already underway. It was started in previous (BSP) regime. How can how comment without outcome of the inquiry?" Yadav said.
Backing his colleague in the Cabinet, many UPA ministers came out in strong defence of Khurshid, saying there is no question of isolating him on the issue. "There is no question of isolation or not backing (Khurshid)," Information and Broadcasting Minister Soni said. Speaking on a similar vein, Health Minister Azad said, "there is no question of distancing. He (Khurshid) has made it clear that there is nothing wrong." Khurshid, who also attended the meeting, refused to answer any questions and left waving a thumbs up sign to media persons.
On its part, Congress rejected the demand for Khurshid's resignation saying he had on Sunday "effectively countered" the charges levelled against him. "Now the UP government has instituted an inquiry," party spokesperson Sandeep Dikshit said. He went on to add that courts were there to decide on the issue. Hours after giving a bizarre defence on the controversy surrounding Khurshid, senior Congress leader Beni Prasad Verma said that even one rupee constitutes corruption. Earlier on Monday, the Congress leader from Uttar Pradesh had said that Rs 71 lakh was too small an amount for Khurshid to do a scam. Congress, however, distanced itself from the comment.
Announcing the end of his protest at Parliament Street, Kejriwal claimed that they have not received a response from Prime Minister's Office for an appointment and now they are shifting their battle to Farrukhabad. "Now the volunteers will go to Farrukhabad. We are getting more documents against Khurshid. Public will make a disabled person fight against him in the next elections and defeat him," he said.
Claiming that Congress and other parties like BJP and SP have been "exposed" in the fight against corruption, he also targeted Manmohan Singh. "He too has been exposed. He does not speak. Congress and BJP are hand i--glove. In a couple of days, (BJP chief Nitin) Gadkari will be exposed," he said. He said if the country has Right to Reject as Anna Hazare demands, then these people will not get elected. "During this Dussehra festival, we should not burn the effigies of mythical Ravan (and Meghdhoot and Kumbhakarna). Let us not burn their effigies. Let us select three people who are Ravans of the present," he said.
He also said that they will participate in a Mahapanchayat of farmers where they will expose alleged links between Robert Vadra, DLF and other companies in land deals. He appealed Delhiites to switch off their lights for an hour in the evening on November two to protest against power tariff hike in the capital.
(With additional inputs from PTI)
Get the best of News18 delivered to your inbox - subscribe to News18 Daybreak. Follow News18.com on Twitter, Instagram, Facebook, Telegram, TikTok and on YouTube, and stay in the know with what's happening in the world around you – in real time.
Read full article