GET Stock

Quotes


Kejriwal Kicks Off Campaign Against Demonetisation From Meerut
Pointing to the Rs 6,000 crore loan of Vijay Mallya being written off, Kejriwal asked the audience, ' Kitne log mante hai ki Modi ji beimaan hai, zara haath khade karo?' to which the people responded by raising their hand in unison.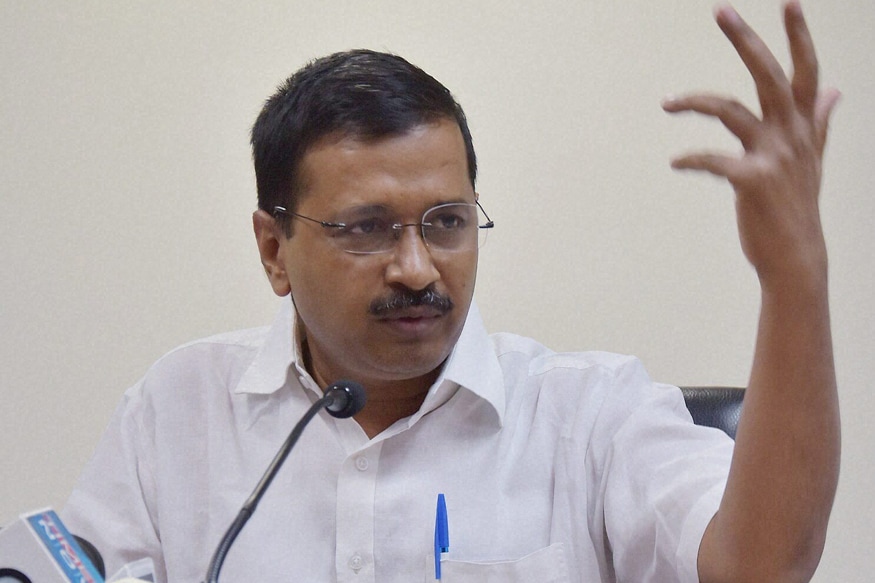 File photo of Delhi Chief Minister Arvind Kejriwal. (Getty Images)
Meerut: Aam Aadmi Party (AAP) National Convener and Delhi Chief Minister Arvind Kejriwal on Thursday slammed demonetization scheme during a rally in Meerut and exhorted people to vote  anyone but BJP.
Kejriwal took time out of his busy schedule to address a rally in Meerut in poll bound Uttar Pradesh where AAP is not contesting elections.
This is the first of the six rallies that the AAP chief plans to address against demonetisation; one each in Varanasi and Lucknow in UP, one in Bhopal, Madhya Pradesh, one in Jaipur, Rajasthan and the last one in Ranchi, Jharkhand.
MP, Rajasthan and Jharkhand are BJP ruled states. It is significant that Kejriwal has chosen to invest time and energy in states where AAP does not have a direct stake in elections, even as it is gearing up to fight hard battles in Punjab and Goa.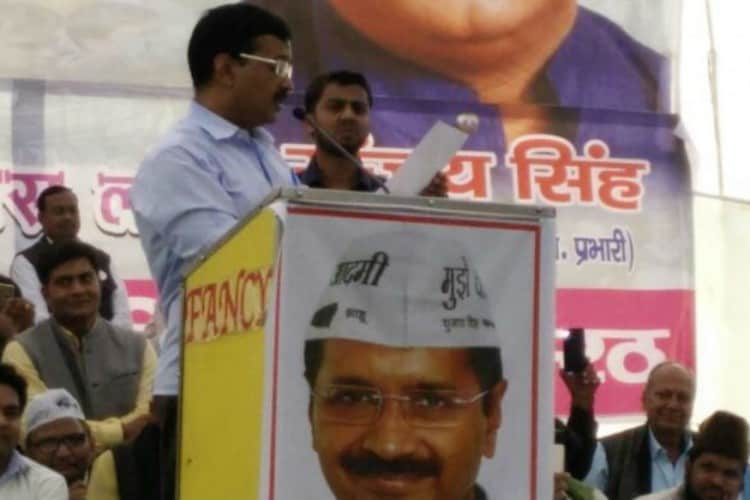 Delhi chief minister Arvind Kejriwal addresses a rally in Meerut. (CNN-News18)
Kejriwal is the second chief minister to have visited Uttar Pradesh after Mamata Banerjee. He like the West Bengal Chief Minister, has taken the campaign against demonetisation out of his home turf.
The road to the rally venue at Gokulpur village, barely few kilometers from Meerut, was dotted with hoarding of AAP leaders.
The rally ground, too, saw a robust footfall of people, primarily AAP supporters, youth and members of the minority community including women.
The entire cabinet of AAP government barring Satyendra Jain was on stage and so was DDC vice chairman Ashish Khetan.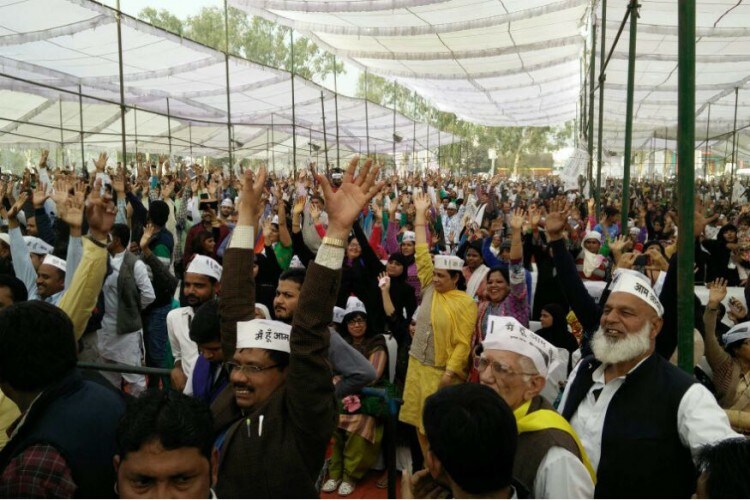 Arvind Kejriwal had his audience responding and cheering repeatedly in the course of his nearly half an hour speech, the message of which was simple–vote for any party but not for the BJP.
Kejriwal began by saying, "Today, I have not come to ask for votes, if I had to ask for votes, I would have gone to Punjab or Goa where our party is contesting elections. Today I have come to beg you to save this country" ( aaj mein aap ke samne is desh ko bachane ki bhik mangne aya hun)'.
The chief minister then built a carefully constructed argument to build his case on why demonetisation is, 'Independent India's biggest scam worth Rs 8,00000 crores'.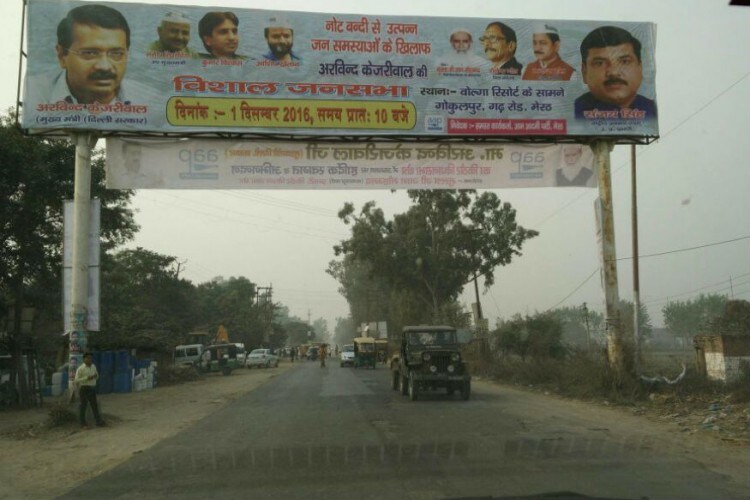 Taking on the Prime Minister Narendra Modi, Kejriwal said, "Kal pradhan mantra ne ailan kiya …parson…ki jinke paas kala dhan hai unko chinta karne ki xaroorat nahi, fifty-fifty kar lo, adha tum rakh lo, adha Modi ji ko de do… badi khatarnak scheme hain doston' (Yesterday the prime minister announced that those having black money needn't worry – half of it will remain with you and half will go to Modi.. this is a very dangerous scheme friends'.
Kejriwal questioned the taxation amendment passed recently in Parliament saying, "No questions will be asked about the source of the black money, whether it has been generated through terrorism, drugs, extortion, tax evasion'.
"Modi ji is saying you have ten crore rupees of black money, give me five crores, the other five crores will be white money'. ' If this had to be done, then why demonetisation," he questioned.
Further slamming the Centre for writing off loans of corporates to the tune of Rs 1,14,000 crore and alleging harassment to farmers, middle class with notices being served to them, Kejriwal said, "I want to ask Modi ji, how many bouncers, how many notices did you send to the houses of those people whose Rs 1,14,000 crore loan you have written off, how many of their bank accounts did you freeze, how much of their land did you mortgage."
Kejriwal alleged that demonetisation is a 'big conspiracy hatched by the BJP, Amit Shah and Modiji' so people deposits their hard earned money and 'loans worth 8,00000 Cr will be written off'.
"If the intent was to crackdown on black money, the Prime Minister should have arrested the 648 people who have accounts in the Swiss banks," AAP chief added.
Pointing to the Rs 6,000 crore loan of Vijay Mallya being written off, Kejriwal asked the audience, ' Kitne log mante hai ki Modi ji beimaan hai, zara haath khade karo?' to which the people responded by raising their hand in unison.
"If your intent is clean, write off the loans of our farmers, those who have taken loans for cars and houses. Please stop writing off loans of Adani and Ambani. If you do not do that next time, then ask Adani and Ambani for votes, janta will not give you votes," added Kejriwal.
"Many people told me, they will avenge every minute they had to spend standing in queue due to demonetisation," Kejriwal said taking a dig at the demonetisation scheme.
It is the same rhetoric that is likely to be in play in Kejriwal's Varanasi, Lucknow, Bhopal, Jaipur and Ranchi rallies in the coming days.
Unlike Mamata Banerjee's rally in Lucknow which saw the attendance of Samajwadi Party leaders, there were no leaders from any other party on AAP stage.
Sanjay Singh, AAP PAC Member and UP-In Charge said, "We have our own party cadre and structure, why should we seek the support of any other party?"
AAP is not yet clear on the role its cadre in Uttar Pradesh will play in the 2017 Assembly elections.
"AAP will go to the people against demonetisation and will appeal to the people of Uttar Pradesh not to vote for BJP. The impact of this will be felt in the upcoming elections here," added Sanjay Singh.
No party which aims to have a national footprint can afford to ignore Uttar Pradesh, which has given eight of India's fourteen Prime Ministers, the 15th Prime Minister, Narendra Modi represents Varanasi.
Uttar Pradesh has 80 parliamentary seats and 404 assembly seats.
During 2014 polls, AAP leader Kumar Vishwas had taken on Rahul Gandhi and Smriti Irani and finished fourth.
Arvind Kejriwal had resigned as Delhi Chief Minister, challenged Narendra Modi from Varanasi and finished second.
AAP currently does not have the bandwidth to contest elections in UP, but Kejriwal is making his presence felt by pitching himself as the prime opponent to Narendra Modi.
Also Watch

News18 Reel Movie Awards: Ratna Pathak Shah Bags Best Actor (Female) Award
| Edited by: Nakshab Khan
Read full article