Thiruvananthapuram:
After the upheaval in Kerala Congress over the 'gifting' of a Rajya Sabha seat to foe-turned-friend Kerala Congress (Mani), the office of the Kerala Pradesh Congress Committee (KPCC) has been put on 'sale' on OLX.
The cheeky advertisement on the portal has been posted by one Aniesh and quotes Rs 10,000 as the 'asking price' for Indira Bhavan in Sasthamangalam area of Thiruvananthapuram. The ad also gives out the photo and area of the property, saying it's ready-to-move-in.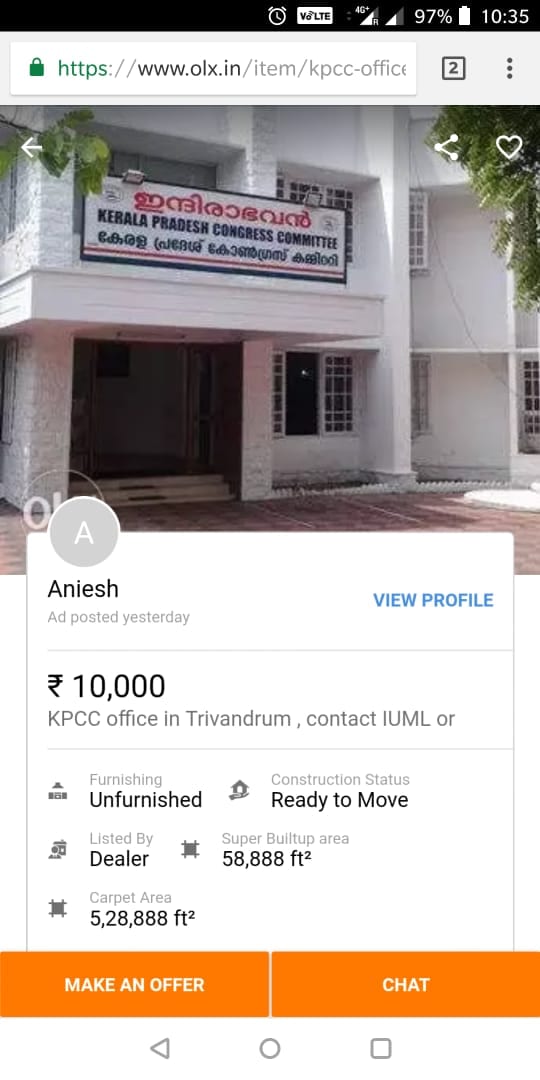 In what perhaps is a jibe at the Congress' perceived appeasement of allies in the state, the ad says interested parties can contact the Indian Union Muslim League (IUML) or the Kerala Congress (Mani).
The Kerala unit of Congress has witnessed vocal dissent over the past few days after the party decided to forgo a Rajya Sabha seat in favour of the Kerala Congress (M), which returned to the UDF coalition after a gap of two years. The seat is currently held by Rajya Sabha deputy chairman PJ Kurien of the Congress, who is set to retire on July 1.
The Kerala Congress (M) has fielded Jose K Mani, the son of party chief KM Mani, for the seat. This choice has further irked Congress leaders who feel a more senior leaders from their own party could have been fielded instead.
As many as six young MLAs have expressed their annoyance in a letter to Congress president Rahul Gandhi. "I do express my utmost disappointment and strongest protest on the Kerala leaders' decision to give away our Rajya Sabha seat to the Kerala Congress (M) party, who are not even a constituent of the UDF in Kerala as of now. This has betrayed the sentiments of the ordinary Congress workers in Kerala and is a huge humiliation of their spirits. I, therefore, urge all those leaders to reconsider this catastrophic decision at the earliest and field a Congress candidate itself for the ensuing election, the letter said.
In a strong reaction, former KPCC president VM Sudheeran said: "The decision to give away the Rajya Sabha seat is disappointing. Congress workers are frustrated and disappointed at this unwise decision. This will lead to disaster for Congress and the ultimate beneficiary will be BJP. This was a unilateral decision by Kerala leaders without discussing at appropriate forums."
The anger is directed mainly at senior leaders Chennithala and former CM Oommen Chandy. The next episode in the saga will unfold on Monday when the KPCC political committee meets in the state capital.