Kumar Vishwas Vs Amanatullah Khan: From Pehle AAP to Tu Tu Main Main
Even as the party tried to reach out to both Khan and Vishwas to sort out the differences, the top brass seems to be having tough time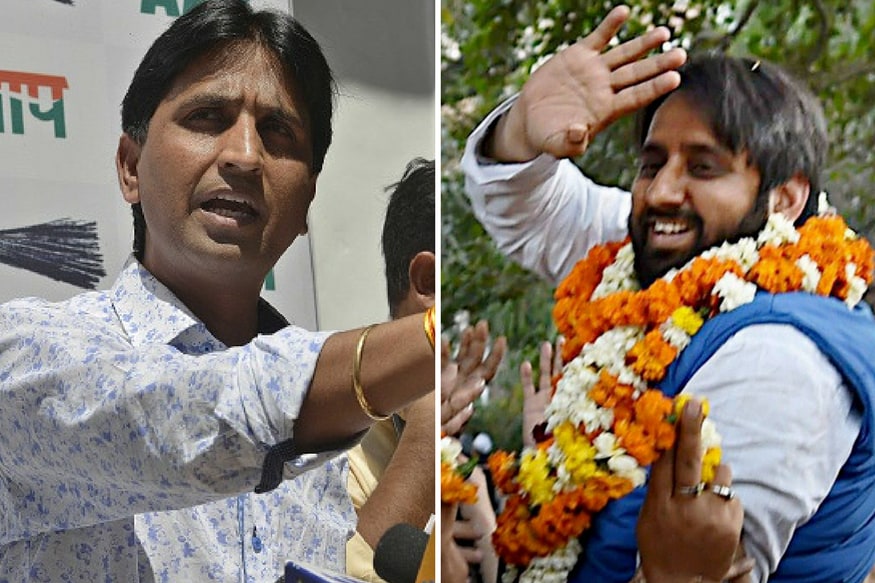 At Loggerheads: Kumar Vishwas (L) and Amanatullah Khan. (Photo Credit: PTI)
New Delhi: Late last night, Aam Aadmi Party (AAP) MLA from Okhla constituency Amanatullah Khan walked out of the party's Political Affairs Committee (PAC) meeting and announced that he had resigned from the PAC. "I have stepped down, but I still stand by what I said," Khan told reporters.
Kumar Vishwas is conspiring to split the party. He has been planted by the BJP and the RSS," Khan had told News18 in an interview on Sunday.
After a humiliating drubbing in the recently-held Municipal Corporation of Delhi (MCD) polls, AAP seems to be headed towards factional fight. Khan's words created ripples across the party and the rift in the party was split wide open.
ALSO READ | Kumar Vishwas: Alternative Power Hub in Party of 'Alternative Politics'
Even as the party tried to reach out to both Khan and Vishwas to sort out the differences, the top brass seems to be having tough time. Soon after Khan's allegations, there were a series of unofficial meetings at deputy chief minister Manish Sisodia's residence, attended by chief minister Arvind Kejriwal and senior AAP leaders Ashutosh, Gopal Rai, Sanjay Singh and several MLAs. Later, Sisodia, Sanjay Singh and Alka Lamba paid a visit to Vishwas at his Ghaziabad residence. Despite visits from the leaders, Vishwas refused to attend the crucial PAC meeting till Khan was sacked.
"Arvind Kejriwal is upset with the way Amanatullah Khan and Kumar Vishwas have been speaking to the media, instead of resolving issues within the party. Kumar Vishwas skipped the PAC too. Nobody is allowed to issue public statements, and all issues must be discussed with the party leadership," said Sisodia.
ALSO READ | Kumar Vishwas Planted by RSS and BJP, Says Amanatullah Khan as He Resigns
Soon after Khan levelled his allegations against Vishwas, Kejriwal sent out directives, banning all MLAS from issuing statements to the press about the infighting. There were many leaders who demanded strict action against Khan, some even demanded that he should be sacked from the party.
Imran Hussain, AAP MLA who also holds a Cabinet post in the Kejriwal government, told CNN-News18, "We all strongly condemn Amanatullah Khan's statements. The man has lost his mental balance."
ALSO READ | AAP Must Learn From Mistakes in MCD Elections, Says Kumar Vishwas
The party in a press conference on Tuesday said no action had been taken against Vishwas yet, it did not rule out the possibility of action being taken against the poet-turned politician in the near future.
AAP is a democratic party and all members have the right to bring up any issue they feel like. It is up to the party to decide if it wants to take action or not," party spokesperson Ashutosh told the press on Tuesday.
Sources in the party said that Khan's statements had done more good than bad for Vishwas, who had decided to skip the PAC meeting on Sunday.
"If Vishwas is given a larger role in the party, I will support it. We are a democratic party," said Alka Lamba, AAP MLA from Chandni Chowk.
Janakpuri MLA Rajesh Rishi said, "It is time Kumar Vishwas is made the National Convenor. Arvind Kejriwal can run the government, while Vishwas runs the party."
@media only screen and (max-width:740px) {
.quote-box{font-size:18px; line-height:30px; color:#505050; margin-top:30px; padding:22px 20px 20px 70px; position:relative; font-style:italic; font-weight:bold}
.special-text{font-size:24px; line-height:32px; color:#505050; margin:20px 40px 20px 20px; border-left:8px solid #ee1b24; padding:10px 10px 10px 15px; font-style:italic; font-weight:bold}
.quote-box img{width:60px; left:6px}
.quote-box .quote-nam{font-size:16px; color:#5f5f5f; padding-top:30px; text-align:right; font-weight:normal}
.quote-box .quote-nam span{font-weight:bold; color:#ee1b24}
}
| Edited by: Aditya Nair
Read full article
Countdown To
Elections Results
To Assembly Elections 2018 Results