Kumaraswamy Blames Media for All His Problems, Vows Not to Talk to Press Again
After his comments about farmer leader Jayashree Gurannavar went viral, Kumaraswamy accused the media of quoting him out of context to "instigate" sugarcane growers and other farmers.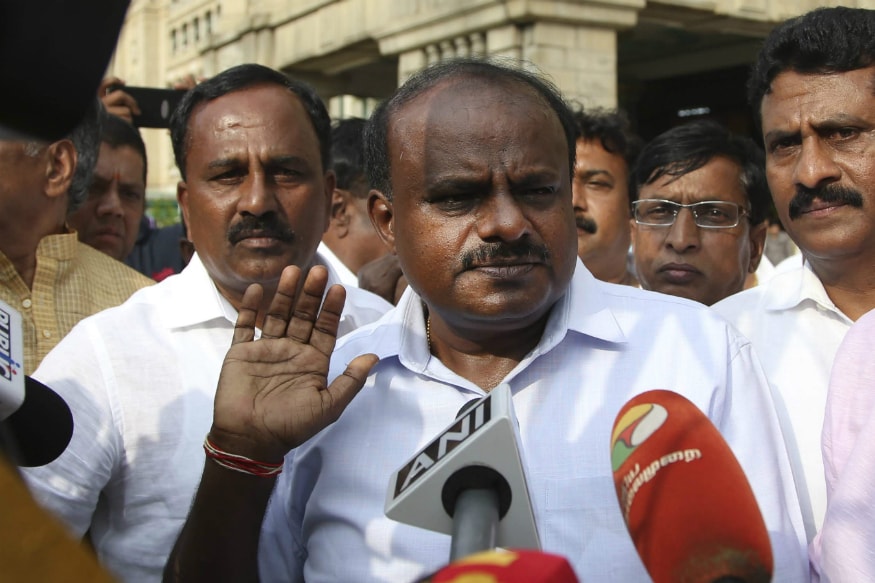 File photo of Karnataka CM HD Kumaraswamy. (AP Photo/Aijaz Rahi)
Bengaluru:
Karnataka Chief Minister HD Kumaraswamy thinks the media has been unfair to him and has declared that he won't be addressing any press meets in the future. A visibly upset CM said that a section of the media had been running a "campaign" against him and was twisting even minor statements to suit "vested" interests.
After his comments about farmer leader Jayashree Gurannavar went viral and caused huge embarrassment to the JD(S)-Congress government, Kumaraswamy blamed the media, particularly Kannada news channels, for allegedly quoting him out of context to "instigate" sugarcane growers and other farmers.
His father and former prime minister HD Deve Gowda had also attacked the media over protests by sugarcane growers in Belgaum, terming it a media creation.
On Thursday, an agitated CM vowed not to entertain media questions. "I am hurt by the attitude of the media. Certain elements are against me. They twist every comment made by me. It has caused me a lot of pain. Therefore, I have decided not to address any press meets in the future or engage with the media on a daily basis," he said.
He also sarcastically told the media that he will say whatever he wants and it is up to them to report it or not. "I will not talk to you individually. I won't address press meets. If you want to report, please do. If you don't want, please don't do. I don't mind," he said angrily.
Coalition partner Congress, which has 80 MLAs, is reportedly upset with Kumaraswamy's flippant attitude. According to reports, JDS-Congress coordination committee chairman Siddaramaiah has asked Deve Gowda to rein in his CM-son and guide him about public discourse.
An otherwise savvy Kumaraswamy started distancing himself from the media after he took charge as the Chief Minister for the second time in May this year. His orders to barricade the Chief Minister's Office on the third floor of the Vidhana Soudha in Bengaluru, restricting access to media persons, had led to a huge furore, forcing him to soften his stand in July this year.
Kumaraswamy and the Gowda family have been blaming the media for political instability in Karnataka. "A section of the media want to see our back. They are running a sustained campaign against Kumaraswamy's government. They want the government to collapse. Because of that, not a day passes by without some story on government in trouble. Enough is enough. We have to call them out," said a Gowda family associate.
Kumaraswamy has also accused the media of "joining hands" with the forces who are "out to finish him".
Karnataka chief ministers, irrespective of party affiliations, have always been easily accessible and friendly with the media. Kumaraswamy's predecessor Siddaramaiah had maintained a good relationship with the media during his tenure.
The Gowda clan has a history of tumultuous relationship with the media since the time of JD(S) patriarch Deve Gowda.
Reacting to Kumaraswamy's comment on the media, state BJP chief and leader of opposition BS Yeddyurappa said the JDS-Congress government has been a "disaster" and a "failed chief minister" was holding the media responsible for his "flippant attitude and shortcomings".
| Edited by: Nitya Thirumalai
Read full article
Countdown To
Elections Results
To Assembly Elections 2018 Results