Kumaraswamy, Siddaramaiah Patch up After Yeddyurappa's Call to Rebel JDS-Cong MLAs
Siddaramaiah kept the coalition government on tenterhooks by skipping an all-party meet on Cauvery convened by Kumaraswamy on Saturday.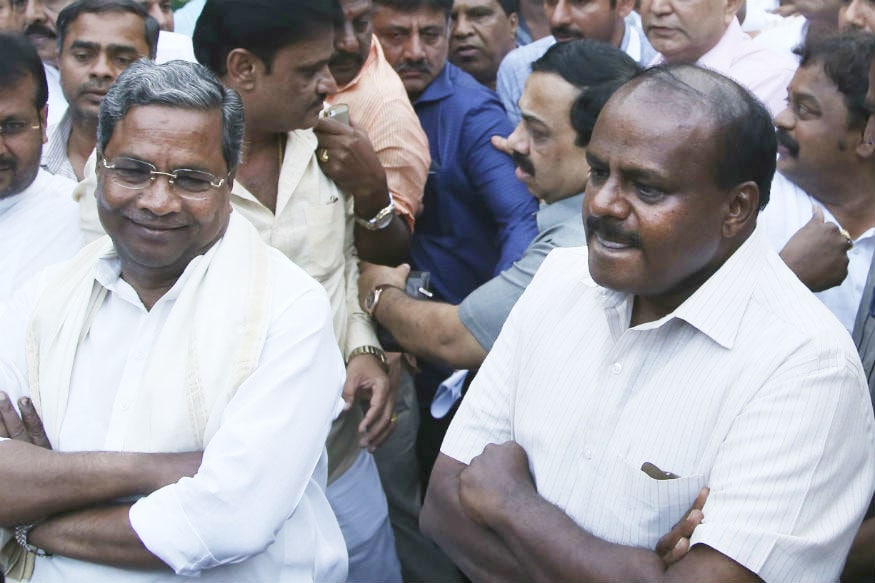 Former Karnataka CM Siddaramaiah (left) and chief minister HD Kumaraswamy.
Bengaluru: Karnataka BJP chief BS Yeddyurappa, who was ousted by the combined might of the Congress and the JDS in just 56 hours a month ago, is once again eyeing the chief minister's chair.
Addressing the state Bharatiya Janata Party (BJP) executive in Bengaluru on Friday, the former chief minister made an open offer to rebel Congress and JDS MLAs to join the party to topple the HD Kumaraswamy-led coalition government in the state.
According to party insiders, Yeddyurappa is hoping to exploit the current fluid political situation in the state and has re-established contacts with almost a dozen Congress and JDS MLAs.
He had rushed to Ahmedabad to meet party national president Amit Shah four days ago but later claimed that he was there to discuss Lok Sabha election preparations and not state politics.
Some Karnataka BJP leaders maintain that the national leadership is not keen on dislodging the JDS-Congress government to take another shot at power before the crucial Parliament elections scheduled to be held early next year. They advised Yeddyurappa to focus on Lok Sabha polls and not worry much about the coalition government.
"Our high command wants the government to collapse on its own. They know that it won't survive beyond Lok Sabha elections. If it goes now, we will be blamed and the Vokkaliga caste will be upset. But Yeddyurappa is restless," said a senior leader of the BJP.
Worried over the goings on in Bengaluru, Kumaraswamy made an effort to reach out to sulking former chief minister Siddaramaiah on Friday night to save his government. In a tweet, he said Siddaramaiah will play a bigger role in the government.
ಸಿದ್ದರಾಮಯ್ಯ ಅವರು ಶಾಂತಿ ವನದಲ್ಲಿ ಸ್ನೇಹಿತರೊಂದಿಗೆ ಮಾಡಿರುವುದು ರಾಜಕೀಯ ವಿಶ್ಲೇಷಣೆ. ಸಮ್ಮಿಶ್ರ ಸರ್ಕಾರದ ಬಗ್ಗೆ ಅವರಿಗೆ ಯಾವ ಭಿನ್ನಾಭಿಪ್ರಾಯವಿಲ್ಲ. ಸಮ್ಮಿಶ್ರ ಸರ್ಕಾರ ರಚಿಸುವಲ್ಲಿ ಅವರ ಪಾತ್ರ ದೊಡ್ಡದಿದೆ. ಈ ಸರ್ಕಾರ ಮುನ್ನಡೆಯುವಲ್ಲಿ ಅವರು ಸದಾ ನಮ್ಮ ಬೆಂಬಲಕ್ಕಿರುತ್ತಾರೆ: ಸಿಎಂ

— CM of Karnataka (@CMofKarnataka) 29 June 2018
In response to Kumaraswamy's tweet, Siddaramaiah rubbished theories of "revolt" and said the government was stable. In another tweet, he alleged that the media was defaming him by running edited parts of leaked videos of his private conversations.
However, Siddaramaiah kept the coalition government on tenterhooks by skipping an all-party meet on Cauvery convened by Kumaraswamy on Saturday.
The meet was attended by Yeddyurappa but Siddaramaiah was busy in a meeting with powerful Congress leader MB Patil, who is upset over not being made a minister this time. Kumaraswamy has decided to go ahead with the Budget presentation and the assembly will meet on Monday.
One has to wait to see if Siddaramaiah jumps to defend the coalition government or remains a mute spectator to the possible chaos in the House.
Get the best of News18 delivered to your inbox - subscribe to News18 Daybreak. Follow News18.com on Twitter, Instagram, Facebook, Telegram, TikTok and on YouTube, and stay in the know with what's happening in the world around you – in real time.
Read full article