Kushwaha Ready to 'Sacrifice' on Seat Sharing, But Says No Deal Yet as RJD Continues Courtship
Kushwaha made it clear that a final seat-sharing deal has not been clinched yet but dropped hints to suggest he may remain part of the BJP-led National Democratic Alliance (NDA).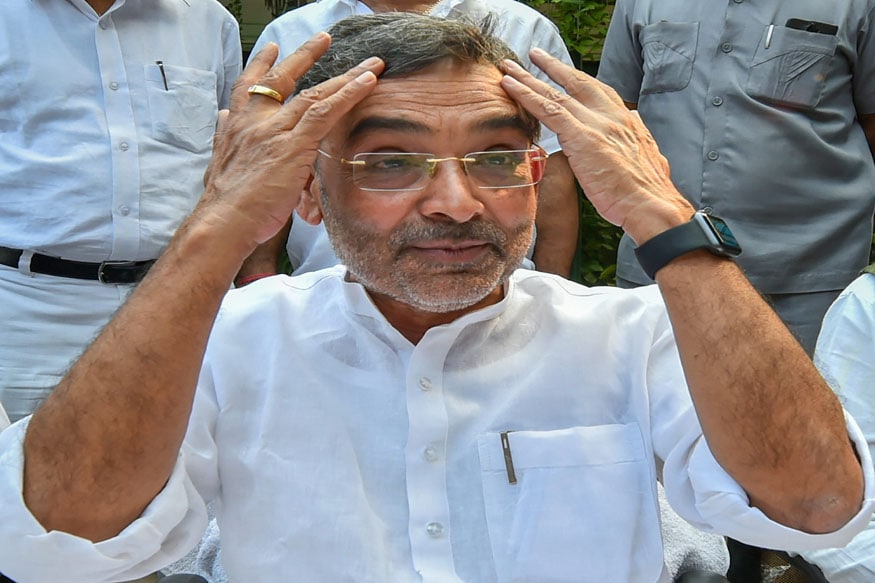 RLSP leader Upendra Kushwaha during a press conference in New Delhi . (PTI file photo)
New Delhi: Union minister and RLSP chief Upendra Kushwaha met Lok Janshakti Party president Ram Vilas Paswan Tuesday and both the leaders are believed to have deliberated on the seat-sharing arrangement with the BJP in Bihar for the Lok Sabha elections.
The Rashtriya Lok Samata Party (RLSP) leader met Paswan at the latter's residence and held deliberations. Kushwaha also met BJP general secretary Bhupendra Yadav and said he was ready to follow BJP president Amit Shah's call asking allies to "sacrifice" their number of Lok Sabha seats in Bihar.
His meeting with RJD's Tejashwi Yadav last week had sparked speculation over his future course of action. He said on Tuesday he wanted a "respectable" number of seats to fight in the state.
Kushwaha made it clear that a final seat-sharing deal has not been clinched yet but dropped hints to suggest he may remain part of the BJP-led National Democratic Alliance (NDA).
The Bharatiya Janata Party (BJP), LJP and RLSP had contested 30, seven and three seats of the 40 Lok Sabha seats in Bihar in 2014 and won 22, six and three of them.
However, the entry of Chief Minister Nitish Kumar-led Janata Dal (United) into the NDA fold means that a new arrangement will have to be made.
Shah had announced last week that the BJP and JD(U) will fight on equal number of seats in the state, and asked Kushwaha and Paswan to be ready for sacrifice.
The opposition RJD, meanwhile, accused Chief Minister Nitish Kumar of "blackmailing" the BJP to secure a seat-sharing deal favourable to his JD(U) while denying "adequate" representation to Kushwaha's RLSP.
"We fully back Upendra Kushwaha's concern over his party not getting a ministerial berth in Bihar government despite the NDA being in power and his party being its constituent for over four years", Tiwary said.
"Kumar fought tooth and nail to secure a respectable share of seats for his JD(U) by blackmailing the BJP with the help of Prashant Kishor, whom he has made his party's national vice-president. Kishor has friends in all parties and had given the BJP the hint that Kumar was ready to switch sides if he did not get his due in the NDA", Tiwary alleged.
"However, when it comes to giving Kushwaha his due, Kumar has different standards. Does his government not enjoy the support of RLSP MLAs. Just look at the manner in which Shah and Kumar made the announcement about seat-sharing last week. It looked as if Ram Vilas Paswan's LJP and Kushwaha's party did not exist", the RJD leader - who had been a close aide of the Bihar Chief Minister till a few years ago - said.
Tiwary's comments are the latest in a series of sympathetic gestures by the RJD towards Kushwaha, whom it has been expecting to switch sides out of frustration.
Kushwaha had quit the JD(U) in 2013, months after being suspended for anti-party activities, and floated his own outfit. Although he described Kumar as his "elder brother" in the Delhi press conference, he is known to have viewed the JD(U)'s return to the NDA last year with consternation.
RJD heir apparent Tejashwi Yadav has been maintaining that there was a "standing invitation" to Kushwaha to join the Mahagathbandhan and a meeting between the two leaders last week, shortly after Shah and Nitish spoke to the media, had fuelled speculations about the RLSP chief's future move.
Read full article
Countdown To
Elections Results
To Assembly Elections 2018 Results