Municipal Corporations

9/10

TRS

8

INC

0

BJP

1

AIMIM

0

OTH

0
MUNICIPALITIES

115/120

TRS

97

INC

9

BJP

3

AIMIM

2

OTH

4
Refresh Data
Lalu Prasad Yadav Says, Will Address Mayawati's Concerns, Bring Her Together With Akhilesh in Uttar Pradesh
RJD chief Lalu Prasad Yadav acknowledged that Mayawati joining the alliance is crucial for a united opposition as she has a huge vote base in Uttar Pradesh.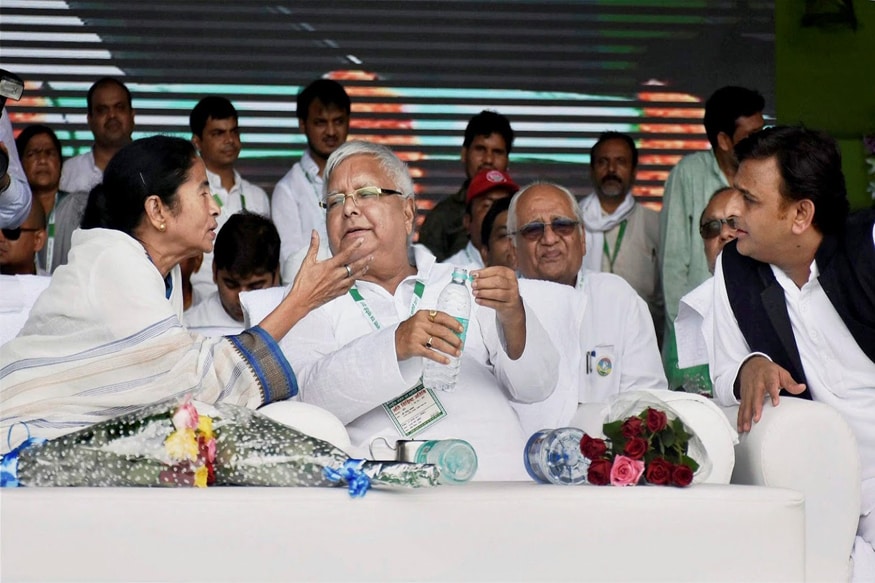 RJD chief Lalu Prasad with TMC supremo and West Bengal chief minister Mamata Banerjee and former Uttar Pradesh chief minister Akhilesh Yadav during "BJP Bhagao, Desh Bachao" rally at Gandhi Maidan in Patna. (PTI Photo)
Patna: Encouraged by the massive turnout at his 'Desh Bachao-Bhajpa Bhagao' rally in Patna, RJD chief Lalu Prasad has claimed that Sunday's rally has set the tone for an anti-BJP grand alliance and concerns raised by BSP supremo Mayawati would also be addressed, so that she is a part of the greater alliance.
He also hinted at bringing Samajwadi Party chief Akhilesh Yadav and BSP chief Mayawati together in Uttar Pradesh to defeat the saffron force.
In an exclusive interaction with ETV, Lalu also reiterated his offer to help Mayawati go back to Rajya Sabha with RJD's support. The Rashtriya Janata Dal chief said, "She is a Dalit voice of the country."
Speaking on Mayawati's decision to stay away from the RJD rally on Sunday, Lalu said, "I can understand her concerns. We will have to address that. However, to decide on the seat sharing formula, first we need come together on a common platform."
He added, "She is with us and we will address all her concerns. The 'Mahagathbandhan' is intact in Bihar as Sharad Yadav represents the real JD(U), with which we had formed the alliance. Now, we will focus on Uttar Pradesh. BJP will be finished once Mayawati and Akhilesh join hands in Uttar Pradesh."
The RJD chief acknowledged that Mayawati's presence is crucial for a united opposition as she has a huge vote base.
"BSP lost the election poorly but nobody can ignore the party's vote base in UP. RJD does not have a presence in UP, but I can help stitch an alliance as we did in Bihar. In order to fight a common enemy, all opposition leaders must bury their differences. I am in touch with Akhilesh and soon everything will be in place."
Taking potshots at Bihar Chief Minister Nitish Kumar, the RJD leader further said that he has learnt a lesson from the episode, referring to Kumar's decision to break away from the Grand Alliance and join hands with the BJP to form a new government.
"It is also true that earlier efforts to forge an opposition unity has faltered, but this time around we are doing solid ground work. Nitish's exit is good as I knew of his intentions. Now, we will work out a common minimum program (CMP). We will consult with all the 17-18 like-minded political parties," he said.
Lalu further added that West Bengal Chief Minister Mamata Banerjee has suggested to organise similar rallies in her state and Uttar Pradesh, which everyone agreed to.
When asked who would be the face of the opposition union against Narendra Modi, the RJD leader said, "There is still time left for that, but we can also think of something like in Bihar. We had accepted Nitish as the chief minister, despite RJD being the largest party, so if the situation requires to announce a face, we will do so with an open heart."
Lalu also for the first time announced that his younger son Tejashwi will now lead the party. "Tejashwi will act like Arujana and my elder son Tej Pratap will be playing the role of his Sarthi Krishna."
Get the best of News18 delivered to your inbox - subscribe to News18 Daybreak. Follow News18.com on Twitter, Instagram, Facebook, Telegram, TikTok and on YouTube, and stay in the know with what's happening in the world around you – in real time.
| Edited by: Sanchari Chatterjee
Read full article