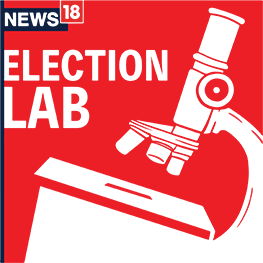 ​With less than 100 days remaining for the 17th Lok Sabha elections, thousands of candidates — representing almost 1,866 political parties — will ask for votes from an estimated 900 million people.
To understand the enormity of this democratic exercise — the largest ever in the world — sample this: India's eligible voters are almost three times the population of the United States, world's oldest democracy.
But there is a huge cost involved with this five-yearly dance of democracy. The money spent is both accountable and un-accountable. Black and white. Legal and illegal.
During the 16th Lok Sabha elections held in 2014, a staggering Rs 35,000 crore was spent on the elections, according to the Centre for Media Studies (CMS), a Delhi-based research organisation.
Though the official estimate for the elections was just Rs 7,000-8,000 crore, the study suggested that the rest of Rs 27,000 crore was unaccounted cash.
According to the Election Commission of India (EC), this unaccounted money includes "disbursing big sums to local mid-level workers or outlets like provision stores, temples, chit fund offices and hawala dealers for distribution down the line."
The parallel poll economy and the estimated expenditure hence, is approximately the same as the 2014 budgetary allocation of the Union government on higher education and health and family welfare.
A CMS study also projected that the expenditure for the 2019 Lok Sabha polls may go up to Rs 50,000-60,000 crore. This unaccounted money is identified by the EC as the biggest challenge to conduct fair and free elections.
This brings us to the next pertinent question: Where does all the money come from? And how difficult is it for a common citizen to fight elections on his/her own?
The answer lies in the digitised affidavits of the candidates of the 2014 Lok Sabha elections. In the 2014 elections, a candidate was allowed to spend Rs 70 lakh in 533 big Lok Sabha constituencies and Rs 54 lakh in 10 small constituencies.
A News18.com analysis of the affidavits of the candidates showed that an average of Rs 25 lakh was spent by candidates during the elections — much lower than the cap of Rs 70 lakh set by the EC.
In others words, the expenditure of the candidates in the 2014 elections was only 58 per cent of the cap fixed by the EC.
According to the analysis, the top 10 MPs with the highest declared expenses include four legislators from the BJP, followed by two from the All India Trinamool Congress and one each from the Congress, Indian Union Muslim League, Nationalist Congress Party and All India Anna Dravida Munnetra Kazhagam.
Among states having 20 or more Lok sabha seats, Kerala topped the list with Rs 52,09,040 in terms of average individual election expenses of MPs. It was followed by Rajasthan (Rs 47,89,702), Maharashtra (Rs 46,93,421), Gujarat (Rs 45,91,757) and West Bengal (Rs 44,05,462).
Congress MP Gaurav Gogoi from Assam's Kaliabor constituency declared the highest election expenses during the Lok Sabha polls 2014 and was the only MP who splurged in excess of the Rs 70,00,000 limit mandated by the ECI.
At Rs 82,40,641, Gogoi spent nearly 118 per cent of the authorised limit for LS constituencies in Assam.
Gogoi was followed by BJP's Mansukhbhai Vasava, who contested and won from Gujarat's Bharuch constituency. Vasava claimed to have spent Rs 67,31,280 during his campaign in the general elections.
Overall, Meghalaya, with just two MPs in the state, had the highest election outlay in 2014 at Rs 57,89160. Sikkim, with its lone MP Prem Das Rai, had the highest expenditure of Rs 51,30,387 among states which have a limit of Rs 54,00,000 per Lok Sabha constituency.
Similarly, BJP's Shyama Charan Gupta from Allahabad constituency (previously Prayagraj) declared the lowest election expenses at Rs 39,339. At the second spot was former Union minister and TDP MP from Andhra Pradesh Ashok Gajapathi Raju with Rs 4,10,020.
In all, among the least-spending MPs, six belonged to the BJP (2), AIADMK (2) and YSRCP (2), while TDP, BJD, PMK and AIMIM had one each.
Amid parties that won more than 10 seats in the 2014 polls, Shiv Sena candidates spent the most on an average at Rs 46,94,727, followed by AIADMK candidates at Rs 46,51,651.
The BJP and Congress were neck and neck with an average spending of Rs 41,73,989 and Rs 41,63,872, at the third and fourth spot, respectively. As a percentage, Shiv Sena MPs used 67 per cent, Trinamool Congress used 66 per cent, AIADMK exhausted 51 per cent and BJD, TDP and TRS spent 45 per cent, 44 per cent and 45 per cent, respectively, of the total authorised limit.
The BJP and Congress MPs showed expenses of 60 per cent of the mandated limit each.
However, how much of these spends, as mentioned by the political parties in their expenditure reports, comprise the actual spending that includes unaccounted cash is something that is almost impossible to find out.
Most of this 'unaccounted money' is added to individual expenses, way more than the Rs 70 lakh cap by the EC.
However, it is difficult to make a clear assessment of the unaccounted funds spent by candidates during the polls. With the lack of any empirical data, only anecdotal evidence give a glimpse into what goes behind the curtains , where illegal cash flows in surplus.
In 2016, the Reserve Bank of India had also rang a warning bell when it stated there was a surge of Rs 60,000 crore (Rs 600 billion) in cash in the states going to polls that year.
"Around election time, cash with the public normally increases. You can guess as to the reasons why, we can also guess," the then RBI governor Raghuram Rajan had said.
Jayprakash Narayan of the Lok Jansatta Party said the money an average candidate spends on a Lok Sabha seat is "not below Rs 10 crore".
"During the Lok Sabha polls, I have seen people spending Rs 150 crore. While that is absolutely on the higher side, I personally know people who have spent Rs 50-70 crore. The states they belong to are obviously a class apart and expenses are enormous. If we go to Bihar, the money spent is much less. However, even there it is not below Rs 10 crore," Narayan told News18.com.
This unaccounted money, according to Narayan, is "being spent on vote buying."
"You talk to a candidate privately, as long as you keep the confidentiality intact, they'll tell you. You talk to party workers, you talk to voters, everybody knows but this is a case where the vote buyer and the vote seller are in collusion. And over the years, it has become more endemic and systemic now. The worst practices are spreading very fast. So you may not have proof but you'll find plenty of anecdotal and even other forms of evidence," Narayan said.
Sanjay Kumar of the Centre for the Study of Developing Societies agreed.
According to Kumar, the expenditure of unaccounted cash and its origins remain a grey area. But for him, "money is important to bring a candidate in the race but it's not imperative that money can win elections."
But where do the candidates raise such amount of money for the Lok Sabha polls?
Barring the BJD, AIADMK and TDP, MPs belonging to rest of the five parties that News18.com analysed raised more than Rs 40,00,000 worth of funds to be spent during their campaign.
For instance, while BJP candidates raised Rs 41,97,251, Congress MPs declared Rs 44,23,890 as funds collected during polls.
AIADMK, Trinamool Congress, BJD, Shiv Sena, TDP and TRS raised Rs 34,78,958, Rs 44,31,697, Rs 29,86,091, Rs 44,72,386, Rs 28,61,103 and Rs 4362619, respectively.
The winning BJP candidates also collected more than half of their total funds via the party itself, while the rest of the money was raised either from 'other sources' (donations from individuals, firms and organisations) or were provided for by the candidate on his own. For other parties, except TDP, 'other sources' made up for the largest chunk.
Also, almost 56 per cent of the total funds of a BJP MP were received from the party. An average BJP MP put in 20 per cent of the money from his own pocket and 23 per cent came from 'other sources'.
In contrast, 23 per cent of the total money collected by a Congress MP was given by the party, 48 per cent came from 'other sources' and 29 per cent was out of pocket expenditure.
In the case of TDP, the MPs declared 77 per cent of the funds raised as self-raised, while rest 23 per cent was derived from 'other sources'.
However, as many as 195 MPs (36 per cent) across party lines denied having receiving any monetary support from their party, 166 claimed to have not received any fund under the head 'other sources', while another 52 MPs declared that they did not spend anything out of their own pocket.
According to Kumar, "Money only brings a candidate in the contest and if one doesn't have money, he or she is not even in the contest."
According to an analyst, it roughly takes Rs 1-2 crore for an assembly candidate and Rs 6-7 crore for a Lok Sabha aspirant to strengthen his or her chances of winning.
"This is also because normally a person would not able be to reach out to people without the money," the analyst, who wished to remain anonymous, said.
Yet, unaccounted cash is not the only thing by which the candidates try to woo the voters.
A member of the Himachal Congress Pradesh Committee explained that when it came to money, the amount spent that didn't feature in the books was inevitably twice or thrice as much as the allowed amount. "Of this, a large amount is spent on transport, alcohol and wages of party workers," said a source.
Candidates, a BJP functionary said, also tended to have the profile of each village within the constituency figured out to the minutest detail. "That impacts votes too. So for instance, if we are sending alcohol to villages, we will also know where to send desi sharab and where to send foreign liquor," said a leader.
The ECI reported that about Rs 300 crore of unaccounted cash and more than 17,000 kg of drugs and a huge quantity of liquor, arms, etc. were seized during the last Lok Sabha elections.
This, many observers had claimed, was a conservative estimate of the actual amount of illegal and illicit funds utilised during the elections.
According to the source, there are, however, two ways to find out where the unaccounted cash comes from.
"Either the candidate is really rich or there are businessmen involved. You will generally see that where the winning candidate is not very rich, but has spent a lot during elections, business activity in that area surges post elections. This is because the candidate has a deal with traders to pay him before the elections and he will do the needful post polls," the source, who works for an election management company, said.
So, what does it take for a candidate or a party to keep on functioning smoothly with less donations?
Take the example of the Aam Admi Party. According to a party insider, who wished to remain anonymous, the first few elections the AAP contested between 2013 and 2015, the fledgling party depended almost entirely on donations it received from the urban middle class. But from the elections in 2017 (Goa and Punjab Assembly), this changed.
"It was a difficult campaign to run, because financially the party was really struggling. It was even difficult to get radio ads. The party ran into debts (individuals would overdraw their accounts). At the time, the Centre's hounding of the party was also at its peak," explained an AAP leader, familiar with the party's successive campaigns. That's why, perhaps, ahead of the 2019 Lok Sabha, the party has a more nuanced funding structure —crowdfunding.
However, at the same time individual candidates are also raising money. Atishi, who is contesting from East Delhi, for instance, has already hosted at least five fund-raising dinners in Bangalore, Bombay and Delhi. The party is also planning to utilise crowdfunding options — both for the party and individual candidates, a source said.
"No party, no candidate in India contests elections and spends less than the Rs 70 lakh stipulated by the EC. It is simply impossible, especially when larger parties like BJP and Congress are throwing money," said the leader.
In 2014, the AAP had said that on an average, candidates spent Rs 2.5 crore per seat, while the BJP and Congress spent at least Rs 10 crore, per seat, said sources.
"The money that you want to hide is done creatively in ways that are actually quite straightforward. It more or less comes down to working on quid pro quo. So, for instance, you need a tent to be put up, the tent wala will do it on his own and it never shows up as an expense," a senior AAP leader said.
With such a huge amount of cash flowing in during the polls, what are the chances for a common citizen to fight elections, without any political finding or corporate donation?
Kumar has an answer. "Elections in India can no longer be fought by a commoner," Kumar said.
News18.com had reached out to the EC for its comments. This report will be updated once it responds.
With inputs from Aniruddha Ghosal
(This story is Part 1 of News18.com's special series 'Paisa, Polls and Politics' on election financing in the world's largest democracy.)