OPINION | M Karunanidhi: The Dravidian Juggernaut Who Never Lost an Election
For Kalaignar, who had mastered literature, screenplay writing, political oratory, journalism and written word, every aspect of his life's journey was political.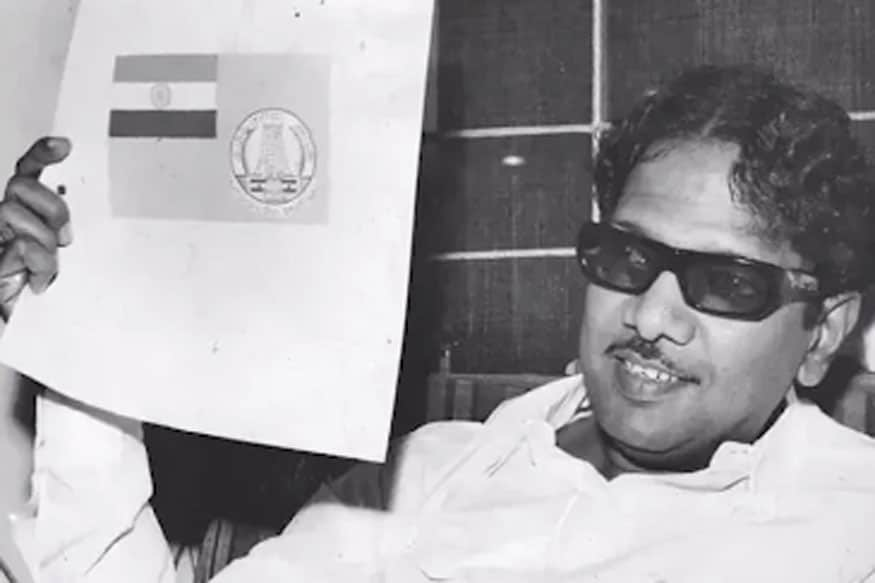 File photo of M Karunanidhi
The iconic Murasoli Tamil newspaper that was founded by 'Kalaignar' M Karunanidhi on August 10, 1942 has as on its masthead the bull-taming sport Jallikattu. The inscription beneath says: "Even if we were to be vanquished; let Tamil live long".
The founder-editor of this newspaper, which has completed 75 years, was just 18 years old at the time of its inception. While one can admire the tenacity of the teenaged Kalaignar, it is difficult not to be overawed by the length and breadth of his political journey.
For Kalaignar, who had mastered literature, screenplay writing, political oratory, journalism and written word, every aspect of his life's journey was political. He wrote his first film screenplay when he was 24 years old for the movie Abhimanyu in which MG Ramachandran played a supporting actor.
When MGR was introduced as a protagonist in Marudhanaatu Ilavarasi, Kalaignar was already an established screenplay writer. At the age of 28, Kalaignar's magnum opus Parasakthi introduced the actor Sivaji Ganesan who would go on to become a legend in Tamil cinema.
When he became a Member of Legislative Assembly (MLA) in 1957, Kalaignar was 32 years old. He was one of 15 DMK MLAs who entered the then Madras State Legislative Assembly. In the following election, in 1962, only Kalaignar returned to the Assembly out of the 15 who were elected in 1957. He has, subsequently, won a total of 13 Assembly elections and never suffered a defeat. It is unlikely that anyone will break this record in the future.
In 1967, when DMK dislodged Congress to form the government in the state, Kalaignar, then 42 years old, was sworn in as Minister of Public Works Department. Barely two years later, on February 10, 1969, he was sworn in as the Chief Minister of Tamil Nadu after the demise of his mentor 'Anna', CN Annadurai. He would go on to become Chief Minister in 1971, 1989, 1996 and 2006 and govern the state for a total of 19 years.
In the year 1969, he also took over the leadership of the DMK. He continued to be re-elected by the party's General Council for the next 50 years. Over this time, he had played key roles in electing Presidents, Prime Ministers and forging nation-wide alliances.
Kalaignar's political journey had seen him travel alongside every Congress leader from Pandit Jawaharlal Nehru to Rahul Gandhi. He had weaved relationships with Indira Gandhi, NT Rama Rao, Farooq Abdullah, Sharad Pawar, GK Moopanar, Atal Bihari Vajpayee, Sonia Gandhi, Jyoti Basu, Lalu Prasad Yadav, Ramadoss, Thirumavalavan and many others. He was closely involved in VP Singh, Deve Gowda and IK Gujral becoming Prime Ministers and formation of coalition governments.
Inseparable from Tamil Nadu's own political journey, Kalaignar had witnessed 12 Chief Ministers — C Rajagopalachari, D Prakasam, OP Ramasamy Chettiar, PS Kumarasamy Raja, Kamarajar, Bhaktavatsalam, Anna, MGR, Janaki Ramachandra, Jayalalithaa, O Paneerselvam and Edapadi K Palaniswami.
It is often said in Tamil Nadu that you can support or oppose him, but you cannot be politically relevant if you do not mention Kalaignar. His journey since he led a protest as a 15-year-old in 1938 against the Hindi imposition policy of Rajagopalachari is intertwined with that of the politics of the state. It is also a journey that is not likely to be surpassed by any one in Tamil Nadu or India any time in the future.
The author is a DMK leader, party spokesperson and an advocate. Views are personal
Get the best of News18 delivered to your inbox - subscribe to News18 Daybreak. Follow News18.com on Twitter, Instagram, Facebook, Telegram, TikTok and on YouTube, and stay in the know with what's happening in the world around you – in real time.
| Edited by: Aakarshuk Sarna
Read full article