GET Stock

Quotes

Rajasthan
Poll in 1 seat deferred
Madhu Goud Yaskhi Says Karnataka Model to Defeat BJP Possible in Other States Too
Madhu Goud Yaskhi, a former Parliamentarian and senior Congress leader from Telangana believes alliances with regional heavyweights in other states such as Uttar Pradesh and Tamil Nadu are quite likely.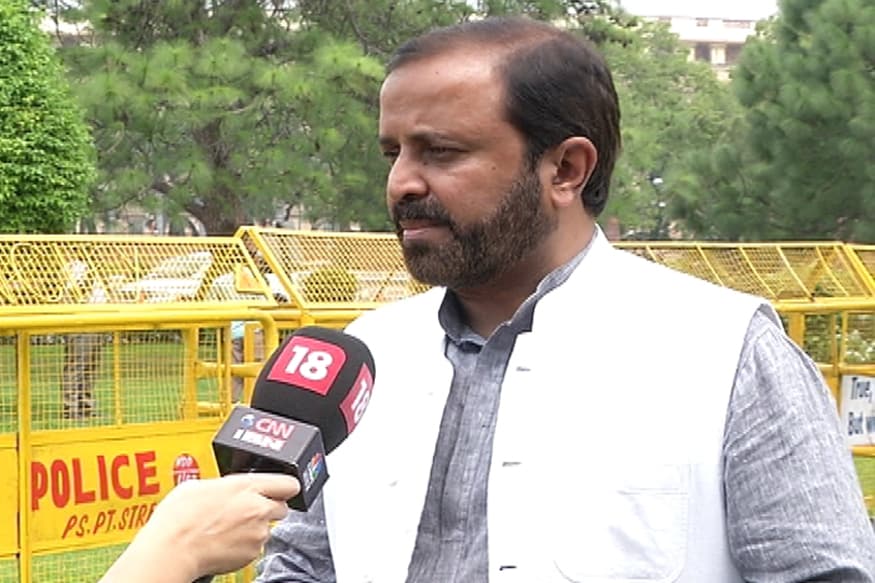 Senior Congress leader Madhu Goud Yaskhi.
The Indian National Congress, which looked down and out a couple of hours into the counting day, has defied all odds and is set to form the government in Karnataka in alliance with the JD(S).
Leaders not just from these two parties, but several other non-BJP parties are already calling it a model to defeat the saffron party in the upcoming assembly elections and in the big 2019 general polls.
So what national level consequences does this alliance have and what does this mean for the Congress, which under its new President Rahul Gandhi, is trying to revive its fortunes?
Speaking to News18,
Madhu Goud Yaskhi
, a former Parliamentarian and senior Congress leader from Telangana said that he believes alliances with regional heavyweights in other states such as Uttar Pradesh and Tamil Nadu are quite likely.
When asked, he says the question of Rahul Gandhi being the opposition's Prime Ministerial candidate is too premature, but a lot will depend on how Congress fares in Rajasthan, Chhattisgarh and Madhya Pradesh – states which are going to polls this year and where Congress is locked in direct fights with the BJP.
Q:
So what do you make of today's proceedings in the Karnataka Vidhan Souda?
A:
This was a pleasant surprise. We were heading for trust vote. After seeing the party strength Yeddyurappa decided to avoid a humiliating trust vote.
By convention, the Speaker should have allowed the opposition leader to respond to the statements made by BS Yeddyurappa who walked out just as the National Anthem started playing.
Q:
Is this the most short-lived government ever?
A:
Yes it is and we it wanted to be that.
Q:
You took a step back after the results were declared. Despite winning almost double the seats, you offered JD(S) to have its pick for the CM's chair. Is this concession and your alliance with JD(S) a sign of a grander alliance taking shape?
A:
There is a threat to the Indian Constitution and our democracy. This is why Rahul Gandhi started a campaign to 'Save Democracy'. Our party isn't chasing power unlike the BJP.
Q:
But does this set the tone for 2019? For a federal front?
A:
Mr Gandhi has already said it. He is ready to shake hands with parties that believe in our ideology. He has explicitly said that nobody who believes in an inclusive ideology, is untouchable.
Q:
But does this just stop at shaking hands, wouldn't such alliances necessitate making hard compromises?
A:
There is an indication here in Karnataka itself that despite having a greater strength we allowed JD(S) to lead the government. This is because we believe in democracy, we believe in inclusiveness. This is why Mr Gandhi consciously made that decision to align with JD(S) and asked me and Mr Ghulam Nabi Azad to come here and speak to Mr Deve Gowda.
Q:
How stable do you think this government will be?
A:
The manner in which we have begun, shows that our coalition will be stable and will complete its full term. Despite having greater strength, we offered Mr Kumaraswamy the CM's chair, it shows our resolve to keep this coalition intact for the next five years.
Q:
So when you look at a grander alliance at the national level, how will you choose the candidate for PM's chair?
A:
It is too premature to discuss that right now. We have elections in Rajasthan, Chhattisgarh and Madhya Pradesh in the next six months. Let's first look at how we fare there.
The way we stitched an alliance in Bihar, nobody thought Lalu Prasad and Nitish Kumar would come together, but they did. This was because of Mr Rahul Gandhi under the able guidance of Madam Sonia.
This is how we will move forward.
In UP, for instance, if SP, BSP and Congress come together, BJP is out. BJP will have to start its tally from 70 seats of UP. And here in Karnataka now that JD(S) and Congress have come together, we can sweep the Parliamentary elections.
Likewise with DMK in Tamil Nadu. Our leadership will take a call at an apt time with whom to align, when and where.
But the principle of our alliance will remain the same – not to ally just for the sake of power but to fight against the communal forces that are destroying the social and secular fabric of the country.
(Get detailed and live results of each and every seat of the state Assemblies in Madhya Pradesh, Rajasthan, Telangana, Chhattisgarh and Mizoram to know which candidate/party is leading or trailing and to know who has won and who has lost and by what margin. Our one-of-its-kind Election Analytics Centre lets you put on the psephologist's hat. Know interesting facts and trivia about the elections. Elections = News18)
| Edited by: Sanchari Chatterjee
Read full article
Countdown To
Elections Results
To Assembly Elections 2018 Results