Maha API assault: Security of suspended MNS MLA withdrawn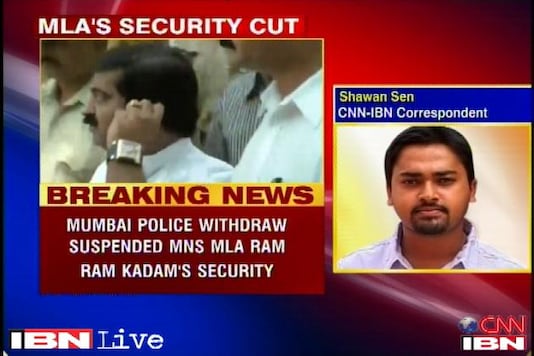 Mumbai: The Mumbai Police has withdrawn the security of suspended Maharashtra Navnirman Sena (MNS) MLA Ram Kadam, who was one of the MLAs who allegedly assaulted Assistant Police Inspector Sachin Suryavanshi. Ram Kadam had been provided four security guards before the attack on Suryavanshi.
As per the procedure, once an MLA is suspended, his security is withdrawn. The Thane Rural police has confirmed that suspended MLA Kshitij Thakur wasn't provided any security.
Two weeks ago, the API was attacked outside the state Assembly by a group of MLAs. Suryavanshi in his complaint to the Marine Drive police had identified MLAs Ram Kadam and Khistij Thakur as those who assaulted him with along with other MLAs.
On Friday, Home Ministry sources indicated to CNN-IBN that the CCTV footage of the incident where Maharashtra legislators had beaten up API Sachin Suryavanshi was unclear and inconclusive. Crime Branch sources further added that they have obtained two clippings of five minutes each. the footage has been gathered from the 28 cameras installed in the Vidhan Bhavan premises. But since the CCTV footage isn't too clear, the agency will have to enhance the footage to get a clearer picture.
The police officer was on Monday suspended for being 'rude' even as two arrested MLAs allegedly involved in the incident in the Assembly premises walked out of jail on bail. Home Minister RR Patil had announced in the Assembly the suspension of Assistant Police Inspector Sachin Suryavanshi for being 'rude and misbehaving' with Bahujan Vikas Agadhi MLA Kshitij Thakur, a decision ostensibly aimed at buying peace with the legislators who stalled proceedings of the two Houses of legislature over the last few days demanding action against the officer.
Patil said he had watched the CD of the 'verbal duel' Suryavanshi had with Thakur on Bandra-Worli sealink on March 18 following which he had announced in the legislative council that the incident will be probed and the officer would be sent on forced leave. Suryawanshi had allegedly stopped Thakur's vehicle a day before he was beaten up on the Bandra-Worli Sea Link when the MLA was on his way to attend the Legislative Assembly Session. Thakur was reportedly fined because his vehicle had exceeded the speed limit. There was an altercation between the legislator and the policeman, during which, the latter allegedly misbehaved with the MLA.
Following the incident, the policeman was thrashed at the entrance to the visitors gallery in the House, by a group of legislators including Thakur, Kadam, Rajan Salvi (Shiv Sena), Pradeep Jaiswal (Independent), among others. The five MLAs involved in the incident have also been suspended till December 31.
(With additional information from PTI)
Next Story